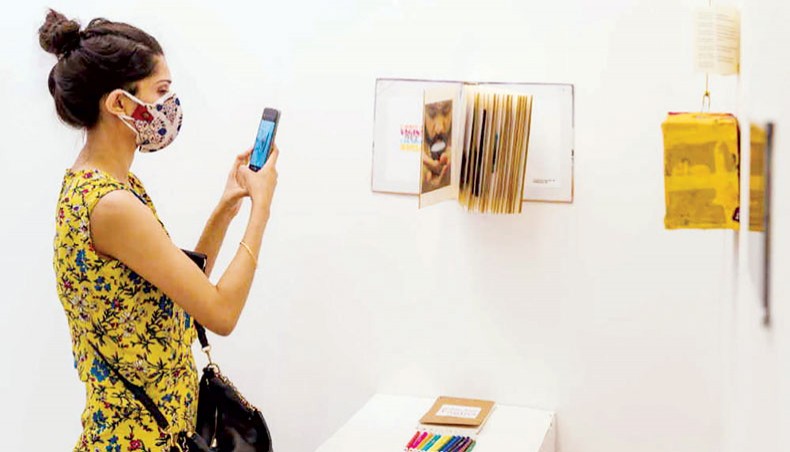 A group art exhibition titled 'Futures Beyond the Self' depicting how artistic practices went through a change due to the COVID-19-induced health crisis is under way at Kalakendra.
Goethe-Institut Bangladesh in collaboration with Kala Kendra has organised the exhibition, which features a total of 11 multidisciplinary art projects of eleven awardees of the Futures Beyond the Self 2020 initiated by Goethe-Institut Bangladesh.
Eleven awardees namely Priyanka Chowdhury, Arifur Rahman, Karkhana Collective, Murshed Jahangir, Parsa Sanjana Sajid, Emran Sohel, Samsul Alam Helal, Sumana Akter, Shahla Islam, Tahia Farhin Haque and Tehai Interdisciplinary Art Initiative have showcased their multidisciplinary artworks at the event.
The exhibition showcases the projects developed by artists and artist-run collectives. The works are reflective of the new forms of practices that seek to push the boundaries of art by engaging with nature, community and even disciplines that lie outside the ambit of visual culture.
Since envisioning the future world in relation to 'others' and 'self' was the topic, artists framed mostly their concepts based on the ongoing COVID-19 outbreak and how it has changed and reshaped the individual and collective approach to life. They have also raised questions about our deep-rooted beliefs, creating awareness about the present world and challenging the status quo for a better sustainable future.
Among them, Priyanka Chowdhury and Parsa Sanjana Sajid showcased their research projects in which elements and mediums such as audio, photography and text merged. Priyanka's installation is titled 'Pandemonium Chronicles' and Parsa's 'Food as Community, Food as Praxis'. While the former project homes in on inhumane practices around us and struggles of garment workers during government-imposed COVID-19 holidays while latter highlights the interruption in the global food chain which has left an impact on Bangladesh during the pandemic.
Projects of Murshed Jahangir, Emran Sohel, Sumana Akter and Tahia Farhin Haque reflects on individual and collective engagement with society and developed conceptual frames relating to how they see the future world in the context of taking in to account 'others' in their imagination of the 'self'.
Tahia Farhin Haque's project has two layers to it. Using photography and hand-drawn pieces, her 'Duality in Reality' portrays the hard facts about our alienation in a given society.
Sumana Akter's performance art titled Gloomy Kantha staged on the inaugural day was way for her to vent anguish over the constraints she felt during the virus outbreak. Her performance involved weaving intricate designs into the Kantha randomly.
Emran Sohel's installation titled Response of a Number and Murshed Jahangir's 2020 Decode Moments portray the impact of ongoing pandemic and how it has changed and reshaped our lifestyle. The former artist resorts to natural elements such as potted plants while the latter amasses drawings and photographs.
Arifur Rahman's short film project titled Hunger: an Era of Homelessness tells the story of sufferings of homeless people and animals during the general holidays while Shahla Islam's Screenlife Film portrays the dream of a girl.
Samsul Alam Helal's collage photography project featuring a total of 15 photographs titled Strange Space explores his own imaginative world as he investigates the relationship between politics and pandemic, raising questions about future threats.
Agni Mangal, an interdisciplinary art initiative, featured a performance. The exhibition displays the recorded performance which depicts the power of the sun god.
Besides, the exhibition is featuring a series of artist talks as well as performances scheduled to take place on weekends. The exhibition is open for visitors every day from 4:00pm to 8:00pm till April 8.
Want stories like this in your inbox?
Sign up to exclusive daily email
More Stories from Exhibition