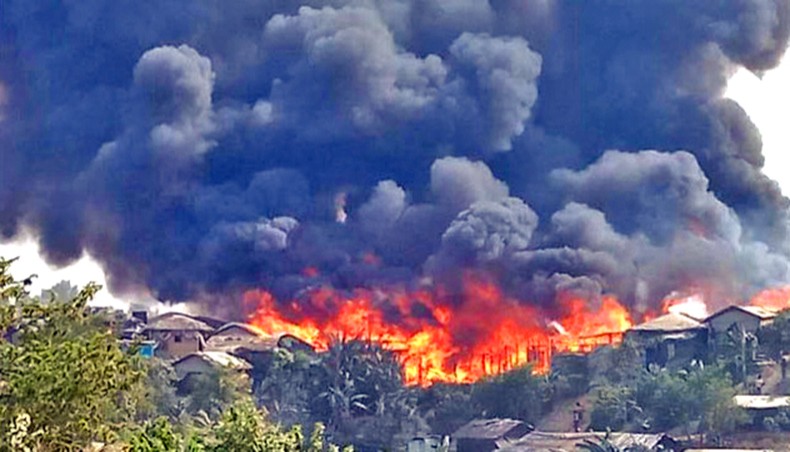 About US$ 20 million more is required to respond to the urgent needs of displaced Rohingyas created due to a devastating fire that broke out in Cox's Bazar's Kutupalong camp, according to International Organisation for Migration.
'IOM's emergency fund has pledged US$ one million to the relief efforts. A further US$ 20 million is required to respond to the most urgent needs,' IOM said in a statement.
A massive fire swept through three IOM-managed sites on Monday displacing roughly 45,000 Rohingyas and causing catastrophic damage in Cox's Bazar.
More than 10,000 shelters were damaged in the fire and the IOM's largest health centre in the camp was destroyed. The loss of the 24/7 health centre, which served more than 55,000 people in the last year, now further complicates the challenge of responding to COVID-19.
The fire that raged through the camps only slowed once it reached the main roads, slopes, canals and rice fields. It has since subsided, but not before consuming essential facilities, shelters and the personal belongings of tens of thousands of people.
The reason behind the fire is still unknown. According to humanitarian agencies and local authorities, 11 people have killed, while more than 500 people injured and roughly 400 were still missing.
'This disaster is a terrible setback that exacerbates the humanitarian needs of refugees in Cox's Bazar,' said IOM's director general António Vitorino.
'We will need to start from zero to rebuild. Our hearts are with all those affected. We are committed to helping them build back safer with the support of the government of Bangladesh, our donors, partners and humanitarian actors,' he said.
Want stories like this in your inbox?
Sign up to exclusive daily email
More Stories from Foreign affairs