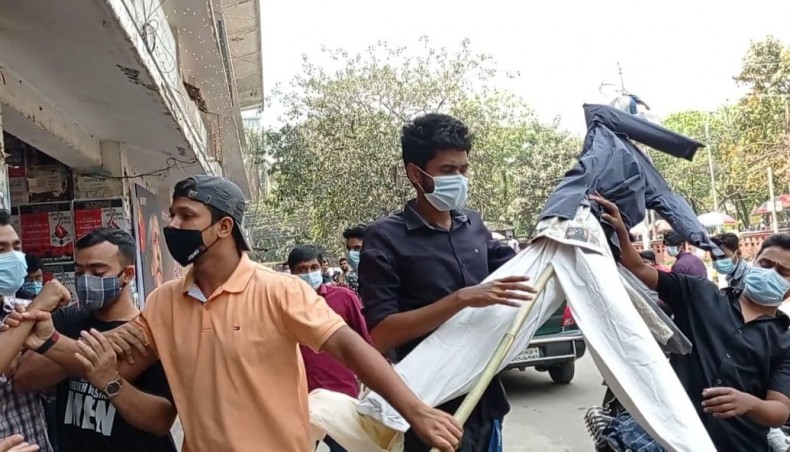 Activists of Bangladesh Chhtra League allegedly snatched away an effigy of Indian prime minister Narendra Modi from activists of Student Federation of Bangladesh, at a programme of SFB in Dhaka University area on Tuesday.
The programme was arranged protesting at Modi's upcoming visit to Bangladesh and the effigy was brought to the place to be set on fire.
The incident took place in front of Teacher-Student Centre of Dhaka University around 11:45am, when leaders and activist of SFB were gathering and preparing to set fire to the effigy, said witnesses.
Later, SFB leaders and activists set fire to a photograph of Indian prime minister Narendra Modi, after a protest procession, denouncing his upcoming visit to Bangladesh.
'As per our pre-announced schedule, we are preparing to burn an effigy of Narendra Modi protesting his visit. Unfortunately, some leaders and activists of BCL, who were preparing to hold their joy rally, came from Raju Memorail Sculpture and took the effigy forcefully,' SFB central president Golam Mostafa told New Age.
BCL DU unit general secretary Saddam Hussein said that he knew nothing about the incident.
Want stories like this in your inbox?
Sign up to exclusive daily email
More Stories from Country