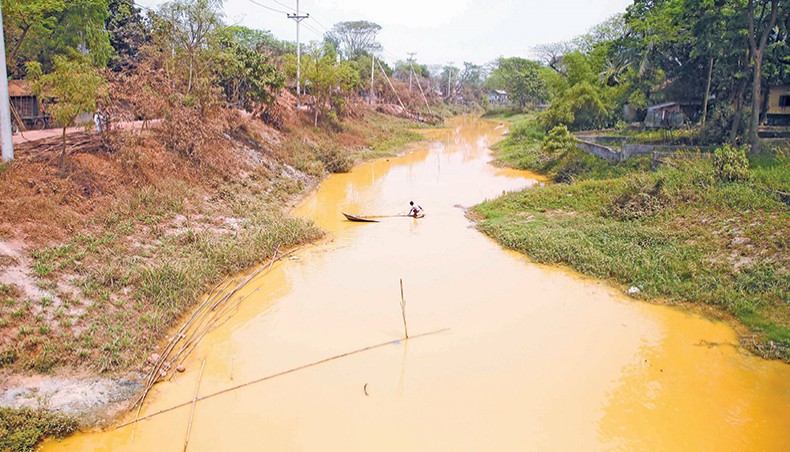 Surface and underground water sources are getting contaminated fast in Bangladesh as the agencies remained indifferent about the protection of freshwater reservoirs.
Academics and green activities said that surface water pollution mostly from industrial effluent should be stopped without any delay.
If the government failed to curb such contamination, the people of the country will suffer due to an acute shortage of fresh water even after inheriting a huge storage of freshwater, they said.
In such a dismal context, Bangladesh is observing World Water Day 2021 today with the theme 'valuing water'.
'If the situation continues, we will have wastewater but not useable water,' said water expert and Bangladesh University of Engineering and Technology's civil engineering department former dean Feroze Ahmed.
Surface water is getting contaminated very rapidly because of industrial wastewater polluting water bodies and rivers across the country while unplanned extraction of groundwater has also increased arsenic threat, he argued.
Feroze, former chairman of Dhaka Water Supply and Sewerage Authority, said that water pollution in and around Dhaka reached almost an irreversible tipping point and Dhaka WASA could not treat water from the River Buriganga.
Dhaka WASA managing director Taqsem A Khan said that since WASA could not treat water from the Buriganga, it started collecting water from the Meghna and Padma rivers.
Recently, the donors of the projects expressed worry about pollution around the rivers and asked the government to stop it.
The Water Resource Planning Organisation director Alamgir Hossain said that they were trying to protect the water resources of the country and working for the planned use of water to ensure sustainability.
He said that due to the involvement of a number of ministries and the absence of coordination among them, safeguarding water became a difficult task.
'We are surveying the underground water level so that it can be protected against any further contamination,' he said.
Abdullah Al Muyeed, chief operation officer of citywide inclusive sanitation-faecal sludge management support cell, said that until both ground and surface water reservoirs could not be protected properly water sustainability would remain elusive.
He also pointed out that industrial pollution is pervasive and is happening across the country while a level of sewage contamination is seen in every urban centre, Dhaka is the most affected city of them all.
He said that groundwater level is decreasing while seawater level continues to increase, posing a threat to millions of people living in the coastal districts and are grappling with the problem of salinity.
Green activist and freedom fighter M Hamid Ranju said, 'Only 30 years back people used to swim in rivers and canals in Savar but now many of the water bodies have disappeared while remaining ones have been thoroughly polluted.'
He said that pollution has finally affected the River Dhaleswari as heavy metal waste from the tanneries which were relocated four years ago continues to pollute its water.
Bangladesh Poribesh Andolan general secretary Sharif Jamil said that Bangladesh should also ensure adequate water flow from transboundary rivers to stop salinity and to ensure people's access to water.
Environment and Social Development Organisation general secretary Shahriar Hossain said that groundwater is also getting contaminated due to mismanagement of waste and uncontrolled use of pesticides and other chemicals.
Academics said that heavy metal contamination in water worried them the most.
Dhaka University Soil, Water and Environment assistant professor Mohammad Enayet Hossain said that controlling the use of pesticides that pollute water is imperative and suggested that collecting rainwater might be a solution.
Feroze Ahmed also said that the government needed to rethink the existing legal framework which was prepared many years ago.
Water resource state minister Zaheed Farooque denied making any comment on the issue over the phone.
Want stories like this in your inbox?
Sign up to exclusive daily email
More Stories from Country