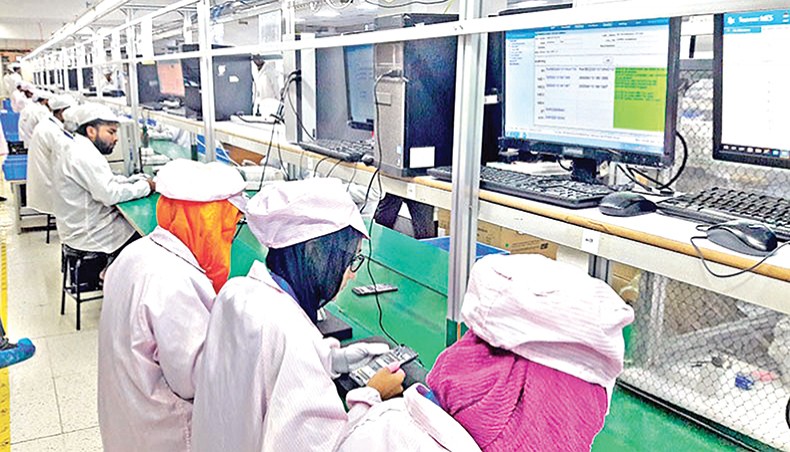 The Bangladesh Mobile Phone Industry Association on Sunday demanded an extension of value-added tax exemption facility for mobile phone manufacturers two more years to June 2023 to facilitate the sector meeting fully demand for mobile phone devices in the country.
At a pre-budget discussion with the National Board of Revenue, it also sought a reduction in VAT rate for mobile telephone set assemblers to help those grow further.
The existing benefit is set to expire in June 2021.
At the meeting, the Bangladesh Association of Software and Information Services demanded an extension of tax exemption benefit up to 2030 from current 2024 for software and ITES (information technology enabled services).
BASIS also requested the NBR to include a number ITES, including software as service, platform as service, cloud service, system integration, IT and ITES training and internet services in the list of tax exempted services.
The association also demanded a reduction in corporate income tax rate to 10 per cent for internet service providers.
The Bangladesh Television Manufacturers Association and the Bangladesh Refrigerator Manufacturers Association sought a continuation of existing tax benefits for the sectors.
The Bangladesh Electrical Association demanded a reduction in customs duty on import of automatic circuit breaker to 5 per cent from current 10 per cent as the product is completely import dependent.
The Bangladesh Computer Samity sought permission to import 24-inch computer monitors under tax benefit.
The revenue board chairman, Abu Hena Md Rahmatul Muneem, said that the NBR committed to offer all-out supports to manufacturers of high value-added products to promote industrialisation in the country.
But the revenue board wants to be sure about the use of the benefits to the development of the intended industry as there are cases that traders instead of the industry are being benefited through paying less tax under the facilities, he said.
There are also cases that the industry is not become matured due to the benefit for a long time, he added.
BASIS president Syed Almas Kabir, BMPIA president also Fair Group chairman Ruhul Alam Al Mahbub and former BTMA president Mohabbat Ullah, among others, spoke at the meeting.
Want stories like this in your inbox?
Sign up to exclusive daily email