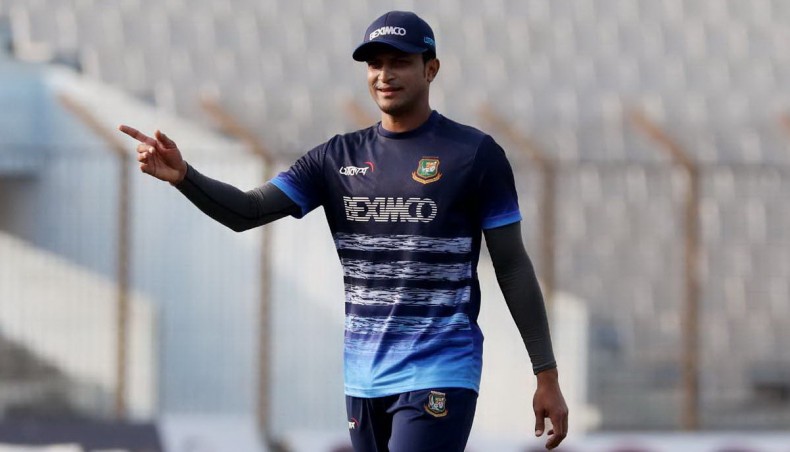 Bangladesh Cricket Board will reconsider their earlier decision of providing Shakib Al Hasan with a No Objection Certificate for the upcoming Indian Premier League, a BCB official said after an impromptu board meeting on Sunday.
BCB cricket operations committee chairman Akram Khan the board will rethink about Shakib's NOC and might include him for next month's Test series in Sri Lanka after the all-rounder said he has no objection to playing Tests in an interview on Saturday, where he dropped a number of bombshells directed at the board.
'I heard that he said that I didn't read his letter. Perhaps I misunderstood his letter. According to what he has said, he wants to play Tests,' Akram said after attending a meeting at the residence of BCB president Nazmul Hasan.
'In the next couple of days we will discuss his NOC. If he has interest, he will play Tests in Sri Lanka. We will decide about the rest after hearing the whole interview,' said Akram, who also claimed that the meeting was about the Tigers' ongoing New Zealand tour and upcoming Sri Lanka tour.
Shakib made some startling comments in that interview with a cricket website where the all-rounder, who is now on paternity leave, pointed fingers towards the BCB top brass for spreading misinformation about him and also for their failure to produce a steady pipeline of players for the national team.
Shakib, who was criticised by a group of fans for choosing to play in IPL instead of the Sri Lanka Tests, claimed that many of the BCB high-ups, especially Akram, wrongly presented the contents of his letter in the media.
'I am sure the letter I gave to the BCB, nobody gave it a reading. In the letter, I never mentioned that I don't want to play Test matches for Bangladesh. I wrote specifically that, for the preparation of the upcoming Twenty20 World Cup, I want to take part in the IPL this time,' Shakib said in an interview on Saturday.
'But Akram bhai is always saying that I don't want to play Test matches, I think he said that in an interview yesterday [Friday]. I think he did not even read my letter,' he added.
Shakib also pointed fingers towards the High Performance Unit, which he thinks hasn't bore any fruit in the last few years.
'The situation should be like, the players will remain stand-by and whenever someone from the national team is unable to play due to injury or personal reason then someone from the next level will come up and take his place. But we don't have a backup player which is very disappointing,' he said.
According to Shakib, BCB game development committee chairman Khaled Mahmud is the only ex-cricketer currently employed by the board who is working on developing new players.
'In our cricket board, there are a good number of people who played cricket at the highest level, representing the country also. But I don't think none except Sujan [Mahmud] bhai have too much involvement in this regard.'
HP unit's chairman and Bangladesh's first Test skipper Naimur Rahman denied the allegations and said that Shakib is trying to redirect the flak he is receiving for skipping the Sri Lanka tour towards the board.
'You can check how many players have made it to the national team from HP. If you want I can provide you with the proof. The HP team is doing well at this moment. They have won all the matches against Ireland Wolves. I think he is trying to create misdirection.'
Want stories like this in your inbox?
Sign up to exclusive daily email
More Stories from Cricket