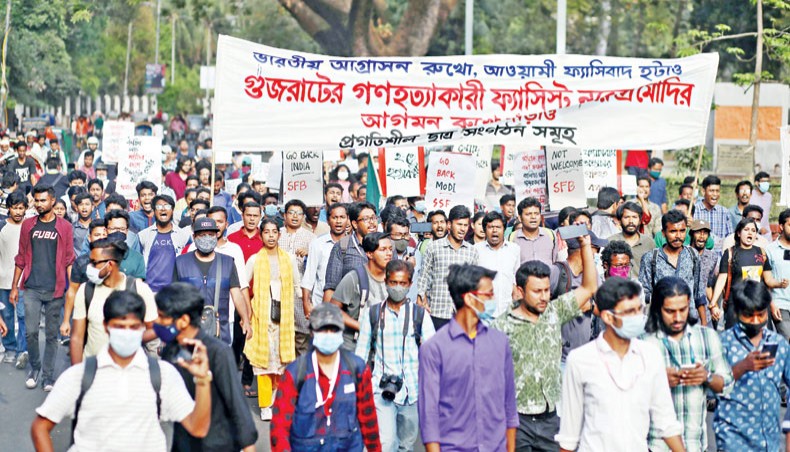 Protesters at a rally in the capital on Friday called upon citizens to resist Indian prime minister Narendra Modi's visit to visit Bangladesh scheduled for March 26-27 for celebrations marking the 50th anniversary of the country's independence.
Cordoned by police personnel in front of the national press club, the protestors accused the Indian prime minister of committing crimes against humanity in Gujarat in 2002 and also for continued oppression against the minority Muslims in India.
They accused Modi of the continued killing of Bangladeshis along the Indian border, depriving Bangladesh of due share of water of common rivers and destroying the Sunderbans by installing Rampal power plant.
Several dozens of activists joined in the demonstration organised by the Progressive Student Organisations although the ruling party had occupied their pre-announced venue at Dhaka University. The protesters paraded the street adjacent to the university and chanted slogan 'Go back, Modi go back, Go Back India.'
The activists also chanted slogans calling people to resist 'Indian aggression' and also said that the protests was not against Indian people rather only against Modi.
Chhatra Union's Dhaka University secretary Ragib Nayeem said they would resist the visit of Modi in Dhaka.
Biplobi Chhatra Maitry secretary general Dilip Roy said that the protests against Modi visit would be stronger.
Samajtantrik Chhatra Front president Al Qaderi Joy said that the visit of 'fascist' and 'communal' Modi in Bangladesh was contradictory to the spirit of the War of Independence and inviting him to the programme of golden jubilee of the independence was a betrayal to the nation.
Biplobi Chhatra-Juba Andolan president Atif Anik said that India was looting the national resources of Bangladesh in the name of different deals.
Separate Islamist groups jointly staged another protest procession in the capital's Baitul Mukarram and its adjacent area.
The Paltan police station officer-in-charge Abu Bakar Siddique said the Islamist groups held the rally without any violence.
Bangladeshi political parties, especially Islamic parties, staged protests ahead of the visit of the Indian prime minister scheduled for March 2020 in response to the Delhi riot that left over 50 killed in India in late February 2020.
Modi's visit was cancelled following COVID-19 outbreak in Bangladesh.
Want stories like this in your inbox?
Sign up to exclusive daily email
More Stories from Politics