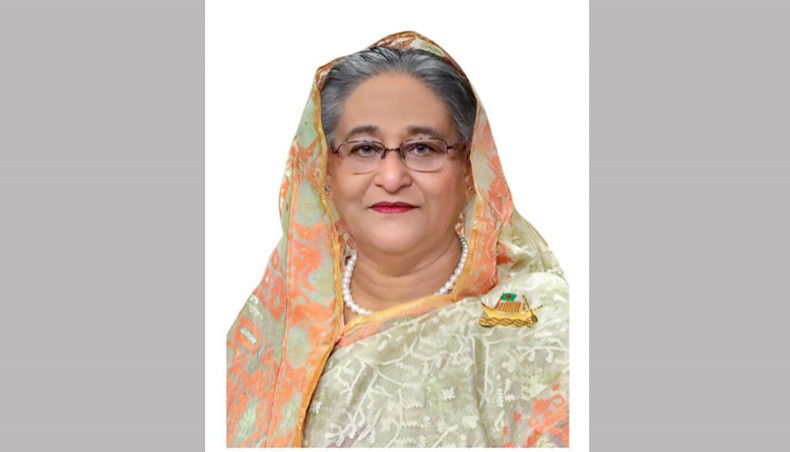 Prime minister Sheikh Hasina on Friday said Sheikh Mujibur Rahman had set a glaring example by leaving the post of minister only for strengthening his party and described it as a lesson for all.
'Bangabandhu knew that a strong organisational base was needed to attain anything at that time. . . people join the party for the post of minister, but Bangabandhu quit the position to strengthen his party,' she said.
Sheikh Hasina said the Sheikh Mujib had to face limitless torture, but he accepted everything only for the country's people and that's why he had made the people united to achieve the independence.
The prime minister was speaking at the third-day programmes of the nationwide celebrations of the Birth Centenary of Father of the Nation Bangabandhu Sheikh Mujibur Rahman and golden jubilee of the Independence.
Charing the auspicious occasion at at the National Parade Square, she simultaneously urged all to take a vow to materialise dreams of Bangabandhu by building a developed and prosperous Bangladesh through bringing smiles on the faces of distressed people.
'Let's make a pledge to establish a hunger and poverty-free developed, prosperous and non-communal Sonar Bangladesh as dreamt by the Father of the Nation and,' she said.
Sri Lankan prime minister Mahinda Rajapaksa attended the function as the guest of honour.
Sheikh Hasina reiterated her government's commitment to illuminate every house of the country. 'No person will remain hungry and homeless in Bangladesh. We'll light up every house,' she said, ' she said.
She went on saying: 'We want every person of the country to have a developed and prosperous life in all fields including education, health and employment.'
Describing Sri Lanka as a close friend of Bangladesh, the prime minister said Bangladesh and Sri Lanka share common views on various regional and international issues and both the countries are cooperative and supportive for each other's causes.
'Prime minister Mahinda Rajapaksa is a true friend of Bangladesh and he always stood by our side and I also try my level best to reciprocate with that friendly gesture,' she said.
Sheikh Hasina said Sri Lankan premier's participation in the celebration of the birth centenary of the Father of the Nation of Bangladesh and the Golden Jubilee of Independence is a testimony of his heartiest feelings and the people of Sri Lanka as well.
'I hope that this cordial relationship between the people of our two countries will be stronger and stronger in future,' she added.
In the celebration, a video message sent by Russian foreign minister Sergey V Lavrov was broadcast, while state minister for cultural affair KM Khalid delivered the welcome speech.
Noted academician Professor Syed Manzoorul Islam made a presentation on today's theme.
Mentioning Bangabandhu's contribution to the Language Movement, the prime minister said the movement had started in 1948 to make mother tongue as the state language when he was a student of law department in Dhaka University.
Bangabandhu initiated this struggle and he along with many other student leaders were arrested, she said, noting that the movement had started on 11 March, 1948.
He [Bangabandhu] was arrested on three occasions one after another at that time, she added.
Sheikh Hasina went on saying: 'Whenever he tried to raise voice for Bangalis or for establishing the rights of the people of Bangladesh, extreme blows came down on him. But, Bangabandhu didn't retreat rather he spearheaded the struggle to change the fate of the people of this country.'
The people, she said, who grabbed the state's power illegally after the 1975 assassination tried to erase the name of Sheikh Mujib from the history of the great freedom struggle of Bangladesh and the history of independence forever. 'But, none can erase the truth,' she added.
The prime minister said Sheikh Mujib dedicated his entire life for changing the fate of exploited and deprived people. He had no personal longing in his life, she added.
Describing Sheikh Mujib as a son of this Bangladesh, she said he made this Bangla, which was ruled by others for thousands of years, independent and became its first president and then Prime Minister.
None of those who ruled this land – no matter whether it was called Bengal, East Bengal or East Pakistan during the Pakistani period and even who came in power after his assassination on August 15, 1975 — was born in the soil of this Bangladesh, said Sheikh Hasina.
'Only Bangabandhu Sheikh Mujib was the son of this land and that is why he had a deep love for the people of this country,' she said.
Want stories like this in your inbox?
Sign up to exclusive daily email
More Stories from Foreign affairs