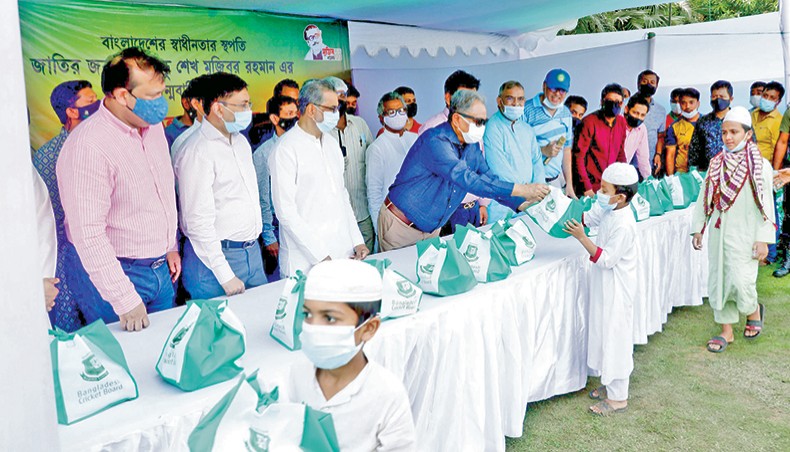 Despite the recent surge in the number of COVID-19 cases in the country, Bangladesh Cricket Board president Nazmul Hasan is hopeful to stage the World XI and Asian XI matches in 2021 which got postponed last year due to the pandemic.
BCB was on the verge of hosting two exhibition Twenty20 matches on March 21 and 22 last year in Dhaka in a competition titled Mujib 100 Twenty20 Cup to mark the birth centenary of the country's founding president Sheikh Mujibur Rahman.
But the board had to call off the matches on March 11 due to the worsening COVID-19 situation in Bangladesh and most other cricket playing nations.
The government also had to postpone many events, which were slated to take place throughout last year to celebrate the occasion, and later announced the 'Mujib year' celebrations will be extended to December this year.
BCB had vowed to stage the tournament with grandeur after the pandemic situation improves and on Wednesday Nazmul said that the board is still optimistic of staging the tournament in the near future.
'The birth centenary celebration has been extended till December, that is giving us a glimmer of hope that maybe we can organise it,' Nazmul said after distributing food among the poor on the occasion of the birth anniversary of Bangabandhu Sheikh Mujibur Rahman on Wednesday.
'But we also need to keep in mind that the COVID situation is taking a bad turn. We are keeping an eye on that too. But definitely, we want to host the tournament as soon as possible,' he added.
BCB had roped in several big names of world cricket such as Virat Kohli, Chris Gayle, Faf du Plessis to take part in for the tournament alongside local star players.
But Nazmul informed that the board is yet to start talks with other boards and the increase in the number of COVID-19 infections and deaths in Bangladesh has made the situation even more difficult.
'Actually, we haven't started talks yet. But from our end we are taking preparations. We are preparing a plan, considering things like when we can play it, which players can we get, when will they be available etc. After completing it we will contact others,' the BCB president said.
'We had a plan to start contacting others from the last part of this month as the number of COVID infections had gone down. But now we are a bit concerned with the way it is increasing.
'Many countries have gone into lockdown. It's difficult to say what will happen next. In that sense, there is some uncertainty. But I can assure you, the first chance we get, we will arrange the matches,' he added.
Nazmul also said that all domestic and international cricket series this year will be named after Bangabandhu.
Want stories like this in your inbox?
Sign up to exclusive daily email
More Stories from Cricket