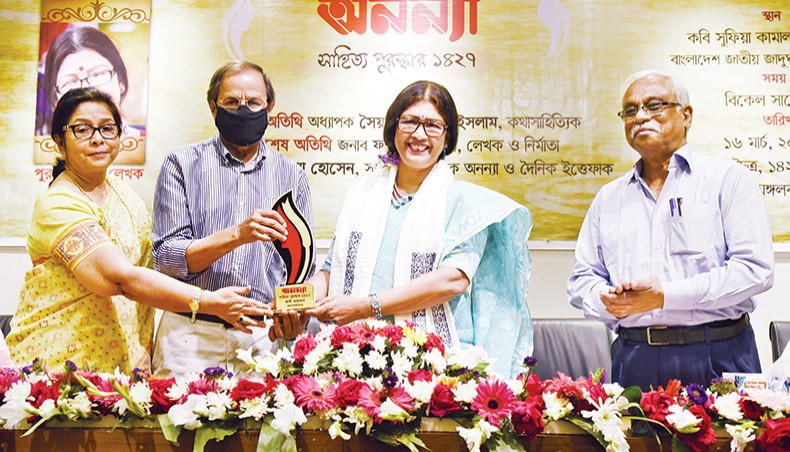 Ananya Literary Award 1427 was handed over to writer Jharna Rahman at an award-giving programme held on Tuesday at Sufia Kamal Auditorium of Bangladesh National Museum.
The fortnightly Ananya Magazine introduced the literary award for women in Bengali year 1401.
Writer-professor Syed Manzoorul Islam was present as chief guest and writer-director Faridur Rahman was present as special guest at the programme, which was presided over by the editor of Ananya and the Daily Ittefaq Tasmima Hossain.
Aspiring writer Mojaffor Hossain anchored the programme.
Laila Afroz began the programme reciting a poem penned by Aporanho Shushmito.
Following which, a documentary on the life and work of Jharna Rahman, made by Tapash Kumar Datta, was screened at the venue.
Writer Jharna Rahman was presented with an uttario by Ananya editor Tasmima Hossain while Faridur Rahman handed over a felicitation and the crest was handed over by Syed Manjurul Islam. Besides, the guests handed over a cheque of prize money worth Tk 1 lakh to Jharna Rahman.
'Jharna Rahman, who started writing in the eighties, seems to have come a long way. And her ability to examine the immediate surroundings now seems fully developed. The use of a unique linguistic expression in Jharna Rahman's writings testifies to her command over language. She shows uniqueness in the use of dialogue, and the regional dialects are also very skilfully used,' said Faridur Rahman.
'A writer does not write in the hope of winning a reward. A writer writes mainly out of passion. But, I am very happy and proud to have received such an important award that has already got past 26 years. Today is truly a day of joy and glory for me,' said writer Jharna Rahman, adding, 'I learned from my mother how to make a story interesting. I was also influenced in many ways by my father's life. I would like to dedicate this award to my parents.'
'I would first like to thank Tasmima Hossain for continuing the tradition of this award. I hope this tradition will continue. Jharna Rahman can really be called a prolific writer and she is primarily a novelist. Many of her novels and short stories that I have read are still ingrained in my mind,' said Manzoorul Islam.
'Organising this event at a time of great change in the world was also a kind of challenge. Ananya has turned 26 years. Jharna is a unique woman and an excellent writer. Ananya is happy to honour her with this award,' said Tasmima Hossain.
Jharna Rahman was born in 1959 in Munshiganj. She completed her master's in Bangla literature from Dhaka University and taught as a professor at Bangla department of Birshreshtha Noor Mohammad Public College.
Jharna Rahman writes novels, collections of stories, essays, poems, plays, juvenile literature, travelogue and others.
She has penned collections of stories namely Ghum-Machh O Ek Tukro Nari, Agnita, Swarnatarbari, Krishnapaksher Usha, Perek, Aynamami and others. Besides, she has written novels Pitaler Chand and Bhangte Thako Bhugol along with collections of poems like Jal O Golaper Chhobal and Chandradahan.
Want stories like this in your inbox?
Sign up to exclusive daily email
More Stories from Literature