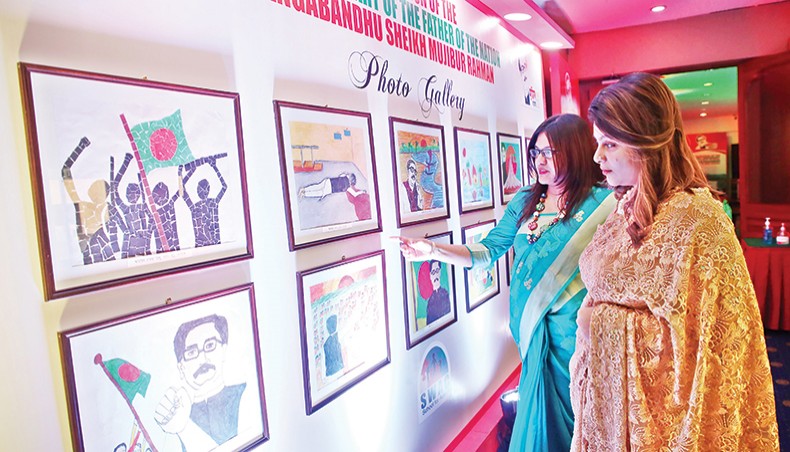 Children with autism paid tribute to the country's founding president Sheikh Mujibur Rahman displaying paintings, performing songs, dance recitals and recitation at a programme held at Pan Pacific Sonargaon Dhaka on Tuesday.
The programme was organised by AB bank in association with Society for the Welfare of Autistic Children marking Mujib birth centenary.
Information minister Hasan Mahmud was present at the programme as chief guest while chairman of the board of directors of AB Bank Muhammad A (Rumee) Ali was present as special guest at the programme.
Besides, chairman of Society for the Welfare of Autistic Children Subarna Chakma was present as guest at the event, which was presided over by the president and managing director of AB Bank Tarique Afzal.
'We arranged the programme to celebrate the birth centenary of country's founding president Sheikh Mujibur Rahman. I hope such programmes will encourage children with autism to pursue art and cultural practices and boost their mental and physical development. We believe that if we properly nurture them, they too will become accomplished citizens,' said Muhammad A (Rumee) Ali.
'Society for the Welfare of Autistic Children began its journey in 2003 with the aim to provide much needed care for children with autism. We regularly arrange cultural programmes featuring participation of such children. I thank AB bank for supporting us in our journey,' said Subarna Chakma.
The event featured an exhibition titled Bangabandhu, Pataka O Bangladesh. Paintings by 15 children on subjects namely the War of Independence, Sheikh Mujibur Rahman and others were displayed at the event.
The best paintings were awarded at the programme. Arijit Chakma received the first prize, Rihan Ali received the second prize and Marjuk received the third prize.
Besides, 25 children staged cultural performances.
Arman, Ikram, Marjuk, Tanvir, Nahian and others rendered songs Tumi Banglar Drubotara and Shono Ekti Mujiborer theke.
Tanvir recited a rhyme namely Amader Choto Nodi, Arijit Chakma rendered a song namely Rupali Nadi and Arman sang Mago Tor Charane.
Farzana, Tanvir, Rihin Al Sahbi, Ariyan and Nahian performed dance recitals synchronised with the song De Tali Bangali.
Want stories like this in your inbox?
Sign up to exclusive daily email
More Stories from Miscellany