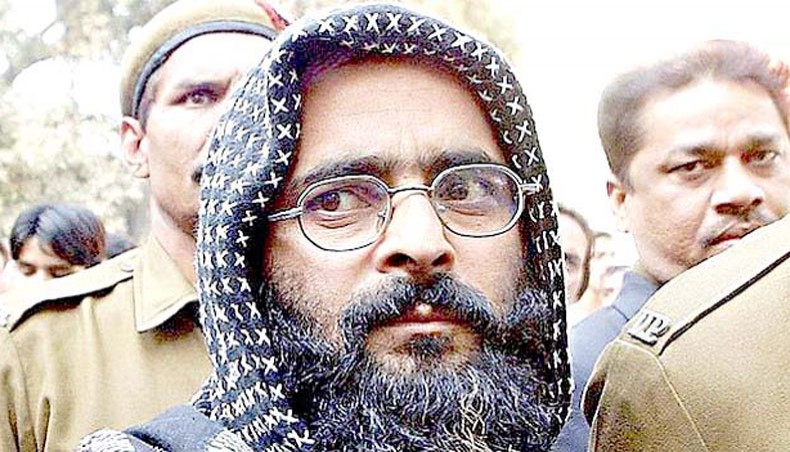 LISTENING to communist icon Kobad Ghandy express his affection for Afzal Guru — the late fellow inmate in Delhi's Tihar jail — one couldn't help missing the love of literature and music the dead Kashmiri fruit vendor shared with a generation of Indians and fellow Kashmiris. Much of that has disappeared. As Mark Antony says, perhaps, the good is oft interred with the bones.
Guru believed in the hereafter like my mother, for example, who hoped to be able to meet the classical vocalist Gangubai Hangal in paradise, and persuade her to sing for her under a large mango tree. For the three years he spent sharing his morning tea with the alleged Maoist leader in prison, Guru told him of his imminent meeting in jannat with some of the greatest cultural and spiritual legends he admired, one such being Allama Iqbal. Among his temporal guides was Noam Chomsky who he read religiously during a dozen years in Tihar.
One cold morning, Gandhy told veteran TV anchor Karan Thapar in an interview, Afzal Guru was woken up abruptly for his execution. He quietly asked to be allowed to offer his prayers. After that he walked to the scaffold with no sign of anxiety or fear. In fact, according to Ghandy, he was instructing the jail officials lining the wall along the two-minute journey to the noose, to be kind to those staff members who had not got a fair deal for their hard work. Expectedly, the jail staff wept.
There was another cultural observation about Guru that Ghandy discusses in his new book Fractured Freedom: A Prison Memoir. Guru had read the six volumes of Rumi in Urdu, similar to those the feminist poet Fahmida Riaz bought from Ghalib Academy in Delhi for her research. Afzal had many of these beautiful qualities. He was an amazingly calm, spiritual and intellectual man. On one occasion though he surprised Ghandy who recalls listening to the condemned man singing a dozen lyrical ghazals to his wife for an hour on a borrowed cellphone.
Guru's faith in Rumi and Sufism and his deep-seated aversion to puritanism were of a piece with what used to define Kashmiriat. He was firmly opposed to terrorism or killing of individuals for any cause whatsoever.
Guru did of course plead his innocence in the 2001 parliament attack case, which went unheeded. In a private letter to his lawyer during the hearings, he had described how he was routinely tortured and terrorised by a Kashmir police officer on whose orders subsequently he helped total strangers to find a house to rent in Delhi. The police officer who reportedly acknowledged torturing Guru was recently arrested, accused of working as a foreign agent who handled foreign mercenary groups.
Going by Ghandy's account of the Kashmiri convict's last day, he was hurriedly hanged in the dying days of the Congress rule on February 9, 2013. It was a political gambit by the Congress to show itself as more nationalist than the Bharatiya Janata Party. The BJP won. Guru's family was informed of the execution with a telegram that arrived way after he was secretly laid to rest near Maqbool Butt's grave, another Kashmiri fighter who was hanged and buried inside Tihar jail.
Ghandy belonged to a standard Parsi family from Mumbai with its corporate connections and related dreams. He was sent to England to become a chartered accountant, but was jailed there for joining an anti-racism protest. Upon his return, he melded with the slum dwellers in his Mumbai neighbourhood, and, as Marxists strive to do, began the endeavour to declass himself. He met his wife Anuradha Shanbag, a committed leftist, during the early struggles and they were married in 1977 soon after the emergency was lifted.
The couple decided not to have children, seeing it as an imposition in their involved activism. Anuradha died of falciparum malaria in 2008 while working in the tribal district of Bastar where she organised women to reclaim their stolen rights. The next year Kobad Ghandy was arrested — or kidnapped rather, as he says — from a bus stop in south Delhi.
For hours, he was driven in a car with darkened windows. His 'kidnappers' spoke Telugu, the language of Andhra Pradesh, a hotbed of Maoist activity. Ghandy could make out one word: 'airport'. He had known of suspected Maoists being flown in helicopters to remote Andhra forests where they would be killed in a contrived encounter. Ghandy survived the scare when news leaked of his disappearance. He spent 10 years in six different jails including seven in Tihar till his release in 2019.
Kobad first got to know Afzal Guru on the very evening he entered Tihar jail. Guru, he says, had 'a knack of converting basically hot water into an excellent cup of tea'. They would begin every single day with a cup of tea made by Guru when the discussion would veer to Islam, Sufism, Chomsky and poetry. Guru was a well-read and well-informed person.
'He introduced me to the Kashmir situation, Islam and its progressive aspects and, most importantly, Sufi thinking.' Guru was a humanistic and religious man but not a fundamentalist or fanatic, and he was very close to his mother, wife and children.
The incarceration helped Ghandy clear much of the clutter from his early engagement with Marxism. Marx and Engels began as philosophers first but without the deep insights into the human mind, which came only later with Sigmund Freud. It was curious, for example, that the masses have preferred the free market to real freedoms.
Could it be that the philosophical notion of human happiness that Marx and Engels might have stressed, was hijacked by the search for hitherto elusive material and economic equality? Did Ghandy get this insight from Guru's reading of Rumi, who says: 'Why do you stay in prison when the door is so wide open, and the entrance to the sanctuary is inside you?'
Dawn.com, March 16. Jawed Naqvi is Dawn's correspondent in Delhi.
Want stories like this in your inbox?
Sign up to exclusive daily email
More Stories from Opinion