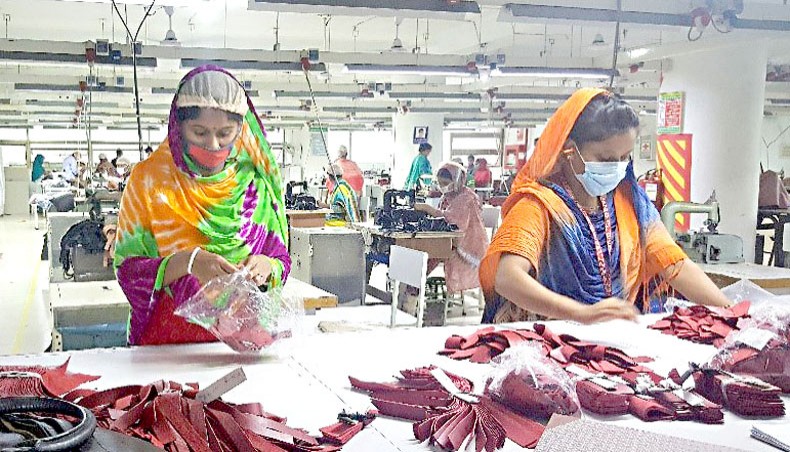 THERE is no denying the fact that the economic growth of Bangladesh over the past few years has been nothing short of remarkable. When compared to the rest of our South Asian neighbours, we have been growing at a persistent pace, achieving a growth rate of about 8.2 per cent in the 2018–2019 financial year, according to the World Bank. This is a particularly impressive achievement, especially given the fact that not too long ago, we were the so called 'basket case' of the world: ravaged by floods, chronic economic mismanagement and trapped in a seemingly vicious cycle of poverty. However, primarily riding on the second biggest apparel industry of the world, strong inflow of remittances from our expatriate workforce and judicious government policymaking over the past decade, we are now considered to be a development model by experts in the fields of business and economics.
Despite this very optimistic path that we have been on, one limitation of our economy is very clearly evident — the over-reliance on the apparel sector and its exports to a select group of countries. The apparel industry has generated over four million jobs and accounts for about 84 per cent of Bangladesh's exports. Hence, there is simply no doubt about the tremendous contribution the industry makes to the country's economy. Having said that, for any country to achieve sustained growth, it is imperative to have a diversified portfolio of products and export destinations. Cases in point are some of our East and South Asian neighbours such as China, India, Thailand, Malaysia and Vietnam and others. Vietnam, in particular is coming up as a strong global player in the manufacturing of machinery, footwear and electronics while also continuing its ascent as a major RMG exporter to the western world. However, that has lamentably not been the case with us. Although we have made strides in the manufacturing and exports of medicines, furniture, footwear and leather products, agricultural produce, furniture and ceramics, amongst others, apparel is still the one sector where the dependency for employment generation and export earnings have continued. However, the over-dependence on this one sector could ultimately spell disaster for our economy.
As the COVID-19 pandemic has proved, there are serious possibilities of unforeseen external shocks arising and affecting the apparel industry. As per the latest figures reported by the president of the Bangladesh Garment Manufacturers and Exporters' Association, apparel export declined by 9.69 per cent in December 2020 compared with that in December 2019 and year on year exports to our biggest apparel market, the United States, alone, has dropped by 11.73 per cent to $5.22 billion in 2020. As significant number of orders were cancelled, or indefinitely postponed, and payments have been delayed and/or paid with deep discounts by retailers from Europe and North America, a large proportion of the factories are working well below capacity. The smaller factories have been hit particularly hard and an estimated 300 small and medium factories are considering permanent shutdown of their operations. According to a recent study conducted by the Centre for Policy Dialogue, around three hundred and fifty thousand workers have lost their jobs permanently.
According to data from the Export Promotion Bureau, Bangladesh's export earnings for the 2019–2020 financial year was $33.67 billion, dropping by 16.93 per cent from the preceding financial year's earnings of $40.53 billion. This is understandable given the fact that the economies of our most important apparel export destinations — the United States and European countries — are reeling from the devastation of the COVID-19 pandemic. However, these figures provide a sobering reminder of the downsides which stem from having a highly concentrated export basket. Therefore, the obvious path forward in recovering our export earnings would be to substantially diversify our export basket and export markets.
The first step in that direction would be the identification of a niche — high value fashion products from the luxury retailers rather than focusing only on volume growth from basic products. According to a Wall Street Journal report, premium fashion brands often do not order products from Bangladesh in sizable quantities. After about 40 years in the industry, Bangladeshi manufacturers must be developing the necessary capabilities and networks to produce high end clothing for the luxury brands of the world. By manufacturing for the more upscale brands, value addition will take place and the risks of order cancellations and payment deferrals can also be minimised, which has been a recurring problem with fast fashion brands. Further investment is also required in the backward linkage industries associated with apparel, emulating the Vietnamese model, where the order to delivery lead times are considerably shorter, which has the potential to improve overall efficiency in the industry. Apart from that, the list of destination countries needs to be expanded in emerging markets such as Japan, South Korea, Australia, and New Zealand, among others, with highest priority.
Secondly, a greater degree of focus is required on the production of intermediary products such as electronic goods, machinery and equipment. Our East Asian neighbours such as Thailand, China, Malaysia and Philippines have been able to diversify their export baskets and earn higher revenues by gradually moving towards these manufacturing sectors whereas in Bangladesh appael accounts for 83.5 per cent of our total export earning.
Thirdly, effective policies and programmes need to be formulated to support further growth in the leather and footwear, plastic, pharmaceuticals and agro-processing industries where we already have started exporting but the volume needs to be expanded. One obvious policy measure which can be implemented is swiftly bringing uniformity in bonded warehouse benefits to adequately cover these sectors. Bonded warehouse facilities provide opportunity to export-oriented businesses to buy raw materials and intermediate goods at zero-tariff prices and are mostly used by garments and apparel exporters. According to analysts, if these facilities can be extended efficiently to the other industries mentioned above, it has the potential to boost non-apparel exports by approximately $1.5 billion a year. Investors in the non-apparel sectors should, therefore, explore their options of further using this scheme.
Fourthly, thorough analyses of our East Asian neighbours in terms of strategic measures which allowed them to diversify their exports will also provide deep insights into future policy formulation. Lastly, decisive steps should also be taken to improve our position in the trade related indices such as the Ease of Doing Business Index, where we are ranked 168 out of 190 countries, in order to provide a greater level of confidence to foreign investors, who are interested to invest in the non-apparel sectors.
Export diversification is undoubtedly a complex process. However, as we aspire to become an upper middle income country, it is time our economy moved beyond the apparel sector through concerted efforts of all parties involved.
Shadman Sahir Ahmed is a lecturer in international business and marketing at the North South University, Dhaka.
Want stories like this in your inbox?
Sign up to exclusive daily email
More Stories from Opinion