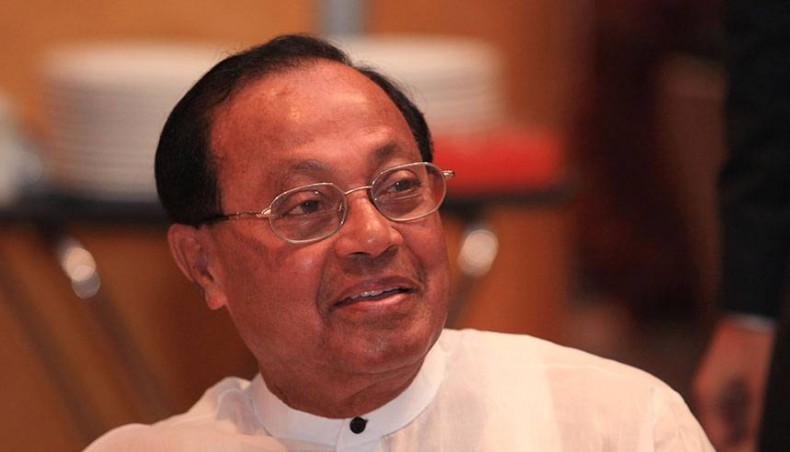 Veteran politician Moudud Ahmed breathed his last at a hospital in Singapore due to age-related complications on Tuesday.
Bangladesh Nationalist Party standing committee leader Moudud died in Singapore at about 6:30pm Bangladesh time while he was under treatment at a hospital there, opposition BNP chairperson's press wing member Syrul Kabir Khan confirmed.
He was 81.
Moudud left behind his wife Hasna Jashimuddin and a daughter to mourn his heath. The couple had two sons who died earlier.
Moudud was undergoing treatment at the hospital since February 2 as he suffered a mild stroke and a heart attack in Dhaka, according to Facebook posts of his spouse Hasna Jasimuddin Moudud.
President Md Abdul Hamid, Chief Justice Syed Mahmud Hossain, ruling Awami League general secretary Obaidul Quader, BNP secretary general Mirza Fakhrul Islam Alamgir, Liberal Democratic Party president Oli Ahmad and foreign minister AK Abdul Momen, among others, condoled the death of BNP leader Moudud in separate messages.
Members of the cabinet, including law minister Anisul Huq and information minister Hasan Mahmud, also expressed condolences over his death.
Moudud, an eminent lawyer, was a freedom fighter. He had worked at the external publicity department of the provisional Bangladesh government during the War of Independence in 1971.
He was the first postmaster general of Bangladesh after the country's independence.
He was one of the founding members of the Committee for Civil Liberties and Legal Aid formed in March 1974 during the rule of Sheikh Mujibur Rahman. Moudud, who was active as a member of the committee, was arrested in December 1974.
He was elected member of the parliament five times, mostly from constituencies in Noakhali.
He had held different public offices, including as deputy prime minister in the governments of military rulers Ziaur Rahman, between 1976 and 1978, and HM Ershad, between 1987 and 1988, prime minister, between 1988 and 1989, vice-president, between 1989 and 1990. He was law, justice and parliamentary affairs minister in Khaleda Zia's cabinet of Bangladesh Nationalist Party-led four-party alliance from 2001 to 2006.
Moudud was also arrested by the military-controlled interim government in 2007. He was released as the Supreme Court dismissed the case in 2008.
He was also arrested in 2013 by the ruling Awami League government of Sheikh Hasina. He was sent to jail in cases filed on allegations of attempting to kill policemen and creating violence in the capital. He was later released on bail.
After completing his graduation and post-graduation degrees in political science from the University of Dhaka, Moudud studied law in England and become a member of the English Bar in 1966.
Moudud had also emerged as a prominent writer on political, regional, and governance issues.
His published books were 'Bangladesh: Constitutional Quest for Autonomy 1950-71,' 'Bangladesh: Constitutional Quest for Autonomy,' 'Bangladesh: Era of Sheikh Mujibur Rahman,' and 'Bangladesh Emergency and the Aftermath 2007-2008.'
He was a fellow of the University of Harvard and the University of Heidelberg. He was also a visiting professor at the Elliott School of International Affairs of the George Washington University.
Want stories like this in your inbox?
Sign up to exclusive daily email
More Stories from Politics