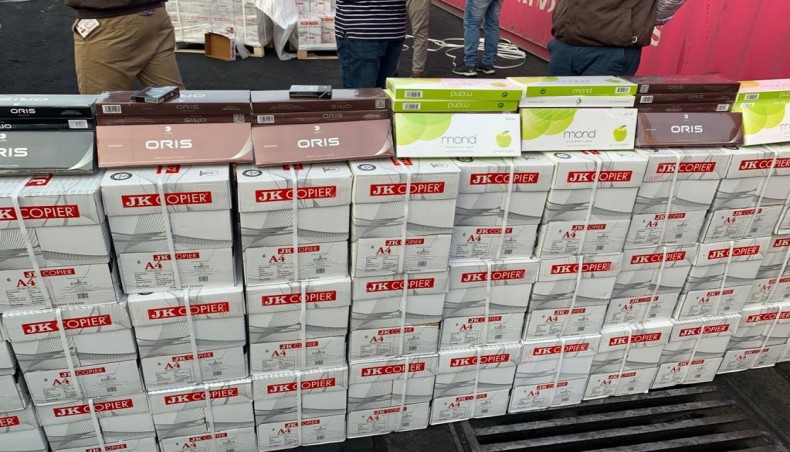 Custom authorities seized cigarettes hidden in a fancy way in a consignment of 'A4' size paper imported from the United Arab Emirates.

The consignment contains 49,980,000 sticks of Oris and Mond brand cigarettes in 24,990 cartons, said customs officials on Tuesday.

There had been an attempt to evade revenue of around Tk 12 crore by smuggling the conditionally imported goods, Rezaul Karim, assistant commissioner of Chattogram Custom House, told New Age.

An attempt was made to smuggle the goods seized on Monday. But Chattogram Custom House authorities prevented the move with strict surveillance, he said.

According to Custom House sources, JK Stationery, an importer from Chattogram, imported one container of goods from the United Arab Emirates by declaring 'A4' size paper.

On February 4, the container on the ship 'MV X-Press Nuptse' from Jabel Ali Port in Dubai arrived at Chattogram Port, but the company did not take any action to unload the goods, said assistant commissioner Rezaul Karim.

On Monday, an audit, investigation and research team of Chattogram Custom House took the initiative to test the product.

After removing all the products from the container, custom officials found 24,990 cartoons of Oris and Mond brand cigarettes. Besides, 'A4' size paper was available in 13.6 tons.

Earlier, on February 14, the goods of another company (Karim Trading) imported in the same process were seized and 23,000 cartons of Easy and Mond brand cigarettes were seized by the customs officials.



Want stories like this in your inbox?
Sign up to exclusive daily email
More Stories from Trade & Commerce