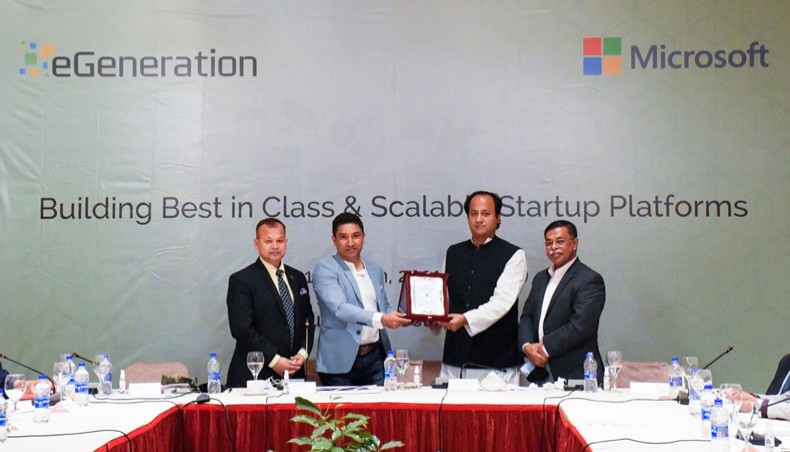 Startup companies in Bangladesh are going to get tech innovation supports from eGeneration and Microsoft for scaling up their platforms.
This was announced at a roundtable titled 'Building Best in Class and Scalable Startup Platforms' on Sunday at The Westin Dhaka, said a press release.
eGeneration and Microsoft jointly organised the event and presented the cases for tech innovation opportunities for these startups with technical support.
This includes opportunities like 'Microsoft for Startups'– a programme under which startups can get funding, cloud credits etc. and 'ISV Recruitment'– a programme under which startups can have technical assessment, consultation on app modernization and cloud migration supports.
The roundtable also led the discussion to embrace strategies that help Bangladeshi startups and businesses to integrate industry 4.0 technologies like machine learning, artificial intelligence, big data in latest productivity tools, and cloud specific solutions that give unparalleled scalability options for their business platforms.
Shameem Ahsan, managing director, eGeneration, chaired the discussion session and Mohibul Hasan Chowdhury, deputy minister of education, was present as the chief guest at the roundtable with special guest Brigadier General Md Nasim Parvez, director general, Systems and Services Division, BTRC.
Mohibul Hasan Chowdhury said, 'We need our local businesses to thrive and grow rapidly to bring equality in the Bangladesh's digital divide. Government has all the intentions to give this sector the needed policy support to streamline processes for the startups.'
Shameem Ahsan said, 'eGeneration in partnership with Microsoft is working diligently to bring the era of intelligent cloud and digital solutions that enable all these companies, including both public and private local organizations. We have been working closely with the government, Microsoft and other partners to transform Bangladesh into an innovative high-tech nation.'
Lathika Pai, country head India, Venture Capital and Private Equity Partnerships at Microsoft, Hussain M Elius, CEO, Pathao, and Rahel Ahmed, CEO, Nagad, attended the programme.
SM Ashraful Islam, executive vice chairman, eGeneration; Md Abdullah Al Mamoon, DMD and COO, UCBL; Mashroor Hossain, head of channel sales, Microsoft; Jannatul Fardous Popy, partner technology specialist, Microsoft; Emran Abdullah, Director, operations and sales, eGeneration; Shah Paran, CEO, HandyMama; Kishwar Hashemee, CEO, Kludio; Sylvana Quader Sinha, CEO, Praava Health; Kashfia Mahmud, CEO, Shadhin; Zeeshan Kingshuk Huq, co-founder, Sindabad.com; Mohammad Oli Ahad, founder, Intelligent Machines Limited; Habibul Mustafa Arman, co-founder and CEO, KhaasFood.com; Asikul Alam Khan, chief executive officer, PriyoShop.com; Morin Talukder, chief executive officer, Pickaboo; Sanjida Farhana, CEO and Founder, poshapets.com; Quazi Omar Ferdous, COO of OBHAI; Nahita Nishmin, COO, Cookups; HM Tarikul Kamrul, COO, Evaly; Mustafizur Rahman Sazid, chief operating officer, Butterfly Group; Wahid Sadat Chowdhury, head of IT and ERP, Energypac, among others, joined the roundtable.
Want stories like this in your inbox?
Sign up to exclusive daily email
More Stories from Miscellany