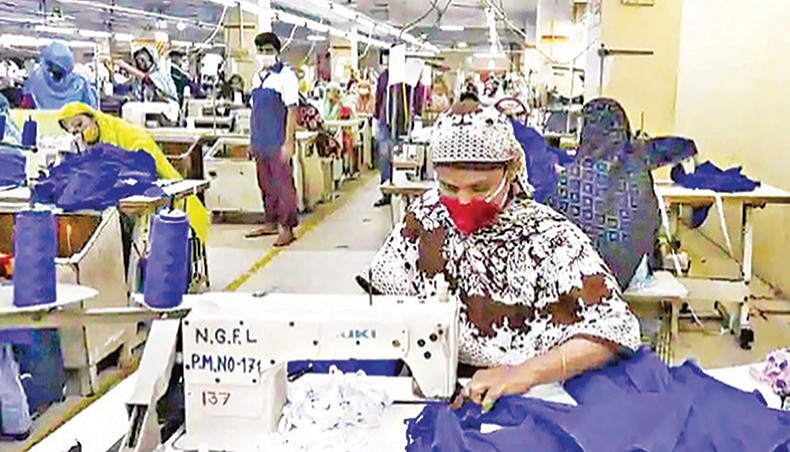 Sixteen major global fashion brands, including H&M, Nike and Levi's, recorded profits of at least $10 billion in July-December of 2020 alone while millions of garment workers of their supply chain were denied full wages for the work already completed due to order cancellations and non-payment by the brands during the COVID-19 pandemic, according to a global report.
'In stark contrast to the destitution faced by garment workers in their supply chains, most major fashion brands are once again turning profits – in some cases unprecedented profits – having already recovered from the initial disruption caused by the pandemic,' said the study conducted by Business & Human Rights Resource Centre, a UK-based rights advocate.
The report titled 'Wage theft and pandemic profits: the right to a living wage for garment workers' demonstrates how the business model of fashion brands and the structure of global garment supply chains create and sustain poverty wages for garment workers.
'Wage theft is endemic in the garment industry: factories scaling back the workforce or closing down and laying off staff without payment of wages and severance is rife. But wage theft has escalated during the pandemic with grave consequences,' the report said.
The study features eight case studies from Bangladesh, Cambodia, Myanmar, the Philippines and Ethiopia, involving allegations of unpaid wages and benefits linked to the COVID-19 pandemic affecting over 9,800 garment workers.
These workers were producing for 16 international brands: Carter's Inc, Hanesbrands, H&M, Levi Strauss & Co, LIDL, L Brands, Matalan, Mark's Work Wearhouse, Next, New Look, Nike, PVH, River Island, Sainsbury's, S.Oliver and The Children's Place.
'As stores closed around the world in response to COVID-19 lockdowns in early 2020, fashion brands and retailers sought to minimise their losses, shifting the financial burden of the disruption to the bottom of their supply chain,' the report said.
It said that the cancelled orders, delayed payments and demands for huge 'discounts' from suppliers — the practice of paying only a fraction of the agreed amount for clothes ordered — had a catastrophic impact on workers.
The report also found that major fashion brands refused to pay overseas suppliers for over $16 billion of goods during the pandemic between April and June 2020.
In many cases workers — the vast majority women — had been owed wages for several months and are left struggling to support themselves and their families, it said.
It claimed that tens of thousands of garment workers had also lost their jobs during the pandemic and one in four had not received legally mandated severance pay.
'These workers face hunger and destitution: more than three-quarters (77 per cent) of garment workers or a member of their household have gone hungry since the beginning of the pandemic as suppliers cut wages and closed factories,' the report said.
According to the study report, many garment producing countries are using the pandemic as justification for suppressing wages.
'In Bangladesh, garment manufacturers are urging the government to suspend a planned 5 per cent rise (from approximately $94 to $99 per month) in the minimum wage due to the COVID-19 crisis while in Cambodia the minimum wage for garment workers was increased by only $2 a month as of January 2021, far short of unions' recommendation of $12,' the report said.
Citing an example, the report said 600 workers were owed wages, benefits, bonuses and severance pay from Dragon Sweater factory in Bangladesh after their jobs were terminated in March 2020 after the factory suspended operations.
It also said that over 1,100 garment workers continued to demand unpaid wages and benefits from A-One BD Ltd garment factory in the Dhaka Export Processing Zone after it closed operations in March 2020, reportedly as a result of foreign buyer cancelling orders.
Workers have staged a series of protests to demand the reopening of the factory, and the payment of all arrears, since January 2020 and in early December 2020, protestors were left injured after police violently attacked them with batons, tear gas and water cannons while they were asleep, the report said.
According to the BHRRC report, approximately 3,000-4,000 workers in Stylecraft Ltd factory in Gazipur, Bangladesh were affected due to the cancelation of orders and non-payment by the buyers.
Workers of the factory staged demonstration in November 2020 demanding 35 per cent of their wages and arrears for September and October, full pay for November, overtime pay and other owed allowances.
Thulsi Narayanasamy, senior labour rights lead at the BHRRC, said that the research exposed an unfair industry rigged to favour brands at the expense of women workers who make clothes.
'A year into the pandemic, with growing profits, and after witnessing the utter destitution of workers, brands don't have an excuse for failing to protect the basic rights of garment workers. It's not optional to ensure legal wages and benefits are paid in your supply chain,' she said.
The business model of fashion brands and the structure of global garment supply chains was built on an extreme inequality of power that creates and sustains poverty wages for garment workers, Narayanasamy said.
Want stories like this in your inbox?
Sign up to exclusive daily email
More Stories from Apparel