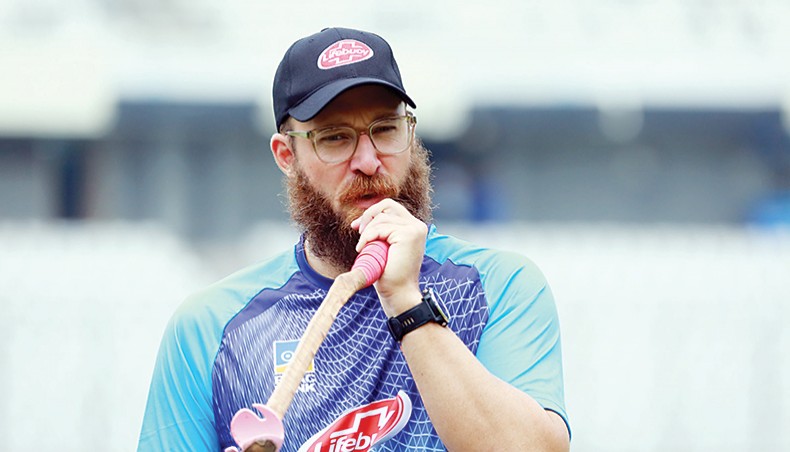 Bangladesh spin bowling consultant Daniel Vettori won't accompany the Tigers in their next month's tour to Sri Lanka, Bangladesh Cricket Board cricket operations committee chairman Akram Khan said on Saturday.
Bangladesh cricket team will travel to Sri Lanka in April to play a two-Test series, which got deferred twice last year.
Vettori is currently with the Bangladesh white-ball squad in New Zealand but he won't be with the team for the Sri Lanka tour due to strict travel restrictions caused by the COVID-19 pandemic, informed Akram.
'In Vettori's case, our contract with him is till the [New Zealand] Twenty20s. In the COVID situation, it's difficult to travel, there are huge systematic issues. Due to that, for now we can't avail his services outside of New Zealand,' Akram told the media.
'We will think about his situation in the future. For now, we have local [spin bowling] coaches, who we will send to Sri Lanka,' he added.
Vettori was also absent in Bangladesh's home series against West Indies due to strict COVID-19 related travel restrictions in New Zealand.
Akram didn't blame Vettori for his absence as he feels the unforeseen pandemic situation is the main reason behind it.
'We can't blame him. Had we called him for the West Indies series, he would have had to stay out for 70 to 75 days. That wouldn't have been good for him or the cricket board,' Akram said.
Akram earlier also hinted that Vettori, who signed a 100-day working contract with BCB in July 2019, could be on his way out of the Bangladesh setup as the board is searching for his replacement.
BCB is also closing in on finalising the details of their upcoming Sri Lanka tour but the two boards are currently bargaining over where the Bangladesh team will quarantine.
'It's almost final that we are going [to Sri Lanka]… As they [Sri Lanka Cricket] are the host, they will finalise the venue and other things in a few days. So far we know that both Tests will take place at the same venue.
'They want us to do the quarantine outside of Colombo. But we are trying to do it in Colombo, as the facilities are better there. This will also get confirmed in two or three days.'
Both Tests are likely to take place in Galle, where Sri Lanka recently played a two-Test series against England, and the likely starting date of the matches are April 21 and 29.
Want stories like this in your inbox?
Sign up to exclusive daily email
More Stories from Cricket