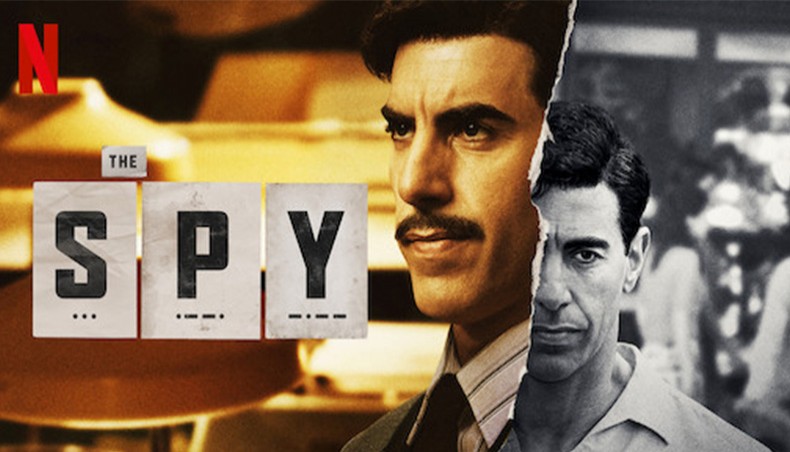 The Spy is a six-episode mini-series released on Netflix, based on the life of a top Mossad spy Eli Cohen. Watching the miniseries, Md Talebur Islam Rupom writes a review
THE Spy is a mini-series released on Netflix, wholly based on Eli Cohen, one of the most well-known Israeli agents of all times. The entire six episodes consist of the true-life events of Eli Cohen, who takes every possible risk to serve his espionage work to the Mossad, the classified intelligence unit of Israel.
The series is made based on the book The Spy Who Came from Israel, written by Uri Dan and Yeshayahu Ben Porat. It is a reflection of a spy who is ready to sacrifice everything for the sake of his homeland, in contrast, to take every possible advantage of who likes him and treats him with grace through judging on his words and appearance. The ultimate sacrifice of blind patriotism will give you a thriller drama of someone's actual life. Because of this Mossad agent, Israel captured the Golan Heights and won the battle of 1967, known as the Six-Day War.
In the first scene, a rabbi is seen accompanying Eli in an empty room with the last letter to his wife, who does not even know his own identity. Hence, the rabbi says, 'My poor boy, you do not remember your name?' It takes six years after the flashback when his story begins. Before proceeding towards a more detailed series, I would like to give the readers a spoiler alert. Eli Cohen, starred by Sacha Baron Cohen, is an Egyptian-born Jew and involved in smuggling Jewish people from Egypt to Israel, and later migrated to Israel. He is happily married and works as an accountant in a boring departmental store with a humble livelihood. Life is not sumptuous and chivalrous for him as he cannot fulfil many of his family's basic needs.
Nevertheless, he loves his wife and yearns to give her a good life. His wife Nadia Cohen is a seamstress and works for upper-class people.
On the other hand, he always craves to serve his country through the Mossad. Hence, he applied twice and got rejected on the ground of too eager and compassionate towards the Mossad. However, he does not need to wait much as Israel fails to take control of Syrian borders. Israel is attacked by the rocket attacks in 1959 coming from the Golan Heights in Syria. So, Israel needs an agent to be sent to Syria and collect classified information from there and provide it to the Mossad to make a better defence strategy to conquer the Syrian Golan Heights.
Then Eli is hired and advanced for training by the Mossad. Dan Peleg trains Eli for six months for his raw instincts, which usually takes two years on a regular occasion. One of the Peleg dialogue can explain it better, 'A true agent has instinct, and that cannot be taught. He either has it, or he doesn't.' Peleg is a man of responsibility and heart who always thinks to provide the possibly best performance and protect his agents by any means alongside takes care of the agent's family in his absence. At the end of six months of the training, he asks Eli if he still wants to go to the Syrian mission or back out with no hurt feelings.
Nonetheless, Eli opts for the mission and jeopardises his whole life. His family is completely unaware of it until the near end of the tale. Jacob Shimoni's words, as the boss of Mossad, can touch a patriot, 'We owe our people the right to live in peace and security.'
Meanwhile, he enables Eli transformed into Kamel Amin Thaabet. Kemal is Argentina based Syrian businessman with colossal wealth. Initially, he was sent to Buenos Aires to set up his image and meet elite business people, politicians, and military personnel of Syria. You will start experiencing a pure thriller when Kamel steals classified information from Syria's embassy to Argentina. Likewise, your heartbeat will increase to contemplate such scenes one after one. Afterwards, he goes to Damascus and establishes his very lucrative identity and enables himself to mix up with Syria's elite society.
In the earlier days there, he befriends the nephew, Ma'azi of the Syrian military's top commander, who believes in doing anything with his uncle's power. Kemal utilises the full privilege for it, including access to highly restricted areas for civilians. He discovers the previous Israeli attempts' failure due to the Golan Heights' bunkers endangering his life. So, on the ground of gifting the Syrian soldiers, he cunningly plants trees there, which allows the Israeli administration to target the Syrian area. Instant decision-making and unparalleled instinct make each move dangerous but triumphant. Every time you have to hold on to your heartbeat as it almost feels he is about to be caught, but no, his time has not come yet until more success.
Later, he meets general Amin al-Hafiz again, through whom he initiates his mission at Buenos Aires. Kemal helps the Ba'ath party to come to power in Syria through a coup d'état. At the same time, he betrays his previous allies and becomes the close confidant of General Amin's government in defence affairs. Kemal capacitates himself into ultimate access to all the crucial offices, including the Syrian defence, like a cup of tea that benefits his homeland and makes him more vulnerable.
Eli establishes himself as Kemal in front of the upper-class society that Amin al-Hafiz decides to appoint him as a deputy minister of defence of the Syrian cabinet. Everyone trusts his words and his appearance. British renowned comedian-actor Sacha Baron Cohen plays Eli Cohen's role, aka Kemal Amin Tabeeth, fantastically. Perhaps, this is rhetorical to question whether we are surrounded by any foreign agent in our daily movement. Because Eli leaves this spot one suspense in this screenplay, a Mossad agent reaches the state's culminating position, and no one can catch it in the first place, somewhat after numerous implacable losses.
Ostensibly, it also symbolises the flawlessness and top-notch skills of the Mossad in this televised version. It is said something is better late than never. Kemal is eventually caught and hung in an open place to exemplify the espionage act. In real life, Israeli foreign minister Golda Meir led a campaign urging Damascus to consider the consequences of hanging him. Pope Paul VI, prime ministers, parliamentarians from various countries, including Canada, Belgium, France, urged to commute the death sentence.
The question remains — conceivably, do these representatives entertain a state to occupy another state in an unconventional way of espionage where nothing remains as absolutely classified strategies? Is it even justified to solicit for the mercy of the death officially? I leave it to the readers.
On top of that, Israeli director Gideon Raff's work is praiseworthy, but some scenes do not make sense but bust out some westernised conspiracy theory. Mohammad Bin Laden, an Arab real estate businessman, is portrayed alongside a small scene of his child Osama Bin Laden, the late Al-Qaeda chief commander. It directs the Spy series from the espionage biography to the militant group's conflict, which can destruct the audience's attention for the drama. It was not necessary to put here to mislead the audience.
Md Talebur Islam Rupom is a contributor to the New Age Youth.
Want stories like this in your inbox?
Sign up to exclusive daily email
More Stories from Art Culture