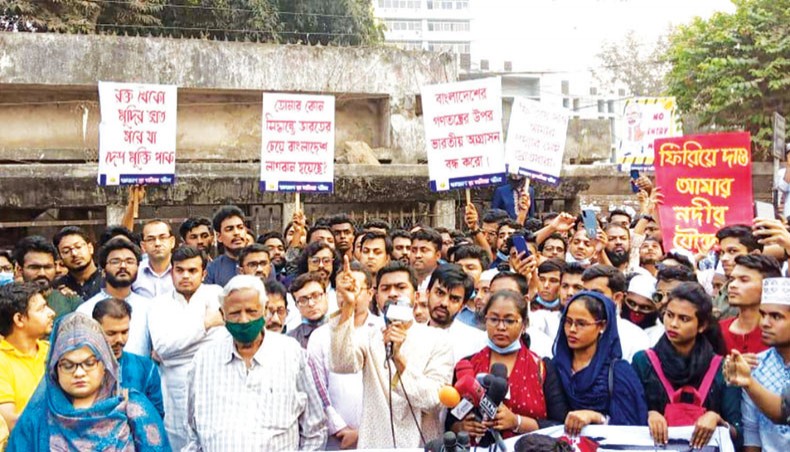 Protesters at a rally in the capital on Friday said they would welcome all Indian leaders save for Indian prime minister Narendra Modi who is scheduled to visit Bangladesh on March 26 to join celebrations to mark the 50th anniversary of Bangladesh's independence.
They accused the Indian prime minister of committing crimes against humanity in Gujarat in 2002 and also for continued oppression against the minority Muslims in India.
Several hundred activists joined in the demonstration organised by the Bangladesh Juba Adhikar Parishad's Dhaka Metropolitan Unit and chanted slogan 'Go back, Modi go back.' The demonstration was held in front of the National Press Club in Dhaka and a procession paraded through adjacent roads.
The activists also chanted slogans calling people to resist 'Indian aggression against Bangladesh'.
Gonoshasthaya Kendra trustee Zafrullah Chowdhury and immediate past Dhaka University Central Students Union vice-president Nurul Haque Nur, among others, called upon the government to cancel the visit of the Indian prime minister.
Zafrullah said that prime minister Sheikh Hasina was insulting her father, Sheikh Mujibur Rahman, the founding president of the country, on his birth centenary programme by inviting Indian prime minister Modi.
He said Modi was accused of crimes against humanity in his country. By inviting 'killer' Modi, Sheikh Hasina was insulting the Muslims in India as well as people in Bangladesh, he said.
Zafrullah also added that India helped in 1971 not to make Bangladesh independent, rather to make it another Sikkim. 'The attempt was on-going,' he added.
While addressing the rally, Nurul Haque described how the Indian prime minister played his role in killing Muslims in the Indian state Gujarat in 2002.
Nur said that they would welcome all Indian leadership, including Sonia Gandhi, the president of the Indian National Congress, and Mamata Banerjee, chief minister of West Bengal, but would not welcome 'butcher of Gujarat' Modi.
He also accused the Indian external intelligence agencies, Research and Analysis Wing, of destroying the democratic polity in Bangladesh and supporting the assassination of Bangladeshi leaders.
The protest continued until evening.
Home minister Asaduzzaman Khan on Wednesday sought cooperation from all political parties and social organisations to successfully organise a 10-day celebration of the birth centenary of the country's founding president Sheikh Mujibur Rahman beginning from March 17.
He also expected that no protest would be taking place during this period.
Last year, Bangladeshi political parties, especially Islamic parties, staged protests ahead of the visit of the Indian prime minister in March 2020 in response to the Delhi riot that left over 50 killed in India in late February 2020.
Modi's visit was cancelled after the Bangladesh government detected the first COVID-19 patient.
Want stories like this in your inbox?
Sign up to exclusive daily email
More Stories from Politics