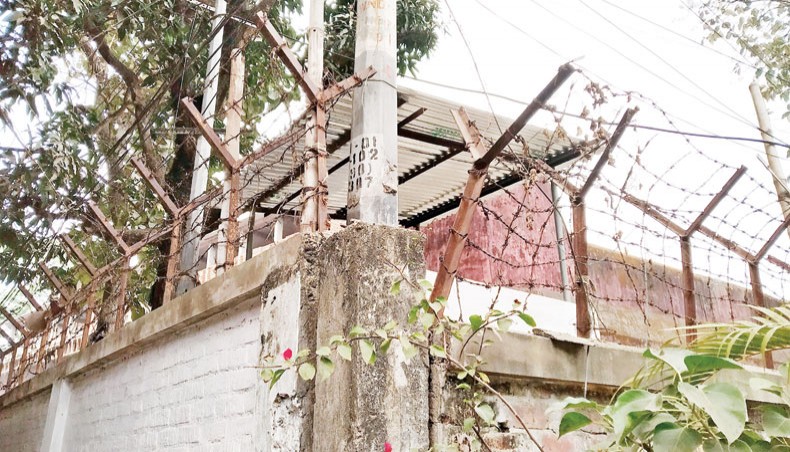 A serious breach in the security of the Chattogram Central Jail has been identified by the investigators of a case filed over the jailbreak of a murder suspect from the prison.
The barbed-wire fence on the boundary wall was found damaged or broken at several places.
The Chattogram Central Jail boundary wall next to Patharghata Bundle Road was found broken in at least 15 points on Wednesday.
Md Mofiz, a local shopkeeper, told New Age on Wednesday that some prison guards often use the damaged parts to go into or to come out of the prison.
Md Mofiz said that he had been noticing the broken parts for few years.
He also said that he saw nobody to repair the wall in last few years.
Security issue of the jail has come to the forefront after prison inmate Farhad Hossain Rubel escaped on March 6 morning.
The jail authorities on March 6 noticed that Farhad had escaped.
The jail authorities filed a case with Kotwali Police Station on March 6 night over the issue and police later on March 9 arrested the jailbreaker at Sherpur area in Narsingdi and sent him to Chattogram.
Kotwali Police Station sub-inspector Ayub Uddin, also the investigation officer of the case, told New Age that they visited the spot several times from where prisoner Farhad escaped and noticed that the barbed-wire fenced had some broken parts.
'Anyone can enter or exit the prison with these torn parts. Farhad also admitted to us that he escaped through one of the broken parts of the fence,' the officer said.
The jail authorities would be advised to repair the torn parts immediately, he added.
Khulna Division DIG prisons Sagir Mia, who leads the jail authorities' investigation into the jailbreak, told New Age that they also noticed the holes in the fence.
He termed the matter as the failure and negligence of the jail authorities.
Despite repeated efforts, Md Shafiqul Islam Khan, senior jail superintendent of the jail, could not be reached over phone for comment.
Want stories like this in your inbox?
Sign up to exclusive daily email
More Stories from Country