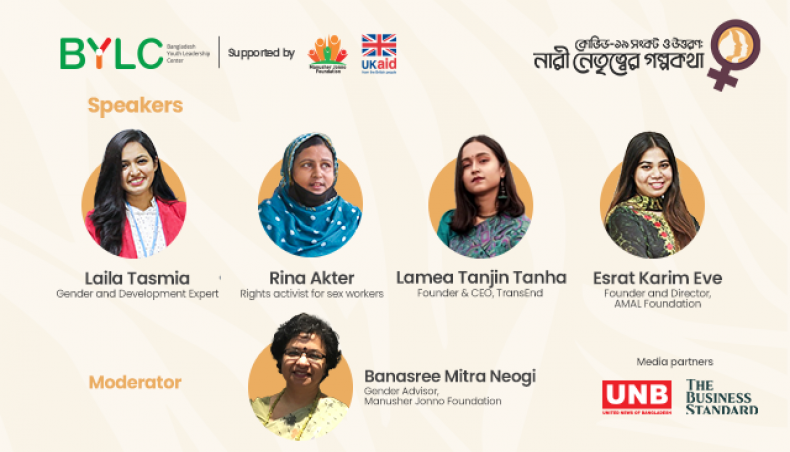 Bangladesh Youth Leadership Centre holds a webinar to mark International Women's Day 2021.
Speakers at a virtual webinar, organised by BYLC with supports from Manusher Jonno Foundation and Foreign, Commonwealth and Development Office, stressed that women have to confront discrimination and harassment in the workplace.
The webinar on 'Overcoming the COVID-19 crisis: Stories of Female Leadership', held virtually on March 6, 2021, in celebration of International Women's Day 2021, was aligned with the United Nations' theme 'Women in leadership: achieving an equal future in a COVID-19 world'.
'Every organisation should be cognizant of how they treat their female employees,' said Banasree Mitra Neogi.
Rina Akter, a former sex worker turned rights activist for sex workers who has been recognised in BBC's 100 Women 2020, explained that things are even worse for street sex workers. 'Most street sex workers were left without any work during the beginning of the pandemic. They are not eligible for voter IDs, and thus cannot own a house. Social stigma makes it impossible for them to even apply for regular jobs. They too are women but when we talk about ensuring women's rights, their issues and concerns are never taken into consideration,' she said.
Gender equality cannot be ensured if the rights of transgender women are not recognised, said Lamea Tanjin Tanha, the 21 -year-old founder of TransEnd. 'Trans-women are still seen with suspicion in our society. They are excluded from health, education, and other basic rights. If we are to ensure an inclusive society, we need to make sure that trans-people are given the same privileges, the same access to facilities that the rest of the society enjoys,' she added.
New Age Youth desk.
Want stories like this in your inbox?
Sign up to exclusive daily email