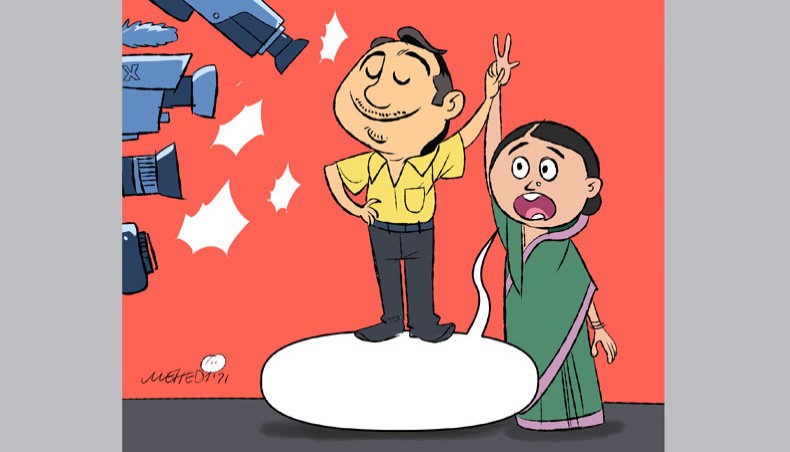 Violence against women and girls continues unabated in the country while rights activists blame the culture of impunity, delay in justice delivery, undue political influence, especially by the ruling party leaders, and anti-women mindset for a spike in incidents.
As the country, as elsewhere in the world, observes International Woman's Day 2021 under the theme of 'Women in leadership: Achieving an equal future in a COVID-19 world', the country witnessed an increase in violence against women, especially rapes and domestic violence amid the COVID-19 crisis.
Rights activists termed the situation 'unfortunate' while the country was celebrating 50 years of freedom.
Rights activists alleged that the situation was worsening as a remarkable number of the victims still did not get the opportunity to access the legal system due to financial, social and political barriers while victim-blaming was a great impediment in seeking justice.
Though the Women and Children Repression Prevention Act was amended in the backdrop of the sudden rise in rape incidents and the protests that broke out across the country against violence against women in October 2020 with death sentence as the highest punishment for rape, it brought no respite from recurring incidents of violence.
They emphasised the need for an active role of the state and society so that people are encouraged to take a stand against violence. They said that the authorities needed to equip the entire legal system with an adequate female-friendly environment by giving proper training to the staff engaged in the legal system.
They said that the government would have to take some immediate steps to ensure speedy justice by scrapping all the laws and traditions discriminatory to women, ensuring safety and security of the victims and considering village arbitration on rape incidents as a punishable offence to end such crimes.
National Human Rights Commission chairman Nasima Begum said that proper implementation of law and its execution without any delay rather than amending the law by introducing harsher punishment would improve the situation considerably.
Rights activists said that there was a huge gap between the number of the incidents that reached the courts and the number of actual incidents and, additionally, victims seeking justice was far greater in number compared with those that were reported in newspapers.
In January, the country's newspapers reported at least 84 incidents of rape, five sexual harassment incidents by stalkers and one murder for protesting against stalking, 27 incidents of domestic violence in which 11 women were killed by their husbands, seven incidents of torture and five women's death in torture for dowry, rights organisation Ain O Salish Kendra data show.
ASK data also shows that reports of 1,627 rapes were published in newspapers in 2020, 1,413 in 2019, 732 in 2018, 818 in 2017, 724 in 2016 and 846 in 2015.
Besides, 53 rape-related deaths were reported in 2020, 76 in 2019, 70 in 2018, 58 in 2017, 45 in 2016 and 62 in 2015, according to the ASK data.
Country's newspapers reported 554 incidents of domestic violence in 2020, 423 in 2019, 409 in 2018, 442 in 2017, 394 in 2016 and 373 in 2015 while 240 women were killed by their husbands in domestic violence 2020, 218 in 2019, 193 in 2018, 213 in 2017, 191 in 2016 and 212 in 2015.
Of reported incidents, 89 were tortured to death in 2020 for dowry, 96 in 2019, 85 in 2018, 145 in 2017, 126 in 2016 and 187 were tortured to death in 2015 for dowry in newspapers, the data show.
Bangladesh Mohila Parishad data, prepared based on reports published on 13 national newspapers, show that the newspapers reported 1,310 rapes in 2020, 1370 in 2019, 697 in 2018, 969 in 2017, 840 in 2016 and 808 in 2015 and 33 were killed after rape in 2020, 77 in 2019, 63 in 2018, 58 in 2017, 44 in 2016 and 85 in 2015.
Data also show that 52 women were murdered for dowry in 2020, 70 in 2019, 102 in 2018, 181 in 2017, 173 in 2016 and 202 were killed for dowry in 2015.
According to a report submitted by the police headquarters to the High Court last week, the number of rape increased in the last five years since 2016.
It shows that a total of 26,695 rape cases were filed across the country between January 2016 and October 2020. Of the cases, 4,331 were filed in 2016, 4,683 were filed in 2017, 4,695 were filed in 2018, and 6,786 were filed in 2019 while 6,220 were filed until October 2020.
According to the Supreme Court statistics, trials of 1,64,551 cases for crimes committed against women and children till March 31, 2019 were still pending with various tribunals in the country. Of the pending cases, the trials of 38,006 cases were pending for over five years and the trials of 1,217 cases were stayed by a higher court order.
Rights activist and former ASK executive director Sheepa Hafiza said that the state will have to take the main responsibility to eradicate violence against women and that women leadership should be created from the grassroots level for their political, financial, social and cultural empowerment.
Terming the law amendment incorporating death for rape as a reactionary move, she said that the amendment would bring no fruit as victims do not go to the law due to different barriers.
Amid countrywide movement against rape and violence against women in the backdrop of increased number of rapes, many of them perpetrated by leaders and activists of the ruling Awami League's associate organisations, the amendment to the Women and Children Repression Prevention Act was made incorporating death sentence as the highest punishment for rape on October 13.
On November 17, Jatiya Sangsad passed the amendment to a law.
Sheepa Hafiza said that the law was amended with harsher punishment without improving the surrounding impediments of seeking justice. 'On occasions, victims cannot lodge cases for non-cooperation at police stations,' she testified.
According to the Article 9 (3) of the previous law, if a woman falls victim to gang-rape and gets injured or dies, the punishment is the death penalty or life imprisonment for each rapist.
'The state would have to make sure that the law is being implemented properly and victims can go to the law to seek justice,' she said, adding, 'The state would have to work relentlessly to improve the situation.'
'The community people are needed to be encouraged against any kinds of violence, including violence against women,' said Mahila Parishad general secretary Maleka Banu.
She blamed the culture of impunity that helps influential quarters backed by political leaders, especially the ruling party bigwigs, escape justice as the main reason behind recurring violence against women while she also said that the unusual delay in getting justice only exacerbate the situation.
'Besides, the culture of victim-blaming, patriarchal outlook, and even harassment meted out to the victim during investigation and cross-examinations in courts are also contributing to the declining situation,' she said.
'It is unfortunate that the women and girls are increasingly becoming victims of rapes and violence, irrespective of their ages and financial or social status, while the country is celebrating 50 years of freedom,' said women rights activist Farida Akhter.
She said that there is no alternative to resistance which women themselves would have to form right the wrong.
The authorities, however, have their own interpretation of the situation.
'As far as statistics is concerned, the number of such cases has not increased. For the sake of investigations, police cannot afford to keep cases pending beyond the time sanctioned by the law,' assistant inspector general of police (media and public relations) Sohel Rana told New Age.
Additionally, women and child repression issues are always a priority to the police, he said, adding, 'The percentage of complaints is very insignificant in terms of the total number of cases filed. So, the allegation of poor service in this connection is baseless.'
Want stories like this in your inbox?
Sign up to exclusive daily email
More Stories from Country