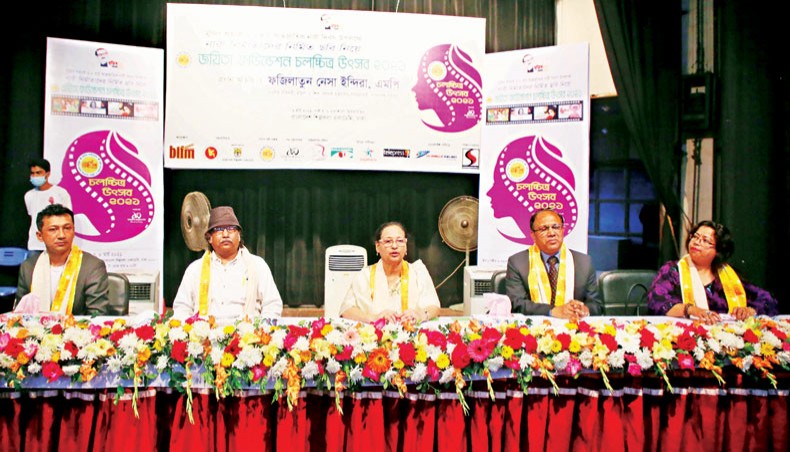 A three-day film festival featuring films directed by local female filmmakers titled Joyeeta Foundation Chalachchitra Utsab 2021 began on Saturday at Music and Dance Centre of Bangladesh Shilpakala Academy.
The three-day event has been organised by Bangladesh International Film Movement in association with Bangladesh Shilpakala Academy marking the country's founding president Sheikh Mujibur Rahman's birth centenary and International Women's Day.
The event is sponsored by Joyeeta Foundation. It is featuring six films.
State minister for women and children affairs Fazilatunnesa Indira inaugurated the festival as chief guest while additional secretary and project director of Joyeeta Foundation Md Abdur Rouf was present as special guest at the event.
Actress Shahnoor, poet-playwright and journalist Raju Alim and others spoke at the event.
Bangladesh International Film Movement president Dildar Hossain gave the welcome speech at the programme.
'Women are working alongside men in every sector. It is a matter of great joy that many young female filmmakers in the country are making films nowadays. I urge them to make more films on the War of Independence, Bangabandhu and Bangamata,' said Fazilatunnesa Indira.
Md Abdur Rouf said, 'I am happy because a film festival is being held amid the on-going COVID-19 crisis. Joyeeta Foundation has sponsored the festival. The organisation will continue supporting female filmmakers in the coming years.'
The organisers also honoured three filmmakers namely Shahneoyaj Cacoly, Nargis Akter and Nanziba Khan at the programme.
Shahneoyaj Cacoly said, 'I feel honoured to be named for the award. Earlier, I have received the National Film Award. I thank the organisers for honouring me.'
Kohinur Akter Suchanda-directed film Hajar Bachhar Dhare and Nargis Akter-directed Meghla Akash were screened on the opening day of the festival.
Samia Zaman-directed Rani Kuthir Baki Itihas and Arifa Parvin Moushumi-directed Kakhono Megh Kakhono Brishti will be screened today.
Shahneoyaj Cacoly-directed Uttarer Sur and Nanziba Khan's The Wanted Twin will be screened on the concluding day at the festival.
The films are being screened from 3:00pm to 9:00pm. The festival will end on Monday.
Want stories like this in your inbox?
Sign up to exclusive daily email