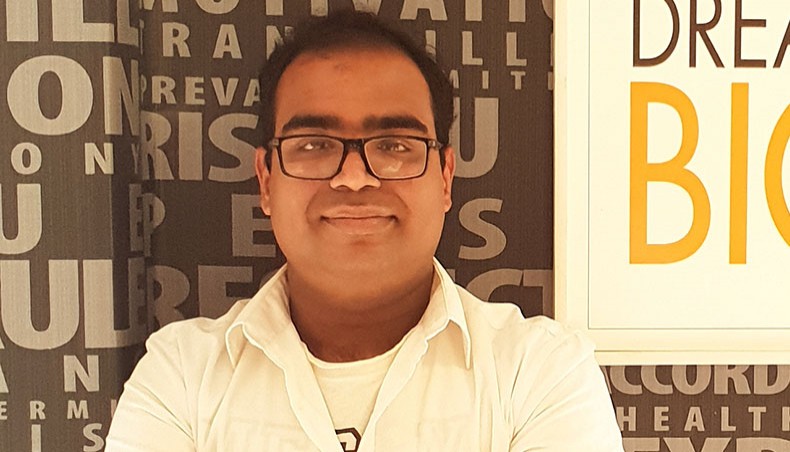 Awsaf Karim, a final year MBBS student at Army Medical College Chattogram and also the founder and president of Oroddho Health, has won the Johnson and Johnson | One Young World Scholarship Programme and shares his experiences
I could not believe my eyes when I first saw that e-mail. I read it again and again until I finally realised that I was not hallucinating. I was the first person in the history of Bangladesh to win the Johnson and Johnson | One Young World Scholarship Programme!
For those of you who do not know, the Johnson and Johnson | One Young World Scholarship Programme was established in 2017 to recognise young leaders around the world who were making an extraordinary impact in the global healthcare system. It is considered to be the most prestigious healthcare scholarship in the world, and this year it was awarded to 12 individuals worldwide. All scholars are enrolled in an exclusive accelerated training programme conducted by Johnson and Johnson which culminates with the One Young World Summit, one of the largest educational events. This year, the city of Munich in Germany will host the One Young World Summit.
Healthcare personnel around the world, for example, medical students, doctors, nurses et cetera, are eligible to apply for the JJOYW scholarship programme every year. I came to learn about this scholarship from two of my juniors, Tasnia Tabassum Oishee and Rokib Uddin Ahmed. To apply, I had to fill up a nomination form from One Young World in November. I was asked a series of questions about myself and how I was making an impact on the global healthcare system. Since my nomination form stood out, it was accepted and I was called for an online interview conducted by One Young World from London. During the hour-long interview, I was asked more questions about the work I was doing and I was told to describe my vision about the future of global healthcare. I was told that my performance in the interview was exceptional, and I was officially selected as a JJOYW scholar in February for my contribution to the mental health sector of Bangladesh.
This year, the programme will begin on March 15 with a six-month accelerated training programme organised by Johnson and Johnson and conducted by trainers from some of the most renowned universities of the world such as Duke, Yale, Oxford, Harvard et cetera. It will be followed by individual coaching from senior Johnson and Johnson leaders themselves. The highlight of the summit is the One Young World Summit 2021 in May, a 4-day event where scholars like me will get to interact with legendary personalities such as Kofi Anan, professor Dr Mohammad Yunus, JK Rowling, Emma Watson, Meghan Merkle and many more. The programme will officially end in September with the JJOYW scholars getting promoted to One Young World Delegates and receiving the means and methods to fulfil their vision for global healthcare.
Now you might be wondering, why was I chosen for this prestigious scholarship programme? I will answer you with two words — Oroddho Health. So, what is Oroddho Health?
Since my parents are doctors, Dr Abdul Karim and Dr Irin Parveen, I always aspired to be a doctor and that is why I chose medicine as my major. But when I was a freshman in my medical college, I started suffering from severe depression and anxiety. I tried hard to secretly go to therapy. But unfortunately for me, there were not many options available for mental healthcare and the few places that did provide counselling were highly expensive. Thankfully, I recovered from my mental health issues after battling for a year. I promised myself that I will never let any teenager or youth feel the way I felt when I could not afford mental healthcare. And that is how I decided to start a platform that provides free mental healthcare for the youth, which is now known as Oroddho Health.
At Oroddho Health, we primarily provide peer-support through our Facebook page every day from 5:00 pm to 11:00 pm. Everyone is encouraged to text us if they think they are going through any mental turmoil. After registering the person as our client, we assign her or him to a dedicated peer who counsels them as long as they need, absolutely free of cost. And if any client requires professional help, we refer them to one of our partner psychologists where they can get therapy at a very low price.
My team consists of 50 young students and we have already revolutionised mental healthcare in Bangladesh by making peer-support free for all. However, professional therapy is still extremely expensive for most young people. So, we plan to eventually create our team of psychologists who will provide professional service free of cost across the country.
A question that I have been hearing a lot lately is — what do I intend to do with the knowledge and experience that I will gather from the JJOYW scholarship programme?
You see, I have always noticed that medical students of Bangladesh tend to memorise textbooks and applying that knowledge in their daily life. Almost none of my peers, unfortunately, have a knack for spending time in research and innovation. This flaw has been exposed very recently by the on-going pandemic when our entire medical infrastructure is changing and innovation has become mandatory. So, my vision is to create a space where medical students are encouraged to think out of the box and develop analytical skills that will help us to predict healthcare disasters such as the COVID-19 pandemic. I intend to use my status as a JJOYW scholar to inspire a change in the way medical education is being delivered around the world.
I, therefore, encourage all young leaders and entrepreneurs of the healthcare sector of Bangladesh to apply for this scholarship programme and then use this opportunity to create an impact not only in Bangladesh but around the world.
Awsaf Karim is a final year MBBS student at Army Medical College Chattogram, currently working as the Founder and President of Oroddho Health.
Want stories like this in your inbox?
Sign up to exclusive daily email
More Stories from Initiative