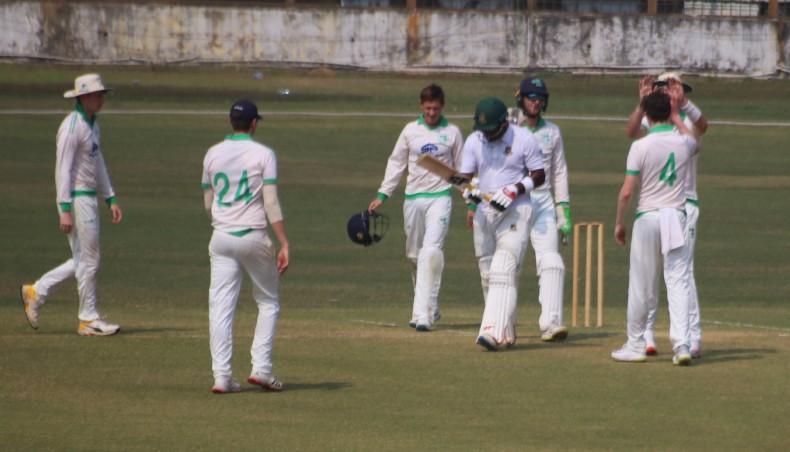 Bangladesh emerging team's series against Ireland Wolves will continue as per schedule despite the first-one-dayer in Chattogram getting suspended midway after a COVID-19 positive case in the Irish camp, said a Bangladesh Cricket Board official.
Ruhan Pretorius, a 30-year-old all-rounder, was detected positive for coronavirus on Friday after the test results arrived a few hours later than expected.
The officials immediately stopped the game at the Zahur Ahmed Chowdhury Stadium with the Bangladesh emerging team on 122-4 after 30 overs.
Pretorius bowled four overs in the suspended match and took the wicket of Yasir Ali.
BCB chief executive officer Nizamuddin Chowdhury remains confident that this incident will not end the series abruptly and the teams will play the remaining four one-dayers and two Twenty20s as per schedule.
'This is the new normal during these times. The series will continue as per schedule,' Nizamuddin told New Age.
The BCB chief executive explained why the reports came late.
'In Chattogram, it usually takes a little longer than Dhaka to get the COVID test results. We expected the results to arrive before 8:00am but it took a little more time. It took more than 24 hours to generate the report in Chattogram,' Nizamuddin said.
Nizamuddin also described what the board's plan of action would be to handle this situation.
'The player was immediately taken to isolation. Now every player will go through the coronavirus test again,' he said.
Each player of the two sides gave two separate samples for testing prior to this match and in Pretorius's case, one of his samples' tested positive while the other came out negative, said Nizamuddin.
BCB now will again test Pretorius to confirm his diagnosis.
Cricket Ireland also released a statement in this regard on Monday.
'Today's [Friday] match between Bangladesh Emerging and Ireland Wolves has been suspended on medical advice.
'Prior to today's game, both squads received negative results for COVID, and the game proceeded as per protocols. However, a review of results by mid-morning by the local laboratory detected one positive test in the Ireland Wolves squad,' the statement read.
The next match of the series is scheduled to take place on Sunday at the same venue.
Want stories like this in your inbox?
Sign up to exclusive daily email
More Stories from Cricket