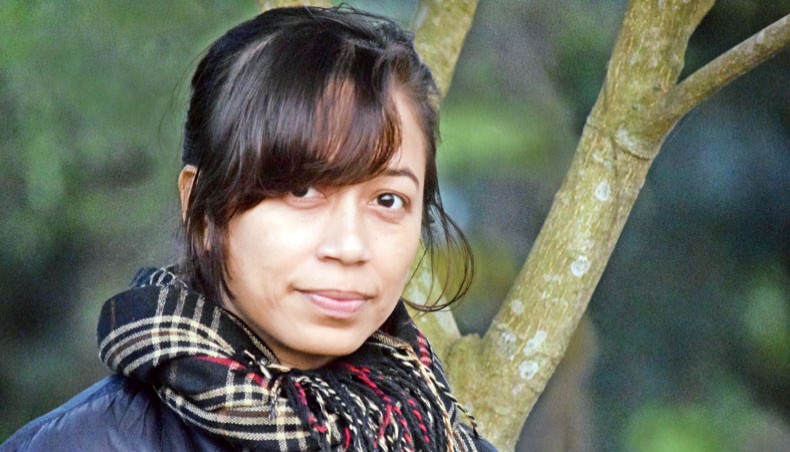 Artist Yasmin Jahan Nupur said that initiatives should be taken to develop an art market in Bangladesh so that artists can focus only on creating quality works, without thinking about where and how to sell their works.
'Artists across the globe do not have to think about how to sell their works to buyers or collectors. They have professionals involved in art marketing. It is very important to develop an art market sector in Bangladesh for creating professionalism in the country's art scene. I think that people belonging to art fraternities should start discussing the topic and do something about it,' Yasmin Jahan Nupur told New Age.
'We have more buyers than art collectors. A buyer buys artworks to hang them on the walls of his bedroom, office, restaurants or other places. An art collector collects works with a long vision. It is very difficult for an artist to create artworks and go door to door to sell those. Museums and galleries across the world have people working in art marketing. They consult the artist and set strategies. I think that the market will develop in the country but it will take some time. An auction is set to be held in Dubai soon where works of 11 local artists will go under the hammer,' Yasmin added.
Yasmin Jahan Nupur bagged honourable mentions in 13th Asian Art Biennale in 2008, 15th Asian Art Biennale in 2013 and 17th Young Artists' Exhibition in 2010, organised by Bangladesh Shilpakala Academy, Dhaka.
'Many people have been complaining about the absence of professionalism in curation in Bangladesh. Curators play an important role in showcasing works of artists. Curators decide where and how the works will be represented. We have few galleries in Bangladesh, which is not sufficient at all. The way these galleries operate, their structure and marketing policies, are different from those the galleries of other countries have developed. Most of them are oriented around exhibitions. Young, National and Asian exhibitions are the most vital platforms for young artistes as they can showcase their talent during these events,' said Yasmin.
'We should focus more on curatorial intervention by engaging curators for all national and international Shilpakala Academy-organised exhibitions. We have some talented curators, namely Tanzim Wahab, Mahabubur Rahman and others. We should involve curators in every segment as they can design an exhibition around a theme. We can follow in the footsteps of Dhaka Art Summit and Chobi Mela as they have engaged many curators. The benefit of engaging multiple curators is that, together they would be able to showcase our works in a systematic way,' said Yasmin.
She also suggested that the biennial shows can be organised in foreign countries to promote Bangladeshi art.
Yasmin, who completed her MFA from University of Chittagong in 2000, has been working for years in performance art and installation at both home and aboard.
'Many contemporary artists have been experimenting with installation and performance art for a long time. These are not new mediums for us. It is new for us as we had started working in these mediums since the 90s. I hope that the connoisseurs' appreciation for these mediums will increase in the future, thereby creating more opportunities for artists in future,' she said.
Her had four solo exhibitions — Breakfast News, at Alliance Française, Dhaka and Chittagong in 2006, The Long way Home, IBL Gallery, Port Louis, Mauritius in 2011 and 'Patterns of a Tactile Score', Curator Kanika Anand, exhibit320, New Delhi in 2018 and Phenomenology of Perception Exhibit 320, Delhi, 110030, India in 2015.
She also participated in many group art exhibitions at home and aboard, namely Freefall, an exhibition of contemporary drawings, Bengal Art Lounge, Dhaka in 2012, State of Being So Divided: Documents, Memories and Archives, VM Gallery, Pakistan in 2011, Chapeaux!, a tribute to Robert Filliou, Gallery la Vitrineam, Paris, France in 2014, Readymade: Contemporary Art from Bangladesh, Aicon Gallery, New York, Art for Young Collectors, Galeri Mirchandani Steinruecke, Mumbai and Cross Casting, Britto Art Space, Dhaka, in 2014, The Paradoxical Now, Bengal Gallery of Fine Arts, Dhaka in 2015 and others.
Yasmin likes to take her time when it comes to preparing for a new exhibition.
'I take my time to prepare for an exhibition whether it is a group or a solo show. Especially for a solo exhibition, we need to showcase varied aspects of our practice. I spend most of my time in preparation for new projects. Each project involves study, time for building concept and others. Not all of my plans get translated into final projects,' she shared.
'We have been able to resume our regular activities while most countries across the globe are still under lockdown. Young Art Exhibition, Chobi Mela and others were held in Bangladesh during the COVID-19 outbreak. Many galleries in Dhaka have opened their venues, including Chitrak, Shilpangan, Kaya and others. I hope we will bounce back soon,' she ended.
Want stories like this in your inbox?
Sign up to exclusive daily email
More Stories from Miscellany