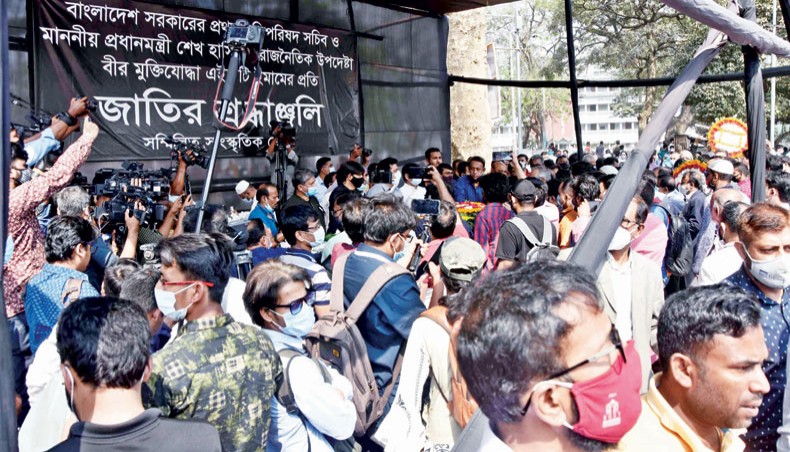 Prime minister Sheikh Hasina's political adviser Hossain Toufique Imam died on Thursday.
He was 82.
Awami League office secretary Biplob Barua said that the former bureaucrat and freedom fighter breathed his last at 1:15am on Thursday.
HT Imam, the country's first cabinet secretary, had been suffering from kidney-related complications and was admitted to Combined Military Hospital, Dhaka two weeks ago.
His body was taken to Sirajganj's Ullapara upazila by a helicopter Thursday morning and his first namaz-e-janaza was held at the Ullapara Akbar Ali Government College ground.
His second namaz-e-janaza was held at Dhaka's Gulshan Azad mosque after the asr prayers.
He was given a guard of honour by the Dhaka district administration in Banani graveyard premises and he was buried there.
Earlier, his body was taken to the Central Shaheed Minar at 1:00pm and kept there for two hours.
President Md Abdul Hamid, prime minister Sheikh Hasina, Jatiya Sangsad speaker Shirin Sharmin Chaudhury, ministers, state ministers and chief election commissioner, among others, condoled HT Imam's death.
In his condolence message, president Abdul Hamid said the role of HT Imam was very important in the country's liberation war.
'He worked all his life to develop the spirit of the country's independence and the great war of liberation. Besides, he played a leading role in running the government in the newly independent country,' he mentioned.
In her condolence message, PM Sheikh Hasina said that the contribution of HT Imam to the administrative service would be remembered.
On behalf of the president and the prime minister, their military secretaries paid tributes to Imam.
Imam served as the cabinet secretary in the Mujibnagar government and then also in the post-independence government of Bangladesh.
During his long career in the bureaucracy, he also served as secretary to the ministry of communications as well as the Planning Division.
Imam had served as an adviser to prime minister Sheikh Hasina since the Awami League's victory in the December, 2008 general elections.
He also took on roles within the Awami League, chairing or co-chairing committees on publicity affairs and elections and becoming a member of the AL advisory council.
Imam completed his undergraduate in economics from Rajshahi University and graduate degree in economics from Dhaka University.
He completed his postgraduate from the London School of Economics in development administration.
Gonoshasthaya Kendra founder Zafrullah Chowdhury paid his tribute to the departed soul of Imam at the Central Shaheed Minar.
Zafrullah told reporters that HT Imam was a true freedom fighter.
'He, however, acted as the mastermind of controlling democracy by the bureaucracy,' said Zafrullah.
'HT Imam was a very clever bureaucrat who served the government in exile and other governments as well later,' he said.
Want stories like this in your inbox?
Sign up to exclusive daily email
More Stories from Country