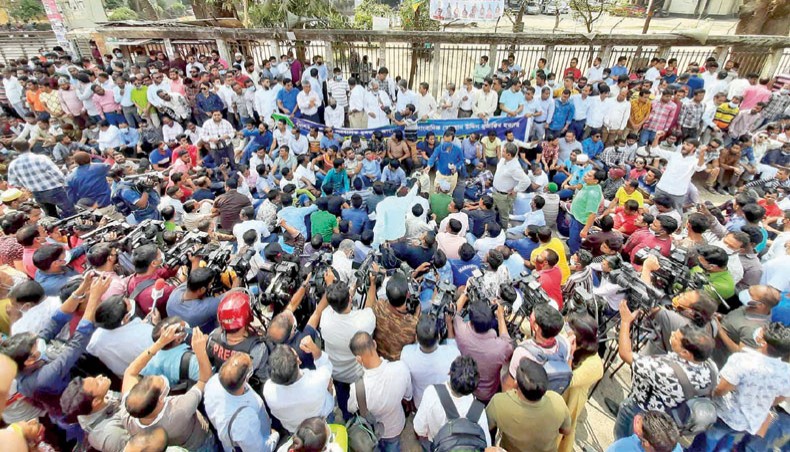 Opposition Bangladesh Nationalist Party leaders on Thursday termed the Digital Security Act as 'anti-people' and demanded its immediate repeal and release of all people arrested under the law.
The leaders made the demand in a rally organised by the Jatiyatabadi Juba Dal in front of the National Press Club in the capital.
The Juba Dal organised the rally protesting against the death of writer Mushtaq Ahmed, detained under the DSA, in jail on February 25 and journalist Borhan Uddin Mujakkir on February 20, a day after he had been critically injured while covering a clash between two factions of Awami League in Companiganj in Noakhali.
A large number of police members, water cannon, an armoured car and a prison van were deployed near the rally venue.
The police detained at least 20 Juba Dal leaders while they were returning after the rally had ended, the BNP alleged.
Addressing the rally as the chief guest, BNP secretary general Mirza Fakhrul Islam Alamgir termed Mushtaq's death as a 'state sponsored killing'.
He demanded immediate repeal of the DSA, judicial probe into the 'killing' and bringing people involved in the 'killing' to book.
Mushtaq was arrested illogically under the DSA for criticising the government and was 'killed' keeping him detained in the jail, Fakhrul said.
Fakhrul said that around 700 people were arrested under the DSA and many journalists were affected by it.
'This government is an illegal one as they have not been elected by people,' he said.
The government is trying to stop the voices of people using the anti-people law, he said.
Fakhrul demanded immediate release of all who were arrested under the DSA.
He also demanded release of BNP chairperson Khaleda Zia as she was detained in a 'false case'.
He also demanded withdrawal of sentences given to the party's acting chairman Tarique Rahman and 'false cases' filed against 35 lakh BNP leaders and activists.
Fakhrul demanded immediate resignation of the government and also demanded fresh national elections under a neutral government and a neutral Election Commission.
He called on all political parties to wage movements to oust the 'illegal government' from power.
BNP standing committee member Mirza Abbus said that the police had made obstacles to prevent Juba Dal leaders and activists from joining the protest rally.
Chaired by Juba Dal president Saiful Islam Nirob, central BNP leaders Amanullah Aman and Shahiduddin Chowdhury Anne and Juba Dal general secretary Sultan Salahuddin Tuku, among others, spoke.
After the rally, BNP senior joint secretary general Ruhul Kabir Rizvi in a press conference at the party's central office at Naya Paltan alleged that the police detained at least 20 BNP leaders and activists from near the rally venue while they were returning after the rally.
He said that Dhaka south city Juba Dal president Rafiqul Alam Maznu was detained in Matshyabhaban area after the protest rally.
The other detained leaders included Mahbub, Abu Khaleque Tipu, Md Mahbub, Md Fahim, Sourav Rasel, Dil Gani, Md Wahid, Tariqul Islam Rubel, Abdul Mannan, ABdur Razzak, Md Sagar, Md Shiplu, Mosharrof Hossain and Md Rubel.
They are leaders of different units of Dhaka and Narayanganj Juba Dal, he said.
'We don't know why they were picked up,' Rizvi told New Age.
Shahbagh police station's duty officer said that they were unaware about any arrest of BNP leaders.
Want stories like this in your inbox?
Sign up to exclusive daily email
More Stories from Politics