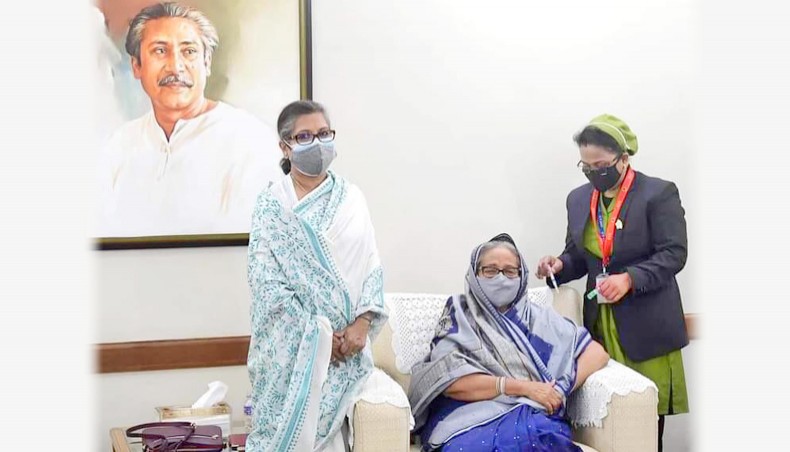 Prime minister Sheikh Hasina received the first dose of COVID-19 vaccine on Thursday.
Directorate General of Health Services director Mizanur Rahman told New Age that the prime minister took the first dose of the vaccine Thursday afternoon.
Earlier, Hasina's sister Sheikh Rehena took the vaccine on February 24.
The government began the nationwide mass vaccination against COVID-19 on February 7, after the prime minister had inaugurated the first-run of the vaccination drive on February 27 in a virtual programme.
The government is inoculating people the Oxford-AstraZeneca-developed COVID-19 vaccine manufactured at Serum Institute of India.
So far, 35.81 lakh people have taken the first jab, including 1.21 lakh on Thursday.
The vaccination programme, however, has slowed down for the past six days.
In a week since February 15, the government vaccinated over 2 lakh people every day.
The daily vaccination in February 24- 25 dropped to around 1.81 lakh before gradually dropping to 1.16 lakh-1.21 lakh in the past few days.
Health minister Zahid Maleque on Wednesday said that the coverage of vaccination would be widened when the country will secure more doses of the vaccine.
Bangladesh has so far received 90 lakh doses of the vaccine — 70 lakh from Serum in two consignments in January and February under a deal to purchase 3 crore doses and 20 lakh doses from the Indian government as a gift.
Bangladesh will get 1.09 crore doses of the same vaccine from the COVAX initiative of global vaccine alliance GAVI and World Health Organisation to ensure access to the vaccine by poorer countries.
According to the DGHS, seven more people died of COVID-19 and 619 new cases were detected in the past 24 hours ending at 8:00am on Thursday.
With the new figures, the country's COVID-19 death toll reached 8,435 deaths and the number of cases to 5.48 lakh while global coronavirus toll rose to 25,60,789.
The COVID-19 test positivity rate in Bangladesh was 3.87 per cent on Thursday.
The overall positivity rate is now 13.36 per cent and the overall fatality rate 1.54 per cent.
So far, 5 lakh people have recovered from their COVID-19 infections in the country, with a recovery rate of 90 per cent.
Agence France-Presse adds: The novel coronavirus has killed at least 25,60,789 people since the outbreak emerged in China in December 2019, according to a tally from official sources compiled by AFP at 1100 GMT on Thursday.
At least 11,51,30,940 cases of coronavirus have been registered.
The vast majority have recovered, though some have continued to experience symptoms weeks or even months later.
On Wednesday, 11,689 new deaths and 4,32,374 new cases were recorded worldwide.
Based on latest reports, the countries with the most new deaths were United States with 2,608 new deaths, followed by Brazil with 1,910 and Mexico with 857.
The United States is the worst-affected country with 519,064 deaths from 2,87,80,950 cases.
After the US, the hardest-hit countries are Brazil with 2,59,271 deaths from 1,07,18,630 cases, Mexico with 1,88,044 deaths from 21,04,987 cases, India with 1,57,435 deaths from 1,11,56,923 cases, and the United Kingdom with 1,23,783 deaths from 41,94,785 cases.
The country with the highest number of deaths compared to its population is Czech Republic with 197 fatalities per 100,000 inhabitants, followed by Belgium with 191, Slovenia 186, United Kingdom 182 and Montenegro 164.
Europe overall has 8,63,705 deaths from 3,80,40,911 cases, Latin America and the Caribbean 6,87,187 deaths from 2,16,47,355 infections, and the United States and Canada 5,41,148 deaths from 2,96,55,445 cases.
Asia has reported 2,58,095 deaths from 1,62,35,983 cases, the Middle East 1,05,039 deaths from 55,93,336 cases, Africa 1,04,664 deaths from 39,25,433 cases, and Oceania 951 deaths from 32,481 cases.
The World Health Organisation warns that the number of new cases is rising in Europe after six weeks of decline.
The European Union's drug watchdog starts a 'rolling review' of Russia's Sputnik V vaccine, a key step towards approval for use across the 27-nation bloc.
Russia says it is ready to provide 50 million doses to Europe by June if the jab is approved.
Modified vaccines designed to protect against emerging variants will get fast-track approval under a pact between medicines regulators in Britain and four other countries.
Germany will soon join Belgium in authorising the AstraZeneca/Oxford vaccine for people over 65, after both countries say recent studies prove its effectiveness.
Japanese media says overseas spectators will not be welcome at the Tokyo Olympics, after organisers said that public safety would be the 'top priority' at the virus-delayed Games.
German chancellor Angela Merkel caves to pressure from regional leaders saying that from Monday socialising between households will be allowed and book and flower shops and garden centres will be allowed to reopen.
Hungary is among the European nations suffering a surge in coronavirus infections and deaths, and the government said Thursday it will tighten its lockdown, ordering schools and most shops and businesses to shut.
But leaders around the world are coming under increasing pressure to end lockdowns and business closures that have crushed the global economy.
While Germany is the latest nation to promise an end to restrictions, some US states have begun jettisoning federal requirements to wear masks — much to the chagrin of president Joe Biden who called it 'Neanderthal thinking'.
Europe's vaccine policy remains chaotic and rancorous, with new rows brewing even as old ones are laid to rest.
Belgium is expected to follow suit soon, after a raft of studies showing the vaccine is effective for the elderly.
However France has now waded into an argument with Austria and Denmark, who are bypassing the EU to broker a vaccine deal directly with Israel.
France's foreign minister Jean-Yves Le Drian acknowledged shortcomings in the EU's vaccination policies but criticised 'attempts at secession' by some countries.
The EU has been trailing in the wake of Britain, which has approved jabs more quickly, sourced them more efficiently and rolled them out more effectively.
Britain was again at the forefront on Thursday, announcing a partnership with public health bodies in Australia, Canada, Singapore and Switzerland to ensure jabs modified to cope with new variants are fast-tracked. 
'Our priority is to get effective vaccines to the public in as short a time as possible, without compromising on safety,' Christian Schneider of the UK's medicines watchdog said.
As Europe remains mired in rows and faltering rollouts, several of the biggest African countries have only just begun their vaccination campaigns in earnest.
However, there was finally respite for some of those hardest hit by the pandemic, with exhausted health workers in South Africa celebrating a drop in cases and officials declaring the second wave over.
Want stories like this in your inbox?
Sign up to exclusive daily email
More Stories from Country