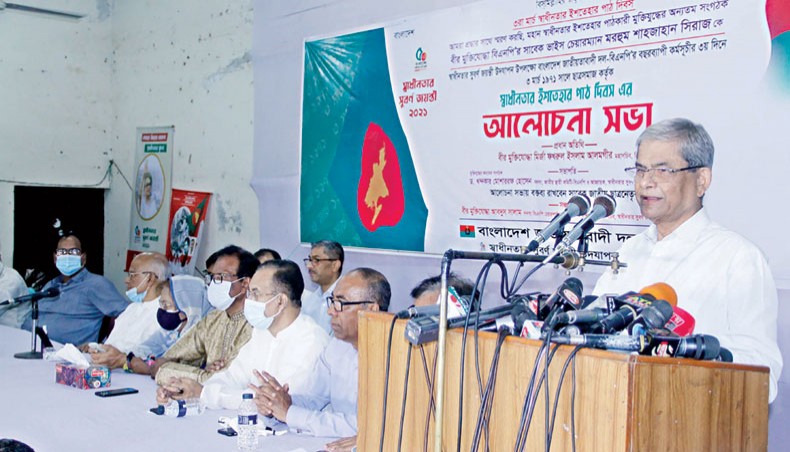 Opposition Bangladesh Nationalist Party leaders on Wednesday said that the ruling Awami League had distorted the history of the country's liberation war for its political interest and failed to uphold the spirit of independence.
Addressing a discussion marking the day of unveiling of the manifesto of independence in 1971, BNP leaders said that the AL used the history of the liberation war skipping the names of war heroes but one.
The BNP national committee on celebration of the golden jubilee of independence organised the programme at the National Press Club.
The party's secretary general Mirza Fakhrul Islam Alamgir said that former BNP vice-chairman Shajahan Siraj, one of the key organisers of the liberation war in 1971, read the manifesto of the country's independence on March 3, 1971 with a hope of an independent country that would ensure freedom of expression, equity and rule of law.
But the Awami League has killed the entire principle of the spirit of independence, he said, adding that the death of writer Mushtaq Ahmed in jail is the latest example of the style of AL rule.
'The Awami League is cheating with the nation and undermining war heroes by claiming that the independence has come due to the contribution of one leader,' said Fakhrul. He said that there was no reflection of the manifesto of independence in the activities of the Awami League.
He urged all the opposition parties as well as democratic institutions to unite against the Awami League to ensure real benefits of independence.
BNP standing committee member Khandaker Mosharraf Hossain, who chaired the discussion, said that the Awami League was distorting the history of independence by claiming its lone role behind the independence. He said that the role of BNP founder Ziaur Rahman had glorified the actual history of independence.
Mosharraf said that immediately after the independence, the AL had killed thousands of political leaders and activists till 1975 for their opposing voice.
'If we go through the history of the 50 years of the country, the Awami League would be in the dock for its activities in 1972-75,' he said.
Mosharraf also urged opposition parties to start movement together against the Awami League.
Moderated by BNP chairperson's adviser Abdus Salam, BNP standing committee member Selima Rahman, vice-chairman Shamsuzzaman Dudu and central leaders Nazimuddin Alam and Zahir Uddin Swapan, among others, also spoke at the discussion.
Want stories like this in your inbox?
Sign up to exclusive daily email
More Stories from Politics