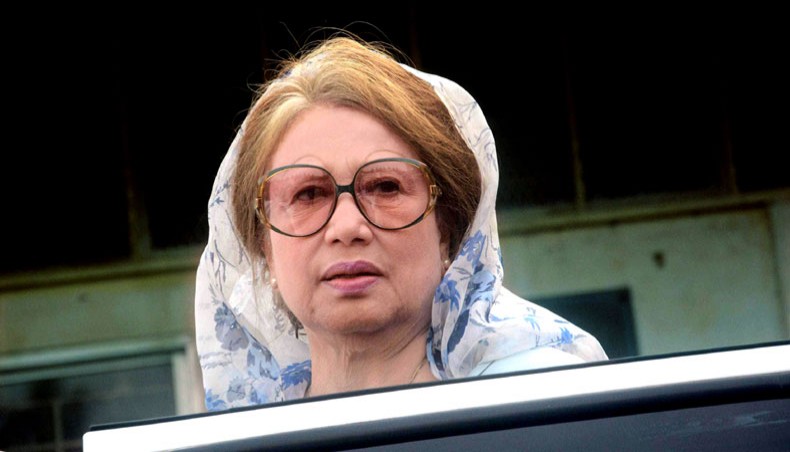 Opposition Bangladesh Nationalist Party chairperson Khaleda Zia's family has submitted an application to the government for her permanent release from jail and taking her to abroad for treatment as the suspension of her conviction will expire on March 24.
Khaleda's youngest brother Shamim Iskander submitted the appeal to the home ministry on behalf of the family of the former prime minister on March 2, said a source at the BNP chairperson's Gulshan office.
This was the third such application in which the petitioner mentioned that necessary treatment and tests for the BNP chief could not be done due to the COVID-19 crisis, he said.
Home minister Asaduzzaman Khan told reporters at his secretariat office on Wednesday that they received on Tuesday the application from the BNP chairperson's family for further extension of the suspension of her conviction by relaxing some conditions, Bangladesh Sangbad Sangstha reported.
He said that they were examining the application for the next course of action and the application would be sent to the law ministry for their opinion.
Khaleda Zia was released from jail on conditions for six months on an executive order on March 25, 2020 during the novel coronavirus outbreak. Since then she has been staying at her Gulshan house.
The time of suspension of her conviction had been extended for another six months on September 25, 2020 and the time would expire on March 24.
Khaleda was jailed on February 8, 2018 for five years in the Zia Orphanage Trust graft case and was released from Bangabandhu Sheikh Mujib Medical University's prison cell on March 25 reportedly on two conditions — she would take medical treatment from home and would not leave the country.
She was also sentenced for seven years in jail in Zia Charitable Trust graft case on October 29, 2018.
On October 30, 2018, the High Court doubled her five-year jail term in the Zia Orphanage Trust case.
She was granted interim bail in all but the two cases related to Zia Orphanage Trust and Zia Charitable Trust.
Want stories like this in your inbox?
Sign up to exclusive daily email
More Stories from Politics