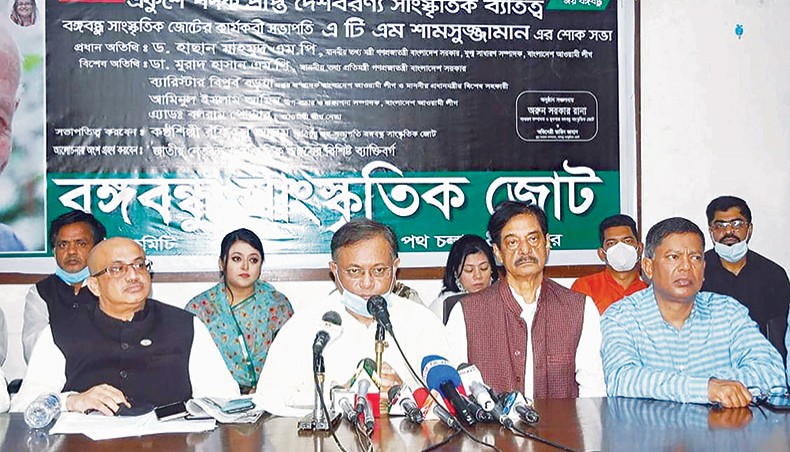 Ekushey Padak-winning actor ATM Shamsuzzaman was remembered at a programme held at the National Press Club in Dhaka on Wednesday.
Bangabandhu Sangskritik Jote arranged the programme to commemorate the life and work of ATM Shamsuzzaman, who passed away on February 20 at his residence in the capital's Sutrapur area.
Information minister Hasan Mahmud was present as chief guest while state minister for information Md Murad Hasan was present as special guest at the programme.
Acclaimed singer and vice president of Bangabandhu Sangskritik Jote Rafiqul Alam, ATM Shamsuzzaman's daughter Koyel Ahmed, actress Tareen Jahan, actress Shahnoor, actor Shakil Khan, advocate Balaram Podder and others were present at the event.
'We could never imagine that ATM Shamsuzzaman would die suddenly. The news of his death came as a great shock to us. I have seen many films starring ATM Shamsuzzaman. He could easily fascinate viewers portraying both comical and negative roles. He forever followed the ideologies of Bangabandhu Sheikh Mujibur Rahman and participated in major socio-political movements. His death has left a huge void in the country's entertainment industry. He will live on through his works,' said Hasan Mahmud.
'ATM Shamsuzzaman won hearts of viewers through his outstanding acting in both silver and small screen productions. He won acclaim portraying comical, negative, protagonist and supporting roles. I last met him in December 2020 at Bangabandhu Sheikh Mujib Medical University. He worked to uphold the spirit of the liberation war and followed Bangabandhu's ideology. May his departed soul rest in peace,' said Md Murad Hasan.
'I had known him since 1973. He always encouraged artistes to think about the country alongside pursuing cultural practices. He believed that an artiste should work for the country, society and its people,' said Rafiqul Alam.
'I do not want to talk much about my father at today's programme as everyone knows about him. If my father had ever wronged anyone, I urge them to forgive him,' said Koyel Ahmed.
Tareen Jahan recited a poem, which ATM Shamsuzzaman wrote on prime minister Sheikh Hasina, at the programme.
ATM Shamsuzzaman was born on September 10, 1941 at his maternal grandfather's house at Daulatpur in Noakhali.
He won National Film Award for his acting in the films Dayee Ke? in 1987, Madam Fuli in 1999, Churiwala in 2001, Mon Bashe Na Porar Table A in 2009 and Chorabali in 2012. He received National Film Award in Lifetime Achievement Category in 2017.
He also received the Ekushey Padak in 2015 for his outstanding contributions to the country's film industry.
Want stories like this in your inbox?
Sign up to exclusive daily email