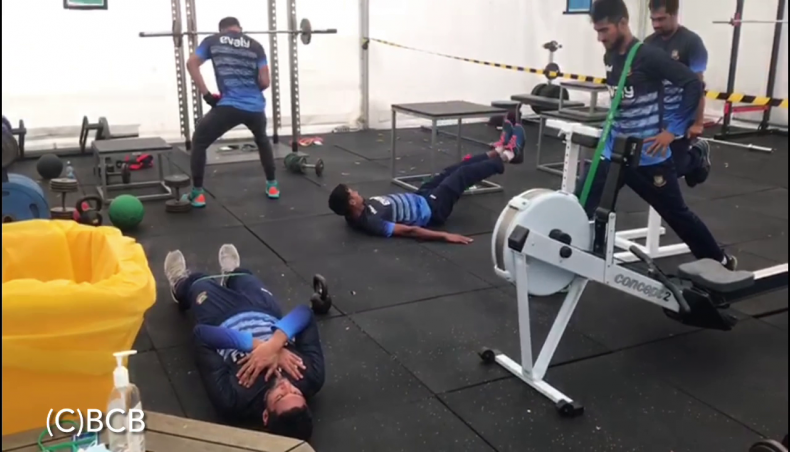 All members of the Bangladesh contingent in New Zealand tested negative for COVID-19 for the third time on Wednesday and finally began their preparation for their upcoming one-day international and Twenty20 series against the hosts.
The cricketers and support staff had cleared the first two rounds of COVID-19 testing without a hitch and after testing free off coronavirus for the third time the players were allowed to train at a makeshift gym at the premises of Park hotel in Christchurch, where the team is staying.
The players will still have to stay in quarantine for the next seven days but will be allowed to use the gym facilities and will also get to train in a field from today, which is a big relief for the cricketers, said Mohammad Mithun.
'There were a lot of restrictions in our movement. Slowly things are getting easier. We got to use the gym today [Wednesday]. It felt very good to use the gym facilities after a week,' Mithun said in a video message sent by the Bangladesh Cricket Board on Wednesday.
'We were stuck inside rooms after coming to play a series. From tomorrow [Thursday] we will be allowed to go to the field. Even thinking about that is making me feel good. Ishallah, tomorrow [Thursday] when we will return to cricket training, slowly we will get adjusted with everything,' he added.
Bangladesh team have been in quarantine since landing in Christchurch on February 25.
They will have to remain in quarantine for 14 days before beginning their training camp for a three-ODI and three-T20 series against the Blackcaps, starting with the first ODI on March 20.
This is Bangladesh team's first overseas tour in the post COVID-19 era and their first experience of such strict quarantine measures.
The Bangladesh players have stayed inside a bio-bubble for extended periods for domestic tournaments and the home series against West Indies, where they had to stay inside a designated area at all times.
In New Zealand, however, the players will be allowed to roam free after their quarantine period and Mithun is looking forward for the restriction period to end.
'After 14 days we will be allowed to roam normally. It's, of course, a very positive thing. Everyone will enjoy it. Because for almost one year of the COVID-19 period, we were not allowed to move freely during the tournaments we played in Bangladesh.
'Here, the rules are a little different. After 14 days we will be allowed to move freely. It feels good to think that, after suffering for 14 days, we will get to stay here normally.'
Bangladesh is yet to win against the Kiwis in New Zealand in 26 matches across the formats.
But Mithun thinks that the team has the ability to end their losing cycle.
'We are viewing this as an opportunity. It's better to think about what we are going to do next than dwelling on what happened before. We have arrived a few days ahead of the series and will get good practice facilities. Everyone in the team will try to adjust their skills as quickly as possible.'
Want stories like this in your inbox?
Sign up to exclusive daily email
More Stories from Cricket