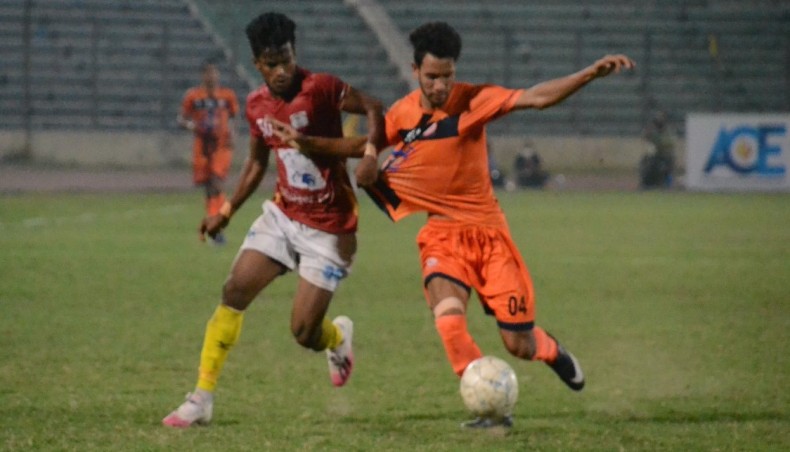 Bangladesh Premier League teams Brothers Union and Arambagh Krira Sangha are likely to be penalised by the Bangladesh Football Federation for wearing similar coloured shirts during their league match at the Bangabandhu National Stadium on Monday.
Brothers' players were wearing orange jerseys while Arambagh players put on maroon jerseys, which made it difficult for the viewers and officials to differentiate the players of the two sides.
Brothers won the match 5-2.
BFF on Tuesday sent a show-cause notice to both the clubs asking why they did not bring two sets of different coloured jerseys for the match.
Match commissioner A Ramman on Monday reported to the BFF disciplinary committee that neither Brothers nor Arambagh brought two different coloured jerseys, which is a clear violation of the league regulations.
'Match commissioner reported to BFF on Monday and we [BFF] sent show-cause notice to both the clubs on Tuesday as they clearly violated the league's regulation,' BFF head of competition Zaber Bin Taher Ansari told New Age.
'The BFF disciplinary committee will take the final decision. It could be a monetary fine or any other punishment,' Zaber said.
According to regulations of the league, each club must register their jersey colour before the season starts and both teams must bring two sets of jerseys of different colours.
'If the jersey colours are close or similar, the match commissioner is supposed to decide which team will play in which colour,' said Zaber.
Want stories like this in your inbox?
Sign up to exclusive daily email
More Stories from Football