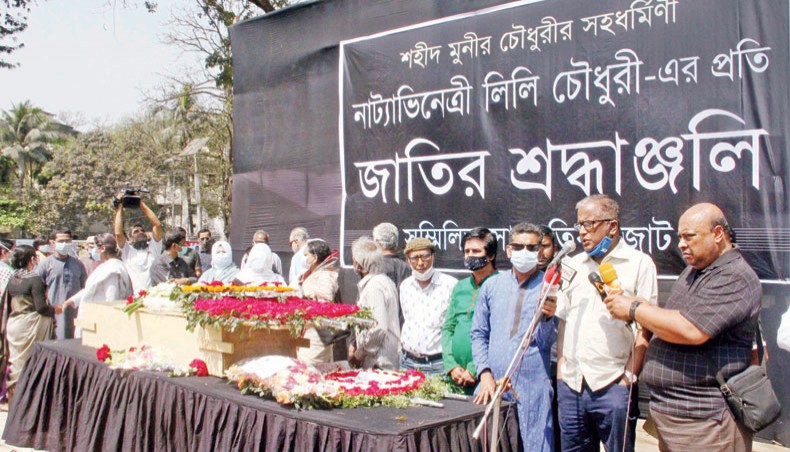 People from different walks of life paid their last respects to the martyred intellectual Munier Choudhury's widow Lily Choudhury at Central Shaheed Minar on Tuesday.
Lily Choudhury died at her residence in the capital's Banani area on Monday at about 5:30pm. She was 92.
The public mourning programme at Central Shaheed Minar was organised by Sammilita Sangskritik Jote from 11:30am to 12:30pm.
Lily Choudhury's relatives thespians Ramendu Majumdar and Ferdausi Majumdar, renowned film maker and freedom fighter Nasiruddin Yousuff, Ekattarer Ghatak Dalal Nirmul Committee president Shahriar Kabir, Sammilita Sangskritik Jote president Ghulam Quddus and others attened the event.
Ramendu Majumdar said, 'Lily Choudhury had to endure a long fifty years of woe since 1971. Later, she also lost her beloved son Mishuk Munier. But, she continued her work. We, the people, who are involved in theatre, should never forget the contribution of this majestic woman.'
Nasiruddin Yousuff said, 'The family of Munier Choudhury and Lily Choudhury is associated with the movements that finally led to the independence of Bangladesh. Their names will never fade away.'
Lily Choudhury was buried at the Banani graveyard adjacent to the graves of her husband and son after Zuhr prayer. She is survived by two sons.
Her son Ashfaque Munier Mishuk, popularly known as Mishuk Munier, died in a fatal road crash on the Dhaka–Aricha highway along with filmmaker Tareque Masud on August 13, 2011.
Want stories like this in your inbox?
Sign up to exclusive daily email
More Stories from Theatre