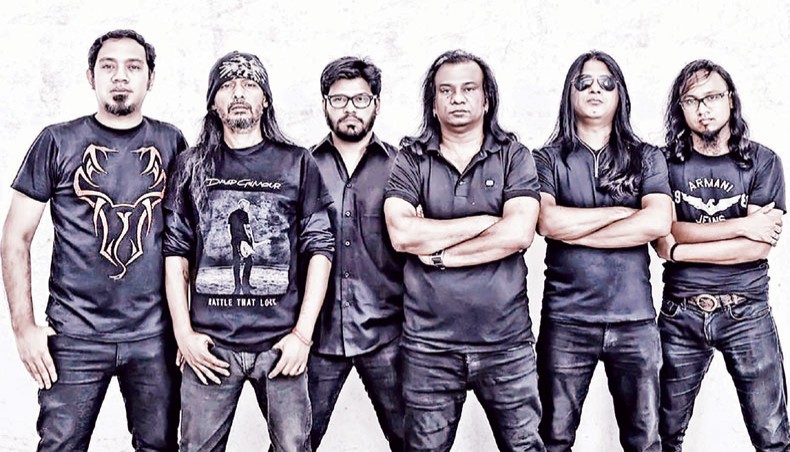 Drummer and co-founder of Warfaze, Sheikh Monirul Alam Tipu, said that his band is ready to perform in open-air concerts to entertain rock music lovers.
'The government has already opened all public venues and even preparing to reopen all educational institutions. But, no one is thinking of organising open-air concerts and concert organisers like Young Bangla and others have even cancelled their regular concerts. I think it is time to resume open-air concerts,' said Sheikh Monirul Alam Tipu while urging organisers to help musicians recover from the COVID-19-induced financial crisis.
He also added, 'We, Warfaze, are ready to return to open-air concerts. We performed our last gig in Chattogram in March 2020. Though we have been performing in a small number of indoor concerts from October 2020, we miss performing in open-air concerts.'
The band performs in hundreds of open-air concerts every year at both home and abroad. Such concerts are important source of income for Warfaze as well as other bands of the country.
Warfaze had to cancel a good number of concerts from March 2020 till date after a ban was slapped on all open-air concerts in the country due to the COVID-19 outbreak.
'In our country, open-air concerts are important source of income for bands, which have been hit hard by a prolonged ban on open-air concerts. And, I think it is time to think about allowing open-air concerts in the country,' added Tipu.
Warfaze began its journey on June 6, 1984 with a group of band music enthusiasts, namely Meer, Helal, Naimul, Bappy and Ibrahim Ahmed Kamal. In 1986, Sheikh Monirul Alam Tipu joined Warfaze as the drummer and co-founder.
The band's current line-up comprises Sheikh Monirul Alam Tipu on drums, Ibrahim Ahmed Kamal on lead guitar, Shams Mansoor Ghani on keyboards and vocals, Naim Haque Roger on bass, Samir Hafiz on guitar, and Palash Noor on vocals.
Warfaze has released seven albums. Besides, the band has released a number of songs in mixed albums. Their eponymously titled first album was released in June 21, 1991. It featured songs such as Bose Achhi Eka, Ekti Chhele, Bichchhinna Abeg, Nistabdhata, Brishti Nemechhe, Sandhya, Ratri, Asha, Kaishar and Swadhikar.
The band released its second album titled Abak Bhalobasa in 1992, third album titled Jiban Dhara in 1996, fourth album titled Asamajik in 1998, fifth album titled Alo in 2000, sixth album titled Maharaj in 2003, seventh album titled Pathchala in 2009 and the eighth album titled Satya in 2012.
'We have completed our 36-year journey successfully and preparing for celebrating our 37th founding anniversary. We are now working on our ninth album which is scheduled to be released in December this year. We have already selected a number of lyrics for the album and working on music composition. Soon we will record the first song of the album,' said Tipu, who also spoke about the band's recent venture.
'We have recorded a playback song for young director Sourav Kundu-directed film Girgiti. The lyric of the song, which will be released soon, is based on the story of the film. It was recorded on February 20,' ended Tipu.
Want stories like this in your inbox?
Sign up to exclusive daily email