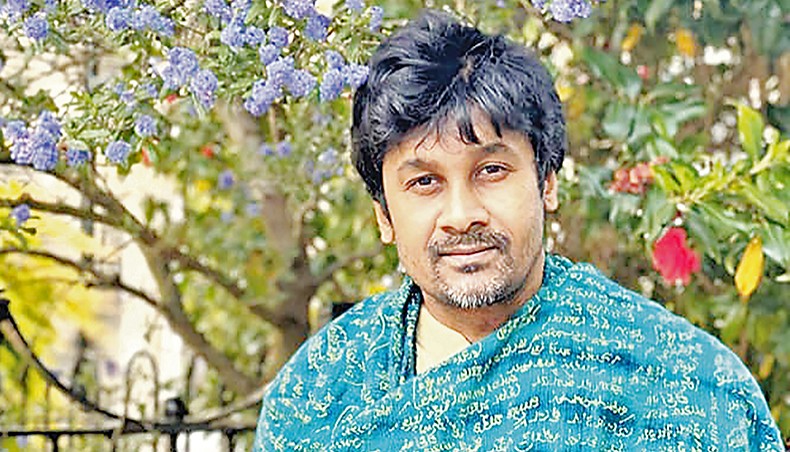 Poet-lyricist Sheik Rana has penned songs for many renowned singers of the country, namely Sanjeeb Chowdhury, Azam Khan, Partha Barua, Kona, Jewel, Ehsan Rahi, Porshi and others.
He has penned Bappa Mazumder's popular song Pori and ICC World Cup 2011 Bangla theme song Mar Ghuriye along with Gachh, Brishti Pore, Sabujh Jakhan, Phire Pete Chai, Tumi Hobe Buri, Samne Dara, Chai Chai, Mukhosh, Tumi Aso Nai, Nil Akashe, Aj Brishti Mukhar Din, Chole Jaowa Din, Shahartalir Akash, Pora Shahar, Tumi Nai, Kon Chokhete, Shunya Hriday, Nion Aloy, Hoilam Na Baul, Brishtir School and more.
Sheik Rana recently spoke to New Age about his journey, upcoming projects and more.
'I was drawn to writing and music at an early age. I used to listen to songs of local bands and loved to wander amid nature. Besides, I witnessed the anti-Ershad movement in the late '80s in my teenage days. The movement left an impression on me. I began scribbling in my dairy during leisure. When I was in my second year at the university, I decided to pursue my career as a lyricist and so began my journey,' Sheik Rana told New Age.
As he began his journey, Rana came across the late singer, lyricist and founder of Dalchhut Sanjeeb Choudhury. Three songs penned by Rana had been sung by Sanjeeb.
Sharing his memories of his association with Sanjeeb Choudhury, Rana said, 'I have written three songs for Sanjeeb Choudhury namely Sabuj jakhan, Phire pete chai and Gachh. Sanjeeb Choudhury and Bappa Mazumder jointly recorded Phire pete chai and Sabuj jahan while Gachh was rendered by Sanjeeb. All the three songs were composed by Bappa Majumder. After rendering the song Gachh, Sanjeeb Choudhury used to jokingly call me Briksha Rana from time to time. I decided to work with Dalchhut after listening to their first album.'
'Sanjeeb Choudhury provided me with the much-needed feedback. He told me to read Joy Goswami's poems and I followed his advice,' mentioned Sheik Rana, who also shared the background of penning the song Pori.
'I wrote the song when I was studying electrical engineering at Rajshahi BIT in the late '90s. At that time I was not focused on my studies. I spent my days wandering here and there and visited northern parts of the country carrying collections of poems, notebooks and pen. I wrote the song while I was in Lalpur, Natore,' continued Rana.
'I was inspired after watching a little girl named Shawon who was sitting indifferently under the sun in the morning. I wrote the first stanza imagining the face of the little girl on a white page in Joy Goswami's book of poems. I came to Dhaka on a holiday a few days later. I heard that Bappa Mazumder was working on his album titled Dhulo Pora Chithi and looking for one last song for the album. The Pori was selected as the last song. I never thought that the song Pori would become so popular among music lovers. I have explained the story of the song in my book Aj Tomar Mon Kharap Meye,' Rana mentioned.
Besides Aj Tomar Mon Kharap Meye, he has published Kabir Takhan Saodagari Mon, Rultana Khata, Tukro Nagarik Journal, Shabda Pakhir Dal and others. His first collection of poems Kabitar Postcard was published from Anupranon Prokashoni on February 17.
'I write both lyric poems and poems. However, in the past six or seven years I penned may be fifty or so poems. A total of 48 of my poems have been published in my first collection of poems titled Kabitar Postcard. The book is available on the Facebook page and website of Anupranon Prokashoni. Besides, readers will be able to collect the book at Anupranan's stall at the Amar Ekushey Book Fair,' said Sheik Rana.
He also spoke about songs released on online platforms.
'Nowadays, music lovers prefer listening to songs online. However, anyone can release songs on the internet. As a result, low-quality songs easily outnumber quality songs these days. Such songs do not contain any message and thus fail to leave an impression on music lovers,' said Rana, who also shared about his upcoming projects.
'I have penned a number of songs along with a song for children and a song about my mother. My song, Shahartalir Akash, which I wrote protesting against rape, was released recently by the band Shahartali. Besides, Partha Barua has recorded four of my songs for the album Mukhosh and my song Hridoyer Kachhe has been jointly rendered by Ketan Sheikh and Abanti Sithi. I am also writing songs on the War of Independence,' ended Rana.
Want stories like this in your inbox?
Sign up to exclusive daily email