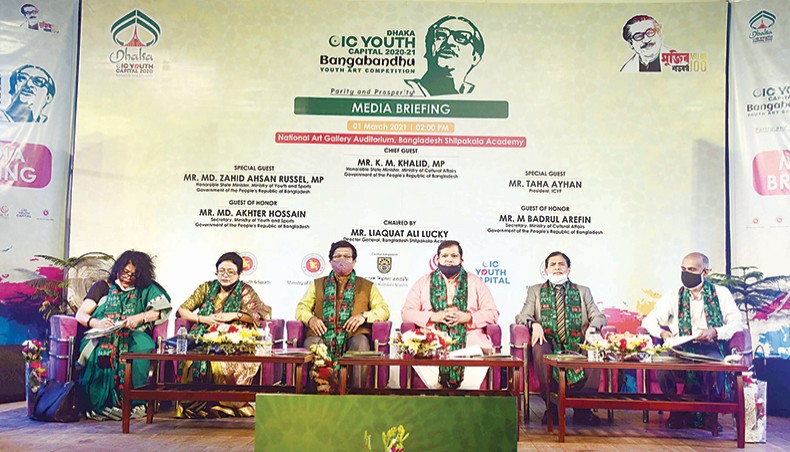 Dhaka OIC Youth Capital 2020-21 Bangabandhu-Youth Art Competition is scheduled to be held from April 15 to April 30 virtually under the theme of parity and prosperity to celebrate Dhaka being selected as OIC Youth Capital 2020.
The announcement was made at a press conference held at the National Art Gallery Auditorium of Bangladesh Shilpakala Academy on Monday noon.
Bangladesh Shilpakala Academy secretary Nowshad Hossain gave the welcome speech at the event while youth and sports ministry secretary Akhter Hossain and additional secretary for cultural affairs ministry Sabiha Parvin and others spoke at the conference.
State minister for youth and sports Zahid Ahsan Russell was present as special guest at the event, which was presided over by the academy's director general Liaquat Ali Lucky.
'Youth community has made glorious contribution to every movements, including the Language Movement in 1952, mass uprising in 1969 and the great liberation war in 1971. Bangladesh is the fourth Muslim majority country in the world and the third in the OIC. I wish Bangabandhu-Youth Art Competition all the best,' said Zahid Ahsan Russell.
'This art event will play an important role. Bangladesh is a country of art and literature, which has a rich history and tradition. I think that the OIC has been playing an important role from its beginning. I am grateful to the ministry of cultural affairs, the ministry of youth and sports and the foreign affairs ministry for helping us in organising the event,' said Liaquat Ali Lucky.
Dhaka has been announced as the OIC Youth Capital 2020 marking the recognition of the remarkable achievement of Bangladesh in its youth sector. The Istanbul-based Islamic Cooperation Youth Forum, an entity affiliated to the Organisation of Islamic Cooperation, made this declaration on December 25, 2019.
Ministry of cultural affairs and Bangladesh Shilpakala Academy are going to organise the Dhaka OIC Youth Capital 2020-21 Bangabandhu¬Youth Art Competition in association with the ministry of youth and sports and the ministry of foreign affairs.
A jury board will select top 100 artworks comprising 20 from Bangladesh, 20 from the Middle East, 20 from rest of Asia, 15 from Africa, 10 from North and South America and 15 from and from Europe and Australia.
The artworks will be displayed virtually under four segments namely contemporary art, calligraphy art, photography and graphic design. The subjects of the exhibition are namely Bangabandhu and Bangladesh, COVID pandemic, humanity in refugee crisis and youth spirit in technology, Islamic history and climate change.
Interested artists can register themselves visiting http://dhaka.oicyouthcapital.com/program/bangabandhu-youth-art-competition.
Want stories like this in your inbox?
Sign up to exclusive daily email
More Stories from Miscellany