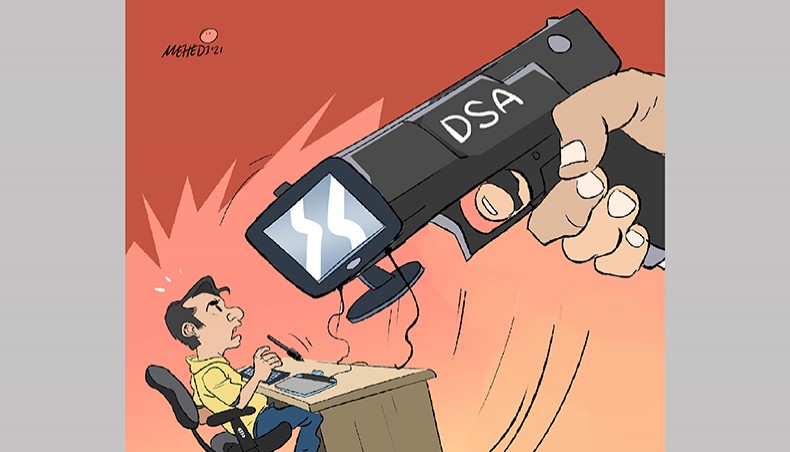 UN high commissioner for human rights Michelle Bachelet on Monday urged the Bangladesh government to suspend the enforcement of the Digital Security Act and opt for its overhaul in line with the international human rights laws.
'Various UN Human Rights bodies have long raised concerns about the ill-defined, overly broad provisions of the Digital Security Act that have been used to punish criticism of the government,' Michelle Bachelet said in a statement.
Bangladesh urgently 'needs to suspend the application of the Digital Security Act' and conduct an overhaul of the provisions to bring them in line with the requirements of international human rights law, she said.
She also urged the government to ensure that its investigation into the death of writer Mushtaq Ahmed in jail is prompt, transparent and independent.
The UN official also emphasised for the government to release of all those detained under the Act for exercising their rights to freedom of expression and opinion.
Michelle also said that the government should immediately investigate any allegations of ill-treatment of other detainees, including cartoonist Ahmed Kishore.
Another activist, Ruhul Amin has also reportedly been arrested under the act for a Facebook post over Mushtaq's death, she said.
The high commissioner also expressed concern at reports that police had allegedly used excessive force during protests demanding justice over Mushtaq's death.
The UN body also iterated a demand for probe into allegations of ill-treatment, including arbitrary arrests, unacknowledged detention, torture, disappearances and extrajudicial killings by the Rapid Action Battalion.
Writer Mushtaq died in High-Security Kashimpur Jail in Gazipur on February 25.
It was the first death of a person in prison after being detained under the act.
Want stories like this in your inbox?
Sign up to exclusive daily email
More Stories from Country