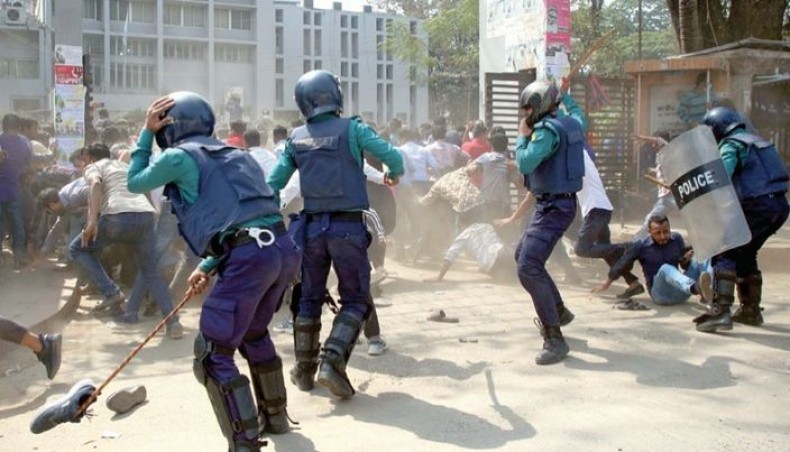 At least 300 activists of opposition Bangladesh Nationalist Party and its associated bodies were prosecuted and 12 of them were placed on a five-day police remand on Monday over the clash between the police and Chhatra Dal activists during their rally in Dhaka on Sunday.
The JCD also staged demonstration on Monday in different university campuses and districts in protest against the police attack on Sunday's rally in front of the National Press Club and the arrest of activists.
Police sub-inspector Palash Saha filed the case with the Shahbagh police station against 48 leaders and activists and 200-250 more unidentified people early Monday, said Shahbagh police duty-officer sub-inspector Mofizul Islam.
BNP Dhaka south city unit president and former JCD president Habib Un Nabi Khan Sohel, Juba Dal secretary Sultan Salauddin Tuku and Swechchhasebok Dal secretary Abdul Kader Bhuiyan, among others, were prosecuted.
The police case statement claimed that Chhatra Dal leaders and activists attacked police members when they barred them from blocking roads in front of the National Press Club.
The clash erupted at about 11:00am on Sunday when the police charged baton on JCD activists to disperse them when they tried to hold a demonstration protesting at the government move to cancel the gallantry award of former president Ziaur Rahman and the death of writer Mushtaq Ahmed in jail.
The police said that nine were arrested in Press Club and Dhaka Medical College areas after the clash and three more were arrested at the TSC of Dhaka University in the evening.
JCD activists said that the police charged baton on them and fired tear gas shells as soon as they came out of the Press Club to hold their programme.
DMP Ramna zone additional deputy commissioner Harun-or-Rashed, however, said that Chhatra Dal activists attacked the police and hurled bricks at them.
Sub-inspector Palash Saha on Monday produced the 12 arrestees before metropolitan magistrate Asaduzzaman Noor with a plea to take them on a 10-day remand each.
The court placed the arrestees on a remand for five days each.
As part of their protest programme on Monday, the JCD Dhaka University unit staged demonstration in the campus on Monday.
The protest procession started from the TSC area and after parading different points, it ended with a rally at the base of antiterrorism Raju Memorial sculpture.
JCD leaders demanded immediate release of three DU Chhatra Dal activists who had been arrested at the TSC Sunday evening.
The Chhatra Dal Jahangirnagar University unit demonstrated on the Dhaka-Aricha highway, adjacent to the campus.
Over 30 leaders and activists of the unit marched from the Mir Mosarrof Hossain Hall entrance to the main entrance of the university with a short rally at around 10.30am.
The procession, led by university unit general secretary Abdur Rahim Saikat, chanted slogans demanding immediate release of the JCD leaders who were arrested during the clash on Sunday.
Want stories like this in your inbox?
Sign up to exclusive daily email
More Stories from Politics