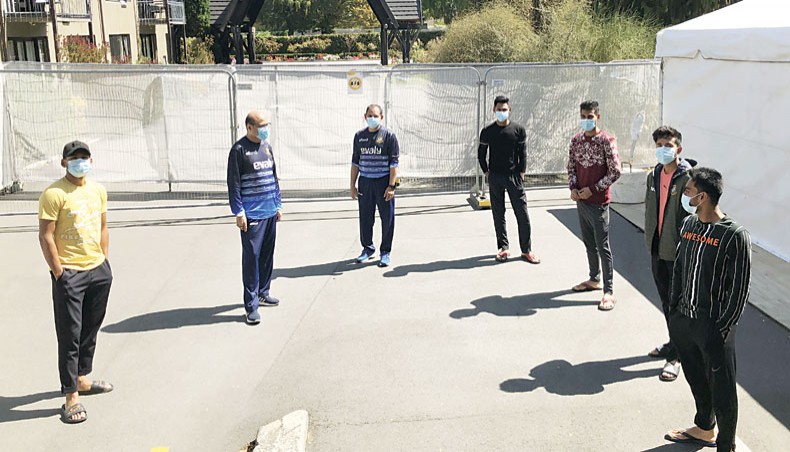 Bangladesh all-rounder Mehidy Hasan equated the first three days of Bangladesh team's strict quarantine in New Zealand to being 'jailed' and said that he is counting down the days before they are allowed to return to the field.
'The first three days when we were confined to our rooms, I personally felt like I was in a jail and also was feeling a little depressed,' Mehidy said in a video message sent by Bangladesh Cricket Board on Sunday.
'But after going out, adjusting with the weather, I felt better. I felt fresh after returning to my room. Today [Sunday] also we were also allowed to step out of our rooms for the half an hour,' he added.
Bangladesh players, support staff and officials reached Christchurch on February 24 and have been in quarantine since then.
This is Bangladesh's first overseas tour in the COVID-19 pandemic and although they have experienced staying inside a bio-bubble in the past, this is the first time they are being subjected to such strict quarantine constraints.
All members of the Bangladesh contingent were not allowed to leave their hotel rooms in the first three days.
On Saturday, Mehidy was allowed to step outside of his room for the first time in three days only for a brief period and the 23-year old said that the outside air made him feel a little woozy.
'For the first three days we remained in our rooms. After that we were allowed to step out for 30 minutes. Yesterday [Saturday] when I went outside, I felt a little dizzy. But after 10-15 minutes I felt normal,' the all-rounder said.
All Bangladesh cricketers and support staff have tested negative in the first round of COVID-19 testing but will be tested twice more in the next five days after which the players with negative test results will be allowed to train in groups of five.
Mehidy said that he and the other players are eagerly waiting for the quarantine to end and begin training for their three-match one-day international series and three Twenty20s against the Blackcaps.
'After six-seven days we will be allowed to go into the gyms and the ground, then we will feel better. Right now, it's difficult to pass the time.
'If we had some gym facilities and were allowed to do some work, it would have been easier for us to spend the time and our fitness also would have improved.'
Want stories like this in your inbox?
Sign up to exclusive daily email
More Stories from Cricket