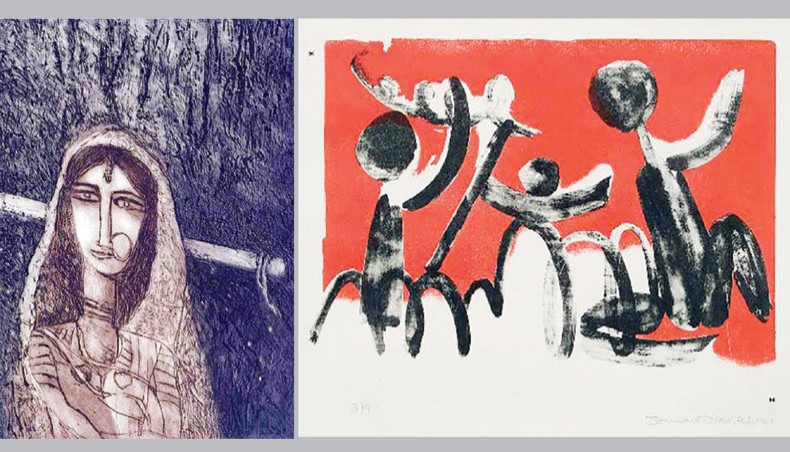 A group art exhibition, dedicated to the birth centenary of Padma Bhushan-winning Indian artist Somnath Hore, who was born on April 13, 1921 in Chattogram, began on Sunday at Galleri Kaya in the capital's Uttara.
The 16-day exhibition titled, Masters and Prodigies, is featuring 67 works by 34 contemporary and [email protected] artists of India.
The exhibition also opens the premises of Galleri Kaya to visitors for the first time since the emergence of COVID-19 in March, 2020 in Bangladesh.
Indian high commissioner to Bangladesh Vikram Kumar Doraiswami inaugurated the exhibition on February 28.
The artworks done in mediums like etching, lithograph, serigraph, silkscreen, woodcut, wood engraving and intaglio print.
The artworks addresses various subject matters, including nature, birds, animals, immersion of the goddess Durga, hurricane lights, figures of women, kites and bouquet.
The participating artists are MF Husain, Somnath Hore, SH Raza, KG Subramanyan, Krishen Khanna, Amitabha Banerjee, Badri Narayan, Sakti Burman, Sanat Kar, Dipak Banerjee, Ganesh Haloi, Suhas Roy, Lalu Prasad Shaw, Jogen Chowdhury, Manu Parekh, Sunil Das, Niranjan Pradhan, Prabhakar Kolte, Sadhan Chakraborty, Aditya Basak, Monaj Mitra, Bimal Kundu, Manoj Dutta, Ajit Seal, Atul Dodiya, Pradip Maitra, Chandra Bhattacharjee, Pankaj Panwar, Ramendra Nath Kastha, Salil Shahani, Atin Basak, Partha Dasgupta, Swarup Basak and Jayanta Naskar.
To mention a few works, MF Husain's serigraphic print created on black paper titled 'Kite Series' shows some kites that are part of torn clothes of women. The torn parts together assume a human figure in the middle while the bottom part carries an image of a female figure in red accompanied by some geometrical shapes in green.
SH Raza's lithographic print titled 'Arbre' shows a longish composition comprising various geometrical shapes, forms and lines done in multiple colours.
KG Subramanyan's untitled work shows a figure of a woman holding a flower in her hand. On the left are some geometrical figures while the bottom portion shows a couple and a flower pot.
Amitabha Banerjee's untitled etching shows a woman in sari and ornaments used in this region. The background of the work is filled with some lines in black and grey.
Another work of the artist, a serigraph on paper titled 'Waiting', shows a profile of a woman who has been waiting for someone she desires.
Suhas Roy's untitled etching work shows a shattered human face and the edges of the face is covered in dark colours.
Aditya Basak's untitled etching work shows a chicken walking along with two chicks highlighting the role a mother in a family.
The exhibition will remain open till March 16 for visitors from 11:00am to 7:30pm every day.
Want stories like this in your inbox?
Sign up to exclusive daily email
More Stories from Exhibition