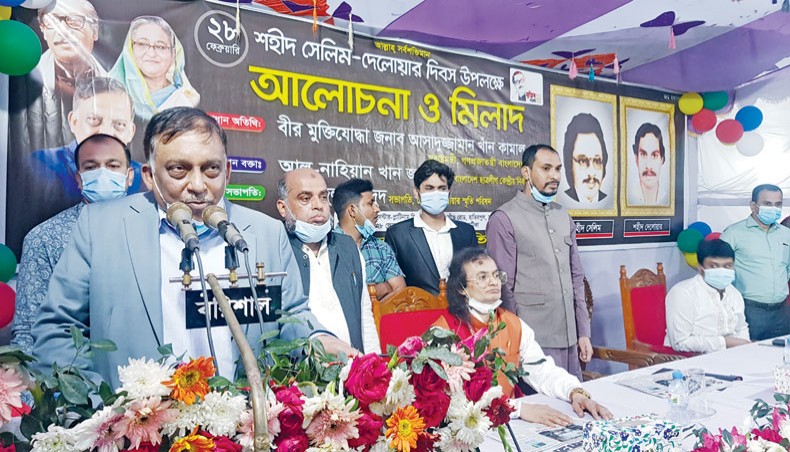 Home minister Asaduzzaman Khan on Sunday said that Bangladesh Chhatra League brought success in all movements against autocratic governments of the country.
He came up with the comment at a discussion marking the 37th death anniversary of HM Ibrahim Selim and Kazi Delwar Hossain, who sacrificed their lives for the restoration of democracy in the country in 1984.
Shaheed Selim-Delwar Smrity Parishad organised the discussion at Fikamli Centre-Platinum Gym of Hatirpool in Dhaka.
The minister said that BCL historically stood for the rights of people whereas the student wings of other parties oppressed the people.
Shaheed Selim-Delwar Smrity Parishad president Abdul Wadud chaired the discussion, where BCL central committee president Al Nahiyan Khan Joy spoke among others.
Ex-BCL leader of Dhaka University Wadud, who also attended the rally in 1984, recalled the memories of the day when he was among the injured.
On February 28, 1984, Selim and Delwar, two Dhaka University Chhatra League leaders, were killed after a police truck ploughed into a student demonstration against the autocratic regime of HM Ershad near the capital's Gulistan area.
BCL president Joy said that after the killing of the country's founding president Sheikh Mujibur Rahman, autocrats came to power repeatedly but BCL restored democracy through sacrificing their blood.
'If anyone tries to disrupt the democratic culture of Bangladesh and obstruct the development Chhatra League will not tolerate it,' he said.
Marking the day, prime minister Sheikh Hasina gave a message and said that Selim and Delwar's supreme sacrifice strengthened the anti-autocratic movement.
Wadud said that Selim and Delwar were his comrades and of the duo, Delwar was also his roommate at Shaheed Sergeant Zahurul Haque Hall.
He said that he was among others to join the protest and sustained an injury but fortunately remained alive.
Want stories like this in your inbox?
Sign up to exclusive daily email
More Stories from Politics