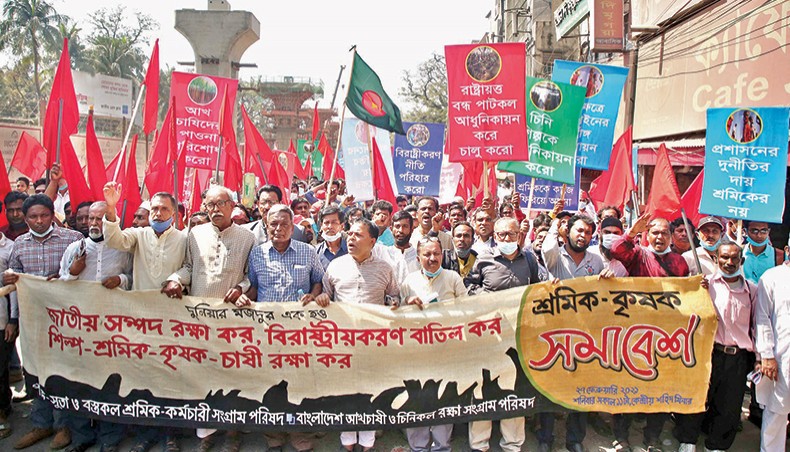 Labour and farmer leaders on Saturday urged the government to reopen stateowned jute and sugar mills before the next parliament session or to face tough agitation across the country.
They made the demand at a rally jointly organised by Pat-Suta O Bastrakal Sramik Karmachari Sangram Parishad and Bangladesh Akhchashi O Chinikal Rakkha Sangram Parishad at the Central Shaheed Minar in Dhaka.
Several hundred workers and farmers from across the country carrying banners and placards reading their demands joined the 'labour and farmers' rally' demanding reopening of jute mills, cancellation of the decision to close sugar mills, taking measures to modernise the mills and diversify their products, ensuring measures against plundering and corruption in the state-owned jute and sugar mills, withdrawal of the decisions to privatise or denationalise the mills with a view to protect the interests of jute and sugarcane growers.
Pat-Suta O Bastrakal Sramik Karmachari Sangram Parishad convener Shahidullah Chowdhury urged the government to reopen the jute and sugar mills soon by modernising those.
'If the government fails to being specific proposal in this regard by the upcoming budget session, we will achieve our demand through tough movement,' he said and warned, 'If the workers and farmers become reckless once, you will not be able to conduct the parliament session in peaceful mind.'
He announced sit-in programmes in all jute and sugar mill areas across the country and a rally in Dhaka for March 16 to press their demands.
The Awami League-led ruling alliance partner the Workers Party of Bangladesh's general secretary and member of parliament Fazle Hossain Badsha urged the government to form an independent commission to reopen the mills.
He said that closing the stateowned mills did not match the spirit of liberation war and urged the government to identify the people responsible for the closure of the state-owned mills.
'State owned industries should not be destroyed. If the state-owned industries become destroyed, the constitution and the spirit of the liberation war will be destroyed,' he said.
He criticised the government for closing the jute mills during the COVID-19 crisis without arranging alternative livelihood for workers.
Workers' Party MP Mostafa Lutfullah said that the decision of closing state-owned jute mills were taken without discussion in the parliament and the decisions or suggestions of parliamentary standing committees were often neglected.
Presided over by Bangladesh Akhchashi O Chinikal Rakkha Sangram Parishad chief coordinator Ibrahim Khalil, the rally was addressed, among others, by labour leaders Aslam Khan, Md Mosiuddoullah, Harun Mallick and Didarul Alam.
The protesters later brought out a procession.
The government on July 2, 2020 closed all state-owned jute mills rending over 50,000 workers jobless overnight.
On December 1, 2020, the government suspended the processing of sugarcane at six sugar mills, out of 15, in the country's southern and northern regions.
Want stories like this in your inbox?
Sign up to exclusive daily email
More Stories from Country