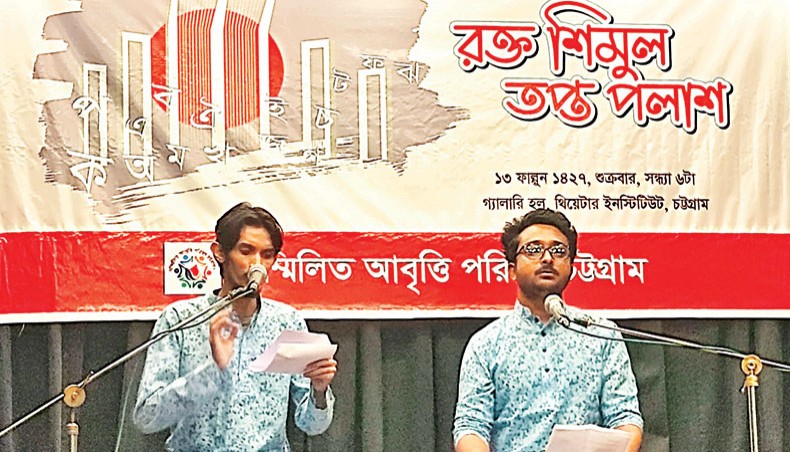 Sammilita Abritti Parishad Chattogram paid tribute to Language Movement martyrs organising a cultural programme at the Gallery Auditorium of Theatre Institute Chattogram on Friday.
The programme titled Rakta Shimul Tapta Palash featured discussion, songs and recitation.
Chittagong University vice-chancellor Shireen Akhter was present as chief guest while BTV Chattogram Centre general manager Nitai Kumar Bhattacharya and poet Omar Kaiser were present as special guests at the programme.
Sammilita Abritti Parishad Chattogram president Rashed Hasan presided over the event and its general secretary Mahfuzur Rahman Mahfuz delivered the welcome speech.
Artistes of cultural organisations Bangladesh Abritti Samannay Parishad Abritti Academy Chattogram, Kanthanir Bachik Shilpacharcha Kendra, Nirman Abritti Angan, Shuchiyan Lalit Kala Kendra Chattogram, Abritti Charcha Kandra, Barna Abritti Pathsalal, Proma Abritti Academy and others performed at the programme.
Abritti Academy Chattogram artistes Avro Pallab and Akmal Rasul recited Shikdar Nazmul's poem Deya Gacho Pran and Jasimuddin's Tumi Kono Din Kawke Bolo Na respectively and Dipto San rendered songs Rastro basha andolon and Salam salam hazar salam.
Kanthanir Bachik Shilpocharca Kendra artistes Tazul Islam recited Birendra Chattopadhyay's poem Sei Manusti Je Fashol Foleyachilo and Dipannita Chowdhury recited Ekusher Podaboli.
Nirman Abritti Angan artistes Somudro Tipu recited self-penned poem Shwrabanjan and Puspa recited Rajib Biswas poem Bashonto Bayanno.
Chattogram Abritti Charcha Kandra artistes Faruk Azom and Priom Krishna recited the poem Phalguner Morshiya.
Barna Abritti Pathsalal artistes Saidul Karim Saju recited Michael Madhusudan Dutt's poem Bangabasha and Jahanara Tina recited Syed Shamsul Haq's Ami Sakkhi.
Want stories like this in your inbox?
Sign up to exclusive daily email
More Stories from Miscellany