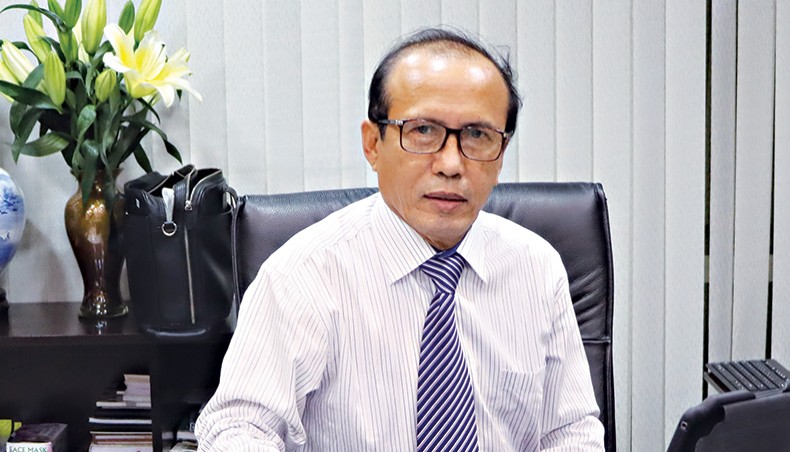 Consistency in investment policies and long-term policy support are the most important factors in attracting both domestic and foreign direct investment into the country, said Bangladesh Economic Zones Authority executive chairman Paban Chowdhury.
Investors make their decisions after they are assured about the rate of returns from any investment based on the policy in place related to duties and taxes, and any negative change in the tax and duty structure makes the investment financially unviable, he said during a recent interview with New Age.
Bangladesh's prospects of fetching higher amounts of FDI are very bright given its incredible progress in setting up economic zones across the country, he said while talking to the newspaper at BEZA headquarters in Dhaka.
'Everything is working in Bangladesh's favour in terms of attracting investment as the country is growing fast with a higher economic growth amid increased purchasing capacity of people, political and macroeconomic stability, liberalised trade and investment regimes and the huge amount of industrial land in the economic zones that come with the required infrastructure and attractive incentive packages,' he said.
The Bangabandhu Sheikh Mujib Shilpa Nagar, which stretches from Mirsarai in Chattogram to Sonagazi in Feni on more than 30,000 acres of land, will have far-reaching impacts on the national economy, Paban, who joined at BEZA in June 2014, predicted.
'On completion of the development works, the BSMSN, 50 kilometres away from the port city of Chattogram, will be the largest industrial city in the country and the region. It will transform Bangladesh into a new manufacturing hub of the world,' Paban said.
The governing board of BEZA, established in 2011 with the target of setting up 100 economic zones across the country, creating jobs for one crore people and bringing an additional $40 billion in export earnings, has already approved implementation of 97 economic zones.
'The BSMSN alone is equal to 100 EZs considering the size of the other EZs as well as the existing eight export processing zones under the Bangladesh Export Processing Zones Authority, and the fact that products and services worth $50 billion will be produced in the city alone,' he said.
Although BEPZA contributes 20 per cent of the total export earnings, it has developed eight EPZs on 2,290 acres of land in 40 years.
Of the EZs, 68 economic zones are state-owned and 29 are private. Implementation of 28 economic zones is underway, according to BEZA.
Among the zones, two are being set up under public-private ownership, four are being established under a government-to-government partnership with Japan, India and China and three are tourism parks.
The investment promotion agency has already signed investment deals worth over $23.97 billion with domestic and foreign investors to set up factories at the state-owned economic zones, according to BEZA's January bulletin.
An additional $3 billion have been invested in the private economic zones, it said.
The BSMSN alone attracted investments worth $20 billion, including over $3 billion in FDIs, Paban said, adding that it has already allotted land for the investors to set up apparel, steel, power generation, pharmaceuticals, paint and LPG gas plants and food processing factories at the BSMSN, which has the potential to create jobs for 1.63 lakh people.
Globally renowned companies, including Mitsubishi, Mitsui, Nippon Steel and Sojitz Corporaiton from Japan, Adani Corporation and Asian Paints from India, and Yabang Group, China Civil Engineering Construction Corporation and Jeihong Medical from China are investing here and some other international companies have lined up to invest, according to BEZA.
The agency managed to attract FDIs worth over $600 million even amid the COVID outbreak.
Investment proposals worth $5 billion are in the pipeline while the industrial city has the potential to bring another $5 to $10 billion in investments, he hoped.
Without disclosing the name, the BEZA executive chairman said that a globally reputed car maker was in talks with it to set up a factory at the BSMSN.
Meanwhile, president of a US-based company will soon visit Bangladesh to assess the feasibility of a 100-per cent export-oriented refinery to be built for an investment of over $3 billion.
It will be a great success if a consensus is reached in the discussions, he commented.
Paban said that through hints dropped by the Japanese embassy in Dhaka, he estimated around 100 Japanese companies may invest more than $1 billion at the Araihazar Economic Zone, built on 1,000 acres of land in Narayanganj — the second flagship project dedicated for Japanese investors.
A project titled Foreign Direct Investment Project worth Tk 2,582 crore has been adopted to develop the infrastructure at the Japanese Economic Zone. Japanese conglomerate Sumitomo Corporation is working jointly with BEZA to develop it.
He said that investments in Vietnam had already become saturated and Japan was now looking for new markets to invest as it shifts its manufacturing units from China.
Investors from the East Asian country are now directing their focus on Bangladesh and India, he added.
He hoped that the Chinese Economic and Industrial Zone at Anowara in Chattogram and the Indian Economic Zones at Mongla and Mirsarai will also attract significant amounts of FDIs from the respective countries.
Although BEZA was established in 2011, it spent its first four years making various preparations, including framing of rules and regulations, finalising the organogram and setting up its office.
The agency effectively started its journey of establishing economic zones in 2015.
Reminiscing those days, the BEZA executive chairman said that no one had believed that Bangladesh would be able to build a completely new industrial city.
Initially, the target of setting up 100 EZs was to attract the attention of people, media, investors and policymakers but now it has become a reality, he said.
BEZA has already developed a massive land bank comprising of 50,000 acres at EZs across the country and some 7,651 acres have already been allocated to the manufacturers at the Mirsarai EZ and Feni EZ under the BSMSN.
'We have a target of building land banks of 75,000 acres and by 2030, the size of land will reach 1 lakh acres,' he said.
It's a massive success for BEZA which started its journey even without having a bank account, he said.
All world-class facilities, including a sea port, LNG terminal, financial and residential districts will be developed within the BSMSN that will gradually be expanded up to Companiganj in Noakhali and Sandip in Chattogram, he said while explaining the future plan.
BEZA will allocate only 50pc of the total land for industries and the rest will be designated for open space, parks, lakes, tree plantation, a central effluent treatment plant and other facilities to make it a completely green industrial city, the third largest city of the country after Dhaka and Chattogram, he explained.
According to BEZA, significant developments, including infrastructure development and land allocation, have already occurred in some other state-owned EZs, including the Shreehatta Economic Zone in Moulvibazar, the Jamalpur Economic Zone and the Maheshkhali Economic Zone.
It has also handed over the final licence to 10 private zones, including the Abdul Monem Economic Zone, the Aman Economic Zone, the Meghna Economic Zone, the City Economic Zone and the Bay Economic Zone and the largest Sirajganj Economic Zone.
A good number of factories, including Japanese giant Bangladesh Honda Private Ltd, have already started production at the zones.
A significant amount of development is also taking place at the tourism parks — Sonadia Eco-Tourism Park, Naf Tourism Park and Sabrang Tourism Park in Cox's Bazar.
Paban hoped that the tourism parks would bring drastic changes to the country's tourism landscape.
Regarding the One Stop Service (OSS), he said that BEZA had brought 125 services under the OSS system.
Currently, 48 services are being provided online through the OSS centre. Six more services will be added this month and all the services will be provided online by the year end.
For smooth operation of the system, the mind-set of officials of the relevant agencies should change along with digital integration of the system of the agencies, he said.
Regarding fiscal incentives, he recommended that the authorities concerned should not think only about tax revenue losses incurred due of tax incentives offered to the investors as the benefits created had far-reaching impacts on the economy through bringing investments and creating jobs, thus generating more revenue.
Bangladesh Economic Zones Authority executive chairman Paban Chowdhury
Want stories like this in your inbox?
Sign up to exclusive daily email
More Stories from Interview