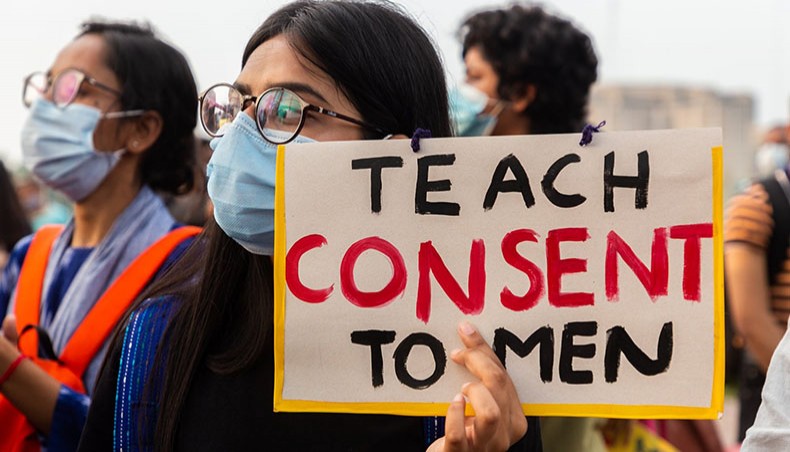 The public psyche towards gender roles must be changed if we need a nation free of such heinous crimes as rape and we need a nation where we can have freedom of choices, writes Sheikh Tasmima Mrenmoi
BANGLADESH announces the death penalty for rape cases. This was possible after several protests led by the youths of Bangladesh, which were later involved parents and senior citizens as well. This is also true that the death penalty cannot single headedly reduce such crimes.
From January to September 2020, around 1000 rape cases were reported in Bangladesh that included gang rapes also. The question arises, why are the numbers increasing every day, is it because of the domination of the patriarchal system in the country? Or, is it because of a lack of sex education? Or, is it the mentality that needs to be changed?
The worst types of rape cases were reported, where the victim was raped to death in the deadliest manner. A recent Bangladeshi movie titled Janowar by Raihan Rafi, left many women moved and traumatised. It was released on April 23, 2021, and was based on a true story. After surveying what kind of effects it left, we were able to find that most women got new locks for their doors, the security system in buildings was improved by many families. Some women even stopped travelling in rickshaws and preferred walking, some had continuous anxiety attacks, and many could not sleep due to fear and anxiety. They no longer feel safe in their own homes.
In a recent viral video, where a young woman in the Noakhali district was raped, the attackers tortured her, she begged for mercy, although the attackers showed no mercy and continued to rape her and shame her by videotaping the incident.
Another rape case that went viral was of Aurna Amin rape case. She was a teenage girl, who was raped by her boyfriend and she died of excessive blood loss. She lost around two litres of blood. She was young and had a bright future. After this rape case, the youths of Bangladesh staged protests. The number of rape cases in Bangladesh is so high that this one article would not suffice.
The Internet went crazy over these recent rape cases, the entire nation was tired and wanted to put a stop to such crime. Famous YouTubers, influencers went live, made thousands of videos, people of all ages joined hands and stepped outside to be a part of the protest. Yet, most rapists who come from influential families are on the loose, most of them are not brought under justice and justice is scarcely served.
Besides, Bangladeshi people never refrain from blaming the victims. For example, in Aruna's case, people who had a sickening mentality went adamant on proving that the two of them had consensual sex. Fingers were raised on Aurna's character, for why she went to her boyfriend's apartment and why she was in a relationship with that guy and so on. This gives us an insinuation of how our freedom of choice is snatched. It is the dress, the way of talking, the way of walking, her personal choices, her way of clothing, which according to many people in Bangladesh is the cause of rape.
Activists say that lack of sex education has led the country to the point where it is today. Also, people of the previous generation always gave men the upper hand. It was hell-bound that the men must earn, and the women must stay at home look after her in-laws and her husband. Although, today Bangladesh has come a long way and women have reached places, yet gender inequality continues.
Lack of sex education led to non-consensual sex in marriage, which also falls under the category of rape. This continues in many parts of Bangladesh. Also, as mentioned above, justice is hardly served in Bangladesh, one of the main reasons being, therapists belonging to an influential family, sometimes have political backings. Also, the victims fear coming forward as she will be shamed for the rest of her life. The family members persistently ignore the matters for the fear of shame and slander.
We live in a world, where women can merely dream of working till midnight, hang-out with friends in a safe and secured environment, where marriage is a bond of consent and understanding, where both men and women have a say in every kind of relationship. Is it possible to make this dream a reality? Where men, women, children can live together in harmony, women not being considered only as a mother, sister or daughter but simply considered as someone of a different gender like men.
Before the world becomes a place of lawlessness, the younger generation must be offered sex education; gender inequality in every sector should be reduced. Law should be hard and ruthless regardless of the rapists' background so that anyone who even thinks of a crime like this should get agitated and must think twice before he or she does something like this.
We have lost many promising and innocent lives and we do not want to lose anymore. No one deserves to be touched without her consent, not even sex-workers. The mentality of men and women must be changed, we need a nation free of such heinous crimes. We need a nation where we can have freedom of choices and freedom of speech. Our forefathers have fought nine months and gave us an independent nation and men and women of all ages deserve an independent life.
Protests must go on, we should not wait for another Aurna to die in the worst manner. It was through the protest, by which the law was modified. Every woman who hears about a rape case imagines herself in that particular situation, thinking it could have been them in Aurna's place. People must stop shaming a girl for having consensual sex before marriage.
A romantic couple enjoying their little moment in rain went viral and was trolled; the woman's character was bashed because she was 'shameless' enough to kiss her boyfriend in a public place. Then why, when a girl gets raped, the rapist's picture is not shared and he is not shamed for committing a crime? Because that was a shameful and disgusting act.
The girl kissing her boyfriend was not one. Anything consensual is harmonious, anything forced is lethal.
Sheikh Tasmima Mrenmoi is a student of the University of Liberal Arts Bangladesh.
Want stories like this in your inbox?
Sign up to exclusive daily email
More Stories from Mindspeak