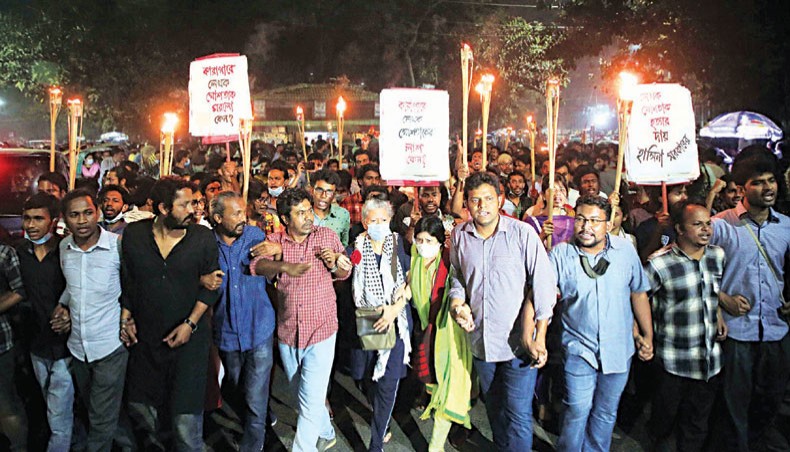 Protests raged around the capital on Friday over the death of writer Mushtaq Ahmed in prison nine months into his detention under the Digital Security Act while protestors termed the death a murder and demanded impartial investigation into it.
Voices from different protests rallies blamed the government for the murder and asked for the immediate scrapping of the Digital Security Act and demanded punishment for the people involved in formulating the law.
Protest programmes including rallies, sit-in, procession towards the Prime Minister's Office and laying siege to the home ministry were also declared.
On Friday evening, police charged batons and lobbed teargas shells on a torch procession of left-leaning student organisations, which left at least 40 protesters injured while police picked up at least five protesters.
Writer Mushtaq died in Kashimpur High Security Jail in Gazipur on Thursday night and it was the first death in prison after being detained under the DSA.
Mushtaq's body was handed over to his family members on Friday afternoon and he was later buried at the Azimpur graveyard following his namaz-e-janaza after Esha prayers, said Mushtaq's lawyer Abdullah Al Noman.
Mushtaq was denied bail for six times, as police pressed a charge sheet in a Dhaka court against him, cartoonist Ahmed Kishore, and Rashtrachinta Dhaka coordinator Didarul Bhuiyan in a case under the DSA, said Noman.
Mushtaq was arrested on May 6, 2020 and later shifted to the high security jail on August 24, 2020 from the Dhaka Central Jail.
In his case lodged on May 5, 2020, RAB-3 warrant officer Abu Bakar Siddique named 11 people, including Mushtaq and Kishore, and five to six unidentified people on charge of tarnishing the image of the country's founding president Sheikh Mujibur Rahman, hurting the spirit of the liberation war and spreading rumours about the government response to COVID-19 and the army and other security forces on social media.
Executive magistrate Osiuzzaman, who conducted Mushtaq's inquest, said that the examination did not find any signs of torture in the body.
The post mortem examination also did not find any marks of torture, reported New Age correspondent in Gazipur, quoting doctors.
Kashimpur High Security Jail superintendent Md Giasuddin said that they did not receive any complaint from Mushtaq on health issues before.
Gazipur's Shaheed Tajuddin Ahmad Medical College Hospital doctor Safi Mohaimen, who conducted the medical examinations, said that they would not be able to speculate on the person's cause of death before the autopsy results.
Stock Exchange director Minhaz Mannan Emon and Rastra Chinta organiser Didarul Islam Bhuiyan earlier secured bail in the DSA case while Kishore is still languishing in jail, said lawyer Noman.
Meanwhile, home minister Asaduzzaman Khan on Friday, responding to reporters after inaugurating the newly-built office building of Chattogram superintendent of police in the port city, said that a probe will be held as usual in connection with the death.
An absentee funeral prayer was arranged for Mushtaq in front of the National Museum at Shahbagh on Friday afternoon.
Before the prayer, a protest rally was held in which freedom fighters, university professors, politicians, students and rights activists joined.
In the rally, Gonoshasthaya Kendra trustee Zafrullah Chowdhury said that it is time for burial of the DSA and there must be actions against people who were involved in formulating the law.
He said that Mushtaq's death was a murder.
Zafrullah requested the judges to issue a suo motu rule against the people responsible for the death.
Ganosamhati Andolan chief coordinator Zonayed Saki said that the ruling Awami League government and prime minister Sheikh Hasina was responsible for the 'murder' of Mushtaq.
Zonayed Saki announced a procession rally towards the Prime Minister's Office from the National Press Club for March 3.
Immediate past Dhaka University Central Students Union vice-president Nurul Haque Nur said that the government had pardoned murder case convicts like Haris Ahmed and Anis Ahmed, court had accepted bail plea of Ron Haque Sikder, managing director of Sikder Group and an accused in a death threat case, hours after he landed in Bangladesh, but writer Mushtaq was denied bail for six times.
He said that they would stage rally and sit-in programmes in front of the National Press Club today protesting against Mushtaq's murder.
Dhaka University teachers-students and politicians later joined a procession towards Central Shaheed Minar.
At least 40 activists of Progressive Students Alliance were injured as police charged batons and lobbed teargas shells on their torch procession in the evening, said a press release issued by Samajtantrik Chhatra Front.
A number of the injured were taken to Dhaka Medical College Hospital, said Rupok Ray, general secretary of Bangladesh Chhatra Federation Dhaka City unit.
Police charged batons on them around 7:20pm when they reached in front of the public library, said Rupok.
Police also hurled tear gas in front of Dhaka University's central Mosque to disperse the protesters.
Shahbagh police station sub-inspector Abdullah told New Age that five of the protesters were picked up from the spot for interrogation.
Several progressive student organisations also staged a protest at Dhaka University against the death of writer Mushtaq at the base of the Raju Memorial Sculpture of Dhaka University at about 11:00am.
The protesters blamed the government for the incident and displayed various placards demanding the repeal of the Digital Security Act.
Socialist Students' Front (Marxist) general secretary Nasir Uddin Prince, publicity and publications secretary Shovon Rahman, general secretary of DU unit Rajib Kanti Roy, among others, addressed the rally under the leadership of its president Al Qaderi Joy.
Nasiruddin Prince said that Mushtaq had written against the looting and corruption that had taken place in the country during the COVID-19 outbreak.
Later, they marched towards Shahbagh in a procession carrying a banner reading 'State is the murderer of Mushtaq' and blocked Shahbagh crossing for about an hour.
Different rights groups, political parties demanded an independent and transparent judicial probe into the death.
The left student organisations also brought out a procession carrying torches in the evening from DU's TSC area and ended at the same place after parading through Shahbagh intersection.
New York-based Committee to Protect Journalists urged Bangladeshi authorities to conduct a swift, transparent, and independent investigation into the death of the writer.
It also demanded the unconditional release of political cartoonist Kishore and an investigation into the claims that he was subjected to physical abuse in custody, the CPJ said in a statement posted on its official website.
Communist Party of Bangladesh president Mujahidul Islam Selim and general secretary Shah Alam, in a joint statement, condemned the death and alleged that the 'murder' was committed to stop people's voice.
Socialist Party of Bangladesh general secretary Khalequzzaman on Friday in a press statement condemned the death of writer Mushtaq Ahmed in jail custody and demanded a judicial enquiry into the death and exemplary punishment for those responsible for his death.
Jatiya Mukti Council president Badruddin Umar and secretary Faiezul Hakim in a statement condemned the death of Mushtaq and said that the government could not avoid responsibility for his death.
They termed the death a state sponsored killing and demanded scrapping of the DSA and other black laws.
Jatiya Samajtantrik Dal, Jasod, a partner of Awami League-led alliance, office secretary Shazzad Hossain in a statement condemned the death of Mushtaq in jail and said that the government could not avoid the responsibility of his death.
The central committee of Revolutionary Workers Party of Bangladesh at a meeting said that negligence on the part of the jail authority to ensure proper treatment of Mushtaq might be the cause of his death and demanded exemplary punishments for the people responsible for the death.
Workers Party of Bangladesh (Marxist) president Nurul Hasan and general secretary Iquebal Kabir Zahid, in a press statement, demanded that the DSA should be scrapped.
National Awami Party-Bangladesh leaders also condemned the death of Mushtaq.
A faction of Dhaka Union of Journalist and Bangladesh Federal Union of Journalist faction also condemned the death and demanded the formation of a judicial probe body to identify the people responsible for the death.
Want stories like this in your inbox?
Sign up to exclusive daily email
More Stories from Politics