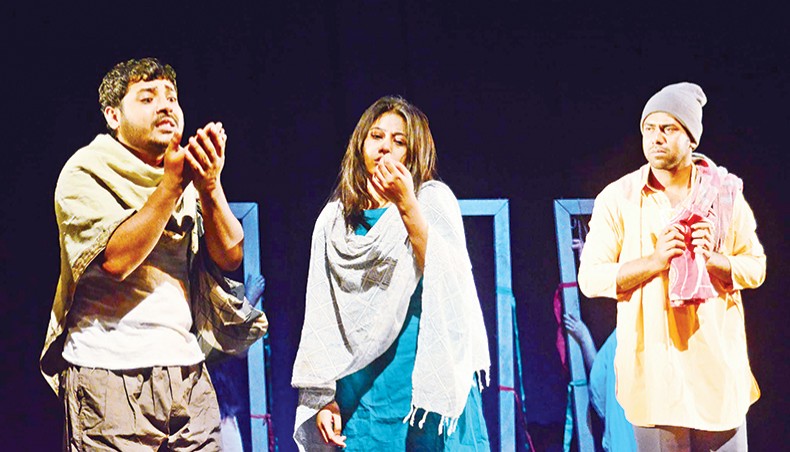 A four-day theatre festival titled Marami Natyamela, featuring plays penned by the late eminent playwright Mannan Hira, is under way at Nilima Ibrahim Auditorium of Bangladesh Mahila Samity.
Theatre troupe Utsa Natyadal has organised the festival to pay tribute to Manan Hira, who passed away on December 23.
Thespian Mamunur Rashid inaugurated the festival on Thursday.
State minister for cultural affairs KM Khalid was present as chief guest while Sammilita Sangskritik Jote president Ghulam Quddus, Bangladesh Railway director general Dhirendra Nath Mazumder and Bangladesh Group Theatre Federation secretary general Kamal Bayezid, among others, were present as special guests at the programme, which was presided over by chief advisor of Utsa Natyadal SM Jahangir Alam Sarkar.
'Mannan Hira made immense contribution to the local theatre scene. Such festivals will help to promote his works among the younger generation. He penned plays depicting lifestyle, social anomalies, nature, history and others. I urge the younger generation theatre activists to follow in his footsteps,' said Mamunur Rashid.
'Mannan Hira dedicated his life to theatre. His plays give the audience a glimpse into different social anomalies. He participated in different socio-political and cultural movements in his life,' said Ghulam Quddus.
'Mannan Hira worked his entire life to advance our theatre and put theatre before his family members, who are now struggling financially. I urge the cultural affairs ministry to stand beside Manan Hira's family,' said Kamal Bayezid.
'Mannan Hira will live on through his works. Cultural affairs ministry will stand beside the family of Mannan Hira. If anyone approaches us regarding helping Mannan Hira's family, we will do everything necessary to support his family members,' said KM Khalid.
Following the inaugural discussion, Utsa Natyadal staged their third production Swarnajanani at the venue.
The play was written by Manan Hira and directed by Imran Hosain Imu.
The play depicts the sufferings of the mothers of martyrs of the War of Independence.
Imran Hosain Imu, Sahidul Islam Apon, Karuna Bishwas, Nafis Nawsin, Ahmed Ripon, Taslima Akter Liza, Helal Khan and others acted in the play.
On Friday, Aryanak Natyadal staged its 32nd production Mayur Singhasan.
The play was written by Mannan Hira and directed by Shah Alam Dulal. It depicts the socio-political scenario of 1960s.
The play addresses issues like religious bigotry, class struggle, plight of theatre artistes and others. It also gives the viewers a glimpse into the sacrifices of theatre activists during the '60s and the later years.
Mamunur Rashid, Momena Chowdhury, Amanul Haque Helal and others acted in the play.
Theatre troupe Somoy Natyadal will stage its 26th production Bhager Manush at the festival today.
The play was adapted by Mannan Hira from the popular Urdu short story Toba Tek Singh, which was penned by Saadat Hasan Manto.
The play narrates the impact of partition of India.
Pavel Islam, Muminul Haq Suny, Nahid Ahmed, Alamgir Hosain, Ruma, Fakhrul Islam and others are scheduled to act in the play.
Theatre troupe Natyalok will stage Dhibar Gantha at the festival on Sunday.
The play, written by Manan Hira, portrays the lifestyle of the people living in the coastal areas of the country.
'Utsa Natyadal began its journey in 2015. The troupe has premiered a total of eight plays, among which three plays namely Idara, Swarnajanani and Agun Chabuk were written by Manan Hira. He was close to our troupe. He always inspired the younger generation theatre artistes. We have arranged this festival to pay tribute to him. He will remain alive through his works,' Imran Hosain Imu, president of Utsho Natyadal, told New Age.
The festival will end on February 26.
Want stories like this in your inbox?
Sign up to exclusive daily email
More Stories from Theatre